By Jason Barron
The Pete Brown Junior Tennis Center is a great place for youth to learn how to play tennis and other valuable life lessons. Tennis is great for young people to play because it teaches them about mental fortitude, fundamentals, repetition and discipline. It also feels good to master the sport, because the main opponent in tennis is not your opponent across the net, but instead it is yourself and every mistake and every success is solely based off your actions. There is something gratifying about winning a point or a set in tennis that differs from winning a game in a team sport. It gave me more confidence and the yearning to keep getting better at tennis. I wish I had started playing tennis at an earlier age because it helped me realize how much I was capable of.
Tennis also teaches youth about ambition, maintaining a healthy lifestyle, having good competition, and learning about sportsmanship and hard work. The Pete Brown Junior Tennis Center is located in South Central LA and gives kids a place to go after school. If kids don't have the proper equipment, the tennis center will provide it for them. The instructors are very hands on and supportive. Tennis can be a frustrating sport, but in the supportive environment of the tennis center kids beam with joy when they master a new skill.
This tennis center is vital to the youth of the community because it offers them a healthy lifestyle and a place where parents can feel safe sending their children. The tennis center offers instruction for kids from Pre-K to 12th grade. Their approach of emphasizing both tennis success and success in school makes the kids there see a clearer future for themselves because of the structure that the tennis center provides. There are 8 tennis courts available for the kids to play on. It is located at the Harvard Tennis Park and gives the youth of the community a vehicle to learn about the sport of tennis. The tennis center shows the youth how their lives can be improved by taking both school and tennis seriously.
Special events are hosted there during the holidays, a mentorship program is established to give youth direction both on and off the court. The academic and family component are also important to their mission. They incorporate the Academic Creative Engagement (ACE) into their program because it is meant to encourage and promote academic achievement, health, wellness, social, and emotional skills that help children in their daily lives. Their mission is not just to develop a child's tennis skills, but also make them a more well rounded person and help them to develop healthy lifestyle habits. The tennis center also helps children with placing them in tennis tournaments and keeping them active year round. The Pete Brown Junior Tennis Center is a great place for the youth of the community and its value to the area is priceless.
In a recent interview with the head of their youth program, Marty Woods I was able to gain a more real sense of their mission at the organization. Mr. Woods is also a former pro tennis player who played against the likes of Pete Sampras. An indelible quote I will remember, was, "I will find the next Venus and Serena before I die." Mr. Woods is carrying on the legacy of the late Pete Brown, who was Mr. Wood's mentor because a void was left after Mr. Brown passed. Mr. Woods took it upon himself to keep the organization afloat and continue the mission of exposing youth to the sport of tennis.
MXLLS ​​
The organization was established in 2009. Their mission is "to bring tennis to as many underserved communities as possible, to introduce underserved children to the sport of tennis and give them an opportunity to learn the sport just like it was given to me because I was from this community and my mentor Pete Brown grabbed me off the streets and brought me here to a program just like this. I need to keep this going because it worked for me so I want to keep the exact same thing going for the community." (Woods) One big challenge is trying to get more children to join the program because of the stigma associated with different areas in Los Angeles and people, and families feeling unsafe in those areas.
In 2017, the program has opened two new sites. One is located in the Athens, Willowbrook area in South Central LA and one in Compton. In 2018, the program would like to become a NJTL National Chapter. There are currently none west of the Mississippi. That involves having a facility for both eduction and tennis. Currently, they have after school programs for the children three times a month at the Harvard Tennis Center. Mr. Woods sees that the children learn from tennis the ability to critically think and problem solve and to handle pressure situations. It also exposes the kids to new experiences and introduces the children to youth from suburban communities. Mr. Woods wants the children to learn the values of integrity, honesty, creativity, and how to think on their own with tennis used as a vehicle to teach.
The organization is partnered with the LA County Sheriff's Department, the US Attorney's Office, USC, and Yonex. The Sheriff and Justice departments provide security for the organization at their different events and provide a safe environment for the kids to learn the sport of tennis and for the parents to feel safe as well. The Pete Brown Junior Tennis Program is able to reach many youth that would not be exposed to tennis and through tennis they are able to have experiences that they wouldn't have otherwise.
Their educational component is also important to the mission because it offers after school assistance weekly in different subjects for the youth in the program. Because the organization goes to different courts around the city on their weekly schedule and brings coaches to provide instruction for the kids they are able to not just reach children in one area, but children from all over LA County. The day I was able to schedule an interview Mr. Woods and the organization was having an event in Compton on newly refurbished and resurfaced courts that were donated by the Williams sisters and Gatorade in 2016. The tennis courts are called "Courts of Champions" in honor of the Williams sisters. They grew up playing on those courts and in the area.
Their partnership with USC is valuable because kids are able to receive instruction from the USC tennis program in exchange for school credits for the USC students involved with teaching the youth. Yonex, the racket company provides the program with equipment for the kids to use for tennis. They recently partnered with them earlier this year and have benefitted greatly from that partnership. The other goal of the organization besides exposing kids to tennis is to see them graduate high school and go onto college. If the child develops their skills enough to be able to play at the college level, then tennis can even provide them an opportunity for a free education. Ultimately, this organization is lifting up the communities that is effects and is providing opportunities to the youth in the communities.
Dolores Simmons (light blue): Board Member of the Pete Brown Junior Tennis Program. Marty Woods: Director and Susan Dewitt (dark suit): US Attorney
Harlem Junior Tennis Education Program Spring Gala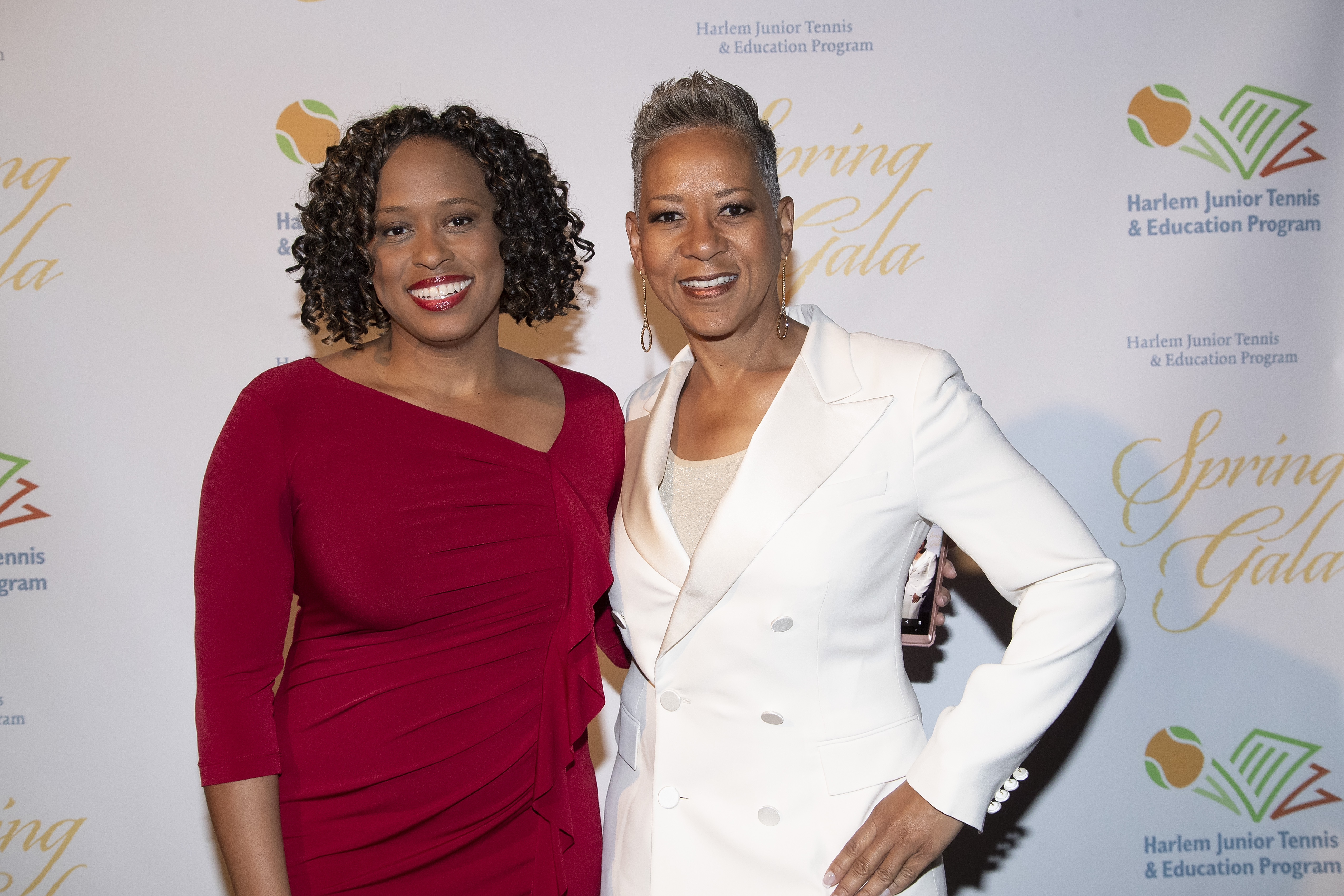 The Spring Gala is an annual event produced to create awareness of one of the most successful youth development programs in the country. HJTEP creates a safe space for youth where they can learn and develop – on and off the courts. This year's event was held at Gotham Hall in New York City on Monday April 29th.
HJTEP continues to promote tennis and education over the years since its inception in 1972. The Spring Gala brings out major celebrities and tennis elite each year. Chanda Rubin won the Shining Star Award and Deborah Slaner Larkin received the Chairman's Award.
HJTEP receives grants and support from a variety of sources ranging from Black Enterprise to the USTA Foundation. To donate toward the mission please click here.
April 30, 2019; New York, NY 2019 Harlem Junior Tennis & Education Program Spring Gala

April 30, 2019; New York, NY 2019 Harlem Junior Tennis & Education Program Spring Gala

April 30, 2019; New York, NY 2019 Harlem Junior Tennis & Education Program Spring Gala

April 30, 2019; New York, NY 2019 Harlem Junior Tennis & Education Program Spring Gala

April 30, 2019; New York, NY 2019 Harlem Junior Tennis & Education Program Spring Gala Chanda Rubin

April 30, 2019; New York, NY 2019 Harlem Junior Tennis & Education Program Spring Gala

April 30, 2019; New York, NY 2019 Harlem Junior Tennis & Education Program Spring Gala

April 30, 2019; New York, NY 2019 Harlem Junior Tennis & Education Program Spring Gala

April 30, 2019; New York, NY 2019 Harlem Junior Tennis & Education Program Spring Gala

April 30, 2019; New York, NY 2019 Harlem Junior Tennis & Education Program Spring Gala

April 30, 2019; New York, NY 2019 Harlem Junior Tennis & Education Program Spring Gala

April 30, 2019; New York, NY 2019 Harlem Junior Tennis & Education Program Spring Gala

April 30, 2019; New York, NY 2019 Harlem Junior Tennis & Education Program Spring Gala

April 30, 2019; New York, NY 2019 Harlem Junior Tennis & Education Program Spring Gala

April 30, 2019; New York, NY 2019 Harlem Junior Tennis & Education Program Spring Gala

April 30, 2019; New York, NY 2019 Harlem Junior Tennis & Education Program Spring Gala

April 30, 2019; New York, NY 2019 Harlem Junior Tennis & Education Program Spring Gala
Son of legendary Dr. J deserves page in black tennis history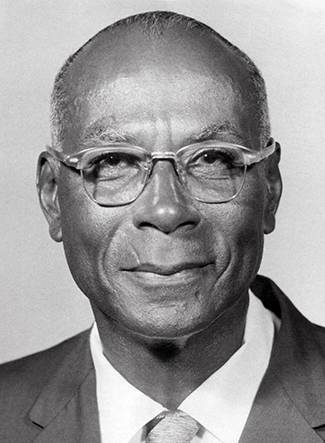 By Larry Bivins
When I asked tennis pro Julien Delaine if he knew Bobby Johnson Jr., the sparkle in his eyes told me the question had struck gold.
"Yeah, man!" Julien said excitedly, adding that anyone who hung around the tennis courts at 16th and Kennedy streets in Washington, D.C., had to know Bobby Johnson Jr. and his three sons. They were fixtures on those courts back in the day.
"He taught me how to kick the serve," Julien said.
The reason I asked was I recently had learned Robert W. Johnson Jr. had passed at age 92. At the time, I knew little about him except he was the son of the legendary Dr. Robert W. (Whirlwind) Johnson, Dr. J., as he was called, who was inducted posthumously into the International Tennis Hall of Fame in 2009 for his role in breaking the color barrier in professional tennis and helping scores of young black tennis players develop their game.
It was on the court at Dr. Johnson's Lynchburg, VA, home where Althea Gibson polished the skills that propelled her to become the first black tennis player to win a Grand Slam tournament when she won the French Open in 1956. It was on that same court where Arthur Ashe honed the talent that led him to become the first black man to win a Grand Slam tournament when he won the U.S. Open in 1968. Both wound up winning multiple slams.
I figured the passing of Dr. J's son, popularly known as Bobby Jr., was worth a blogpost. But I needed to learn more about him. What I discovered was inspirational to say the least!
Bobby Johnson Jr. was integral to Dr. J's legacy, as he led the instruction of those invited to train Dr. J's home academy over more than two decades. But Bobby Johnson Jr. also had established his own reputation in the black tennis community of the nation's capital.
Bobby Johnson Jr., who earned a master's degree in biology from North Carolina Central University and studied medicine at the University of Lausanne in Switzerland, taught biology, chemistry and physical education in D.C. public schools. He coached high school tennis teams at Holton-Arms School in Bethesda and St. Alban's in Washington. He also served as head tennis coach at Howard University.
Bobby Johnson Jr. also competed. He and Dr. J won the father and son National Doubles Championships in 1955. And he played men's singles in the U.S Tennis Championships at Forest Hills, the US Open forerunner, in 1958 and 1959.
But Bobby Jr.'s passion was holding clinics for young black players throughout the District of Columbia, with his sons being among his primary students.
"We all benefitted from one-on-one exposure to his teaching," said Lange Johnson, who runs the Whirlwind Johnson Foundation, dedicated to preserving his grandfather's legacy, including the restoration of his Lynchburg, Va., court and home. "He knew tennis inside and out – strokes, grips, stance and tactics, and he conveyed all of that to us."
Robert Johnson III, also familiarly known as Bobby, said his dad preached what he called the "classic" approach to tennis, marked by use of an Eastern forehand grip because of its flexibility to hit different kinds of shots.
"My dad was a technician, a strategist and a fixer," Bobby said. "He could diagnose a technical problem in your game and have you hitting better in no time."
William Kellibrew, a city of Baltimore health official and a motivational speaker, would echo that. He told me he spent several years as a teenager under Bobby Johnson Jr.'s tutelage at the Turkey Thicket courts in the Brookland area of D.C.
"I have his backhand, which is my strongest tennis asset," Kellibrew said. "I know his fundamental strokes."
D.C. native Merritt Johnson (no relation) said Bobby Johnson Jr. had a huge influence on his approach to coaching young players.
"He still had that old-school way of laying a foundation," Merritt said. "Being young and black, I learned from him a sense of patience and humility on and off the court. "Working for him, he taught me respect for being on time and what it takes to work with kids. Working with kids, you have to be patient."
Apparently, the teachings had an impact. Merritt Johnson was a two-time Washington Post Coach of the Year, as his girls' team at St. John's College High School won 8 of 9 championship matches while compiling a 112-1 record during his tenure. He also has Merritt, who also has competed on the USTA professional circuit, has been a juniors coach at several D.C. area tennis clubs. He has coached at George Washington University and the University of Arizona. He now is a high-performance coach in Seattle, Wash.
Bobby Johnson Jr. would hold clinics all over D.C. But his favorite site was Carter Baron at 16th and Kennedy streets. Bobby Johnson III said his dad would rent courts there during the summer and conduct camps for groups of kids, some of whose parents could afford to pay but did not.
"It used to pain me to see my dad give away lessons for nothing, but he genuinely loved to help people," Bobby told me.
Julien Delaine told me he never could afford lessons, but he and his brothers who lived just a block away from Carter Baron learned just from watching Bobby Johnson Jr. train his sons.
"That was our inspiration," Julien said. "Watching him coach his sons was where I got my instruction. We listened and we learned. We would try to do the drills after watching him and his kids."
In its homage to Black History Month, the Tennis Channel is paying tribute to Dr. Robert (Whirlwind) Johnson in a video that includes clips from the 2009 Hall of Fame induction and last May's ceremony for the refurbished tennis court at Dr. J's home. There was no word of Bobby Johnson Jr.'s contribution to his dad's legacy.
Bobby Johnson III told me a memorial service is being planned for the Spring. Perhaps that will give rise to a campaign for the son of Whirlwind to have his own page in the annals of black tennis history.
Check out Larry at tennisinthehood.com for more community updates and colorful commentary on yesterday's and today's game.
Kamau Murray's XS Tennis teams with Clinton Foundation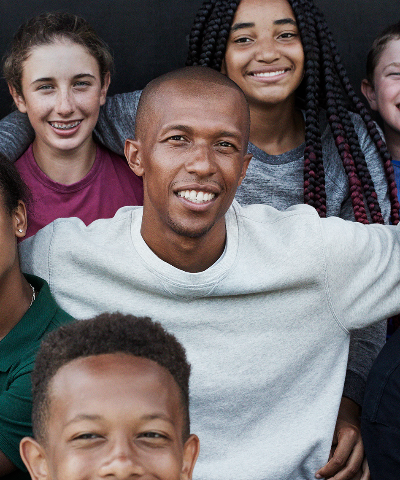 By Editorial Team
Kamau Murray keeps a tight calendar in the midst of coaching a top ranked WTA pro player (Sloane Stephens), managing a non-profit (XS Tennis & Education Foundation) and maybe now local politics. Chicago has been the basis for major overhaul recently as colleges and universities from around the nation pull resources together to held rebuild the neglected South Side streets of Chicago as part of the Clinton Global Initiative University.
XS Tennis Village provided meals to those in need as a alternative site for helping rebuild the community. When asked about the initiative, Chelsea Clinton stated, "We need to give something back and I hope they will take that message and meaning with them after they leave tonight, whether back to their college or university campuses or throughout their lives."
Chelsea Clinton was also accompanied by Mayor Rahm Emanuel for added support. "All of us have a responsibility to our fellow citizens, as Muhammad Ali said, the service to others is the rent we pay for our room here on earth," Emanuel said.
With such a big turnout, Kamau's presence was required in Chicago leaving coaching duties to Sylvester Black. Sylvester was able to fill the role coaching Sloane quite well as he did double duty with on-court coaching igniting a turnaround from Sloane after losing eight straight games to eventually win her semifinal match against KarolínaPlíšková 6-1 in the 3rd set.
With Sylvester backing him up, Kamau may have more opportunities to engage in the political scene of Chicago to make a real difference. The high crime and poverty stricken streets of Chicago could definitely use a sport like tennis to promote education and positive community development.
From saving the community, hosting the Oracle Challenger Series to grooming the next US Open champion, Kamau and XS Tennis are destined for continued success. For more info about Kamau and his efforts at XS Tennis Village click here.