By Portia Kane
The Editorial Team caught up with Corey Gauff during some down time between tournaments as part of an BTM editorial series entitled Coache's Corner covering black coaches on the junior & professional tours. Corey is the coach of Cori "CoCo" Gauff who recently finished 2nd at the 2017 US Open Girl's Junior Championships. Corey has been doing double duty as both father and head coach; a seemingly daunting task that Corey appears to have mastered over the years.
In a traditional Q & A format, we asked Corey how he manages the bright future of the most regarded junior tennis player on the planet. In addition, Corey provided some must-haves for black youth entering the sport of tennis. A parental guide to success was also outlined by Corey during this youth discussion.
Q: What is your primary role in Cori's tennis? Do you handle everything? Or, do you only handle the on-court coaching?
A: I am the head coach. She's worked with several coaches thus far; the coach she's spent the most time with outside of me is Gerard Loglo. She started working with him when she was 8 years-old.
Q: Would you say that you're strict, very strict or lenient with freedom?
A: When it comes to sports—to be really good in sports—really anything, it takes a level of discipline, so I'd consider myself a disciplinarian. It's not a discipline of if you don't do something right I'm going to spank you; it's a discipline of getting to the court on time, proper warm-ups, proper focus, etc. You know that kind of discipline makes athletes successful because they're willing to say no to some things and say yes to some things. It's the same thing with academics, you know, you have to do your work, and then you have to practice to be able to get good. Me being an athlete and my wife being an instructional athlete, we both understand what it takes to be good.
Q: What is your approach and feelings toward on-court coaching in the Juniors? Should there be coaching on the WTA Tour?
A: If we're truly about development then I think on-court coaching is absolutely required and necessary. Tennis is the only sport where you pay a coach to coach you but they can't coach you during the game. (Laughs)
Q: Are you ready for the teen age years of possible attitude or challenges?
A: As a parent I can't even imagine if my daughter told me she isn't going to listen to somebody. If I'm paying that coach my money then you better do what they're telling you to do.
Q: Will Cori go pro in 2018? If not, is there anything in particular that Cori needs to improve on before going pro?
A: She wants to be a pro. We've prayed on it and we've played on it. The next few years we're just going to manage the process and the development process for her to mentally grow, and keep her in love with the sport because she loves playing. If we keep her in love with the sport and she grows mentally I think she'll have unlimited opportunities. At the end of the day we're in no rush to go pro, I just want her to have access.
Q: With sponsorships supplying equipment and gear, how do you manage the travel expense and other expenses?
A: Financially, it's one of the most expensive and the most unbelievable financial commitments you'll ever make as a parent. We've made sacrifices, we've downsized.
Q: Has there been any "advice" from WTA coaches that has been helpful to yourself or Cori? If yes, what was the advice?
A: The really good coaches have offered their assistance. As long as she is improving, the word of the wise is don't change anything if it's not broken.
Q: What are some things that young players can do on a daily basis to improve their tennis game?
A: First and foremost we are very spiritual people, so you have to be spiritually in tune with whatever you believe, that's going to be the guiding principle behind your development, you know, how much you believe and how much you pray on what you're trying to accomplish. Cori has never gone on the court one time without praying for herself and her opponent. I think that's so important because it's easy to get away from some of these simple principles that make these kids well-rounded. Second is the attitude that you take on the court—respect your opponent, respect your coach, and respect the game. The third thing is you can't just be a dumb athlete; you've got to be intellectually competitive. Be smart, think, and learn the game. Know geometry, learn the angles. Know the history of tennis and what the rules are. The fourth thing is, when it comes to tennis you've got to have good technical development; you've got to have good technique. Be a well-rounded athlete, learn other sports—that's one thing we emphasized with Coco early on; she was in gymnastics, soccer, basketball, and she ran track. We wanted her to develop as a total athlete. The fifth thing is having competitive plays–you can't get better if all you're doing is playing tournaments. There has to be an off season where you're working on things to get better. So the way we approached it was, during the tournament, wherever we were at, get better from there. Not just better from a technical and physical standpoint, but where is she mentally? I remember when Coco went to the US Open, she was the youngest to get to the finals. She was also the youngest to ever win a national championship when she was 10 years-old. Within a few more months she beat several more records and got invited to do even more tournaments. I asked her how she felt about all of it and she said, "Well, Dad, I don't know if I'm for it. It's all so soon." So I took her out of the tournament. You know, you've got to listen to the kids, too. Sometimes it's too much.
Q: Lastly, what are some things that parent/coaches should do to get better results in tennis?
A: The parents have to be engaged in the process. The parents are always going to be the coaches in this, whether they're doing all of it or some of it. They're the general managers. I do a lot of on-court stuff with my daughter; you've got to decide whose the right coach. The best coach for my daughter might not be a good coach for your daughter.
Corey's insight on his experience thus far as both a father and a coach is sure to be inspiring for new parent-coaches. His emphasis on listening to his daughter's needs is a key point that all parent-coaches should make their number one priority. His approach as a parent-coach has deemed successful considering all of the recent success of his daughter Cori Gauff. Although Cori Gauff is extremely talented, it's clear that Corey Gauff has played a major role in her success because of his willingness to help create the best experience for her career as possible. Another key point that Corey mentioned is discipline being a necessity in not only sports, but in the pursuance of any goal. His choice of how he disciplines Cori is not only teaching her good habits to apply to her career, but she will grow up to apply these principles into all aspects of her life, which is essential for anyone pursuing anything. The Editorial Team appreciates Corey taking the time out to share some tips that have helped him as a parent-coach thus far. We are looking forward to what's to come for superstar athlete Cori Gauff.
Baptiste, Montgomery & Scott headline USTA Nationals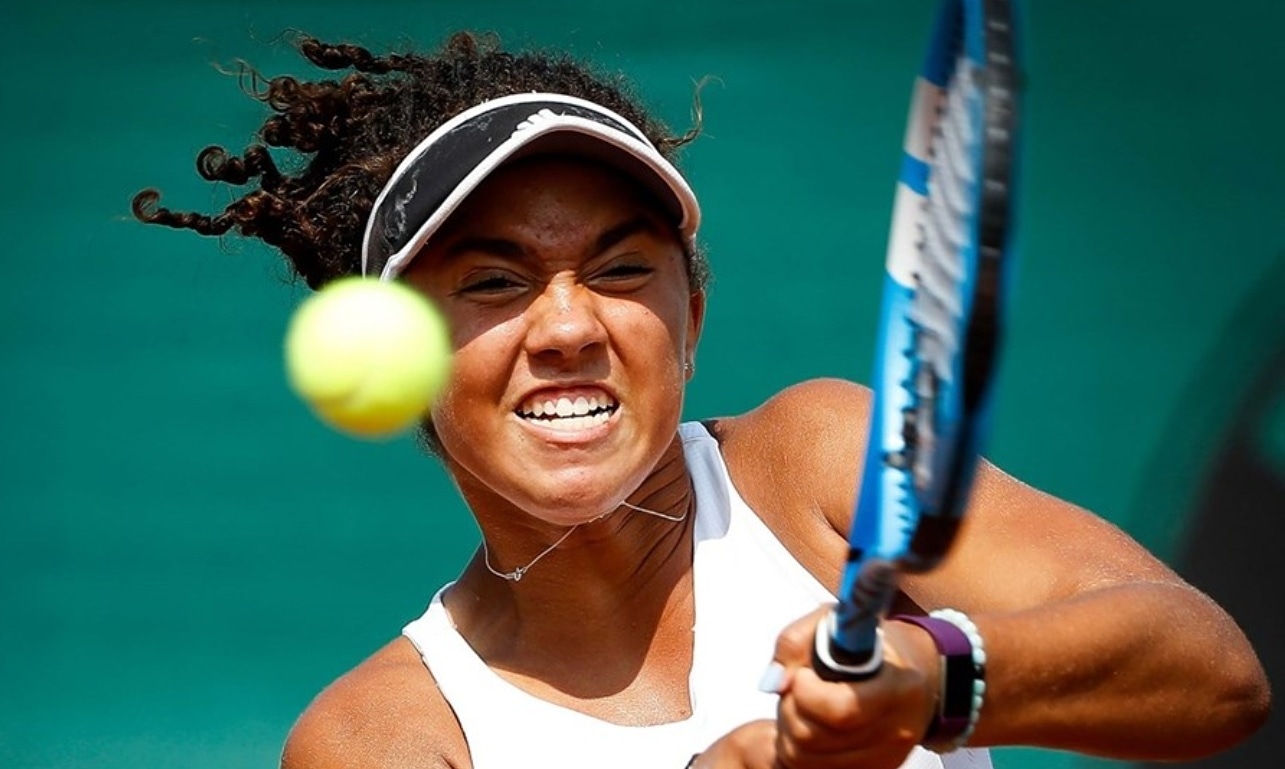 PRESS RELEASE
TOURNAMENT OFFICIALS ANNOUNCE SEEDS FOR USTA for BILLIE JEAN KING GIRLS' 16s & 18s NATIONAL CHAMPIONSHIPS
Opening Ceremony Set for Saturday, August 3, 2019 at Barnes Tennis Center
SAN DIEGO – (August 2, 2019) – Tournament officials have announced the seeded players for the United States Tennis Association Billie Jean King Girls' 16s and 18s National Championships scheduled for August 3-11, 2019 at the Barnes Tennis Center, 4490 W. Point Loma Blvd., San Diego, CA 92107.
The top singles seed in the Girls' 18s division is Hailey Baptiste of Washington, D.C. Other top Girls' 18s seeds include second-seeded Katie Volynets of Walnut Creek, Calif., third-seeded Emma Navarro of Charleston, S.C., and fourth-seeded Alexa Noel of Summit, N.J.

The 17-year-old Baptiste has spent most of the year playing on the USTA Pro Circuit. She is currently ranked No. 283 in the Women's Tennis Association singles rankings. Earlier this week, she upset 2017 US Open finalist Madison Keys 7-6 (4), 6-2 in the first round of the Citi Open in Washington, D.C., before falling to Kristina Mladenovic of France in the second round.

Volynets has also spent much of 2019 competing in USTA Pro Circuit events. The 17-year-old is ranked No. 387 in the WTA singles rankings. Navarro, 18, was a Girls' singles finalist at this year's French Open. She is currently ranked No. 4 in the ITF junior rankings. Noel, 16, reached the Wimbledon Girls' Singles final last month and is No. 7 in the latest ITF junior rankings.
In the Girls' 16s division, Valencia Xu of Livingston, N.J., is the top singles seed. The 16-year-old Xu, who competes in International Tennis Federation and USTA junior events, captured the singles title at the USTA International Grass Court Championship in Haverford, Pa., this past June.

"We have very strong draws in both divisions for this year's National Championships," said Tournament Director Lornie Kuhle. "There are many talented players coming from across the country to compete in this event. I invite fans to come and watch the future of American women's tennis. It's going to be a great week of high-level junior tennis."

For the complete list of seeded players, click here.
For complete draws for the Girls' 16s and 18s divisions, click here.
Over 400 of the top junior tennis players in the country, aged 16 and 18 and under, will compete for the title of National Champion, as well as a wild card entry into the Women's Singles main draw of the 2019 US Open (for the 18s Champion) and a wild card into the 2019 US Open Junior Championships (for the 16s Champion). The 18s Doubles Champions will also receive a wild card into the US Open Women's Doubles main draw.

The Girls' 16s event will begin on Saturday, August 3 and conclude with the singles and doubles finals on Saturday August 10. The Girls' 18s tournament will get underway on Sunday, August 4 and conclude with the 18s singles championship on Sunday, August 11. Both divisions will feature 256-player singles draws with the top 32 players receiving a first-round bye. There will also be 128-team doubles draws with the top 16 teams getting first-round byes.

The starting times for each day of the tournament are as follows:
Saturday, August 3 through Wednesday, August 7 – 8 a.m.
Thursday, August 8 – 8:30 a.m.
Friday, August 9 and Saturday, August 10 – 9 a.m.
Sunday, August 11 – 10 a.m.
(All times PDT)
The Opening Ceremony for the USTA National Girls' 16s & 18s National Championships is scheduled for 4:30 p.m. (PDT) on Saturday, August 3 at the Barnes Tennis Center.

Early-round tournament matches will also be played at San Diego State University's Aztec Tennis Center, 5375 Remington Rd., San Diego, CA 92115 from Saturday, August 3 through Thursday, August 8 and at the Balboa Tennis Club, 2221 Morley Field Drive, San Diego, CA 92104 from Saturday, August 3 through Tuesday, August 6.
Admission and on-site parking at the Barnes Tennis Center is free each day of the tournament. For fans watching matches at SDSU and the Balboa Tennis Club, admission is free. There is a nominal charge for on-campus parking at SDSU. Parking regulations at the university will be strictly enforced. Parking is free at the Balboa Tennis Club.
Tennis Channel will broadcast the Girls' 16s singles final from 1-3 p.m. (PDT) on Saturday, August 10 and the Girls' 18s singles final from 2-4 p.m. (PDT) on Sunday, August 11.
All tournament matches played on Stadium Court at the Barnes Tennis Center will be streamed live at www.ustagirlsnationals.com beginning Saturday, August 3 through Friday, August 9.
To view the official tournament website, please click here.
About USTA Billie Jean King Girls' 16s & 18s Nationals
The USTA Billie Jean King Girls' 16s & 18s National Championships are the premiere hard court tennis tournaments for amateur and professional American girls aged 16 and 18 and under in the United States. In 2010, both age groups began playing their events concurrently at San Diego's Barnes Tennis Center. Tournament participants, who represent nearly every state in the United States, have been endorsed by their respective USTA Section or have received USTA special exemptions based on their results in qualifying tournaments, junior rankings, or results on the WTA Tour or International Tennis Federation Junior Circuit.  Past tournament champions include Chris Evert, Tracy Austin, Andrea Jaeger, Zina Garrison, Mary Jo Fernandez, Jennifer Capriati and Lindsay Davenport.
Seeded Player List:
1. Baptiste, Hailey
2. Volynets, Katie
3. Navarro, Emma
4. Noel, Alexa
5. Ma, Connie
6. Subhash, Natasha
7. Parks, Alycia
8. Black, Hurricane Tyra
9. Forbes, Abigail
10. Broadus, Savannah
11. Mandlik, Elli
12. Beck, Chloe
13. Montgomery, Robin
14. Scott, Katrina
15. chavatipon, charlotte
16. Owensby, Charlotte
17. Boch-Collins, Audrey
Wimbledon Junior Champions fly under radar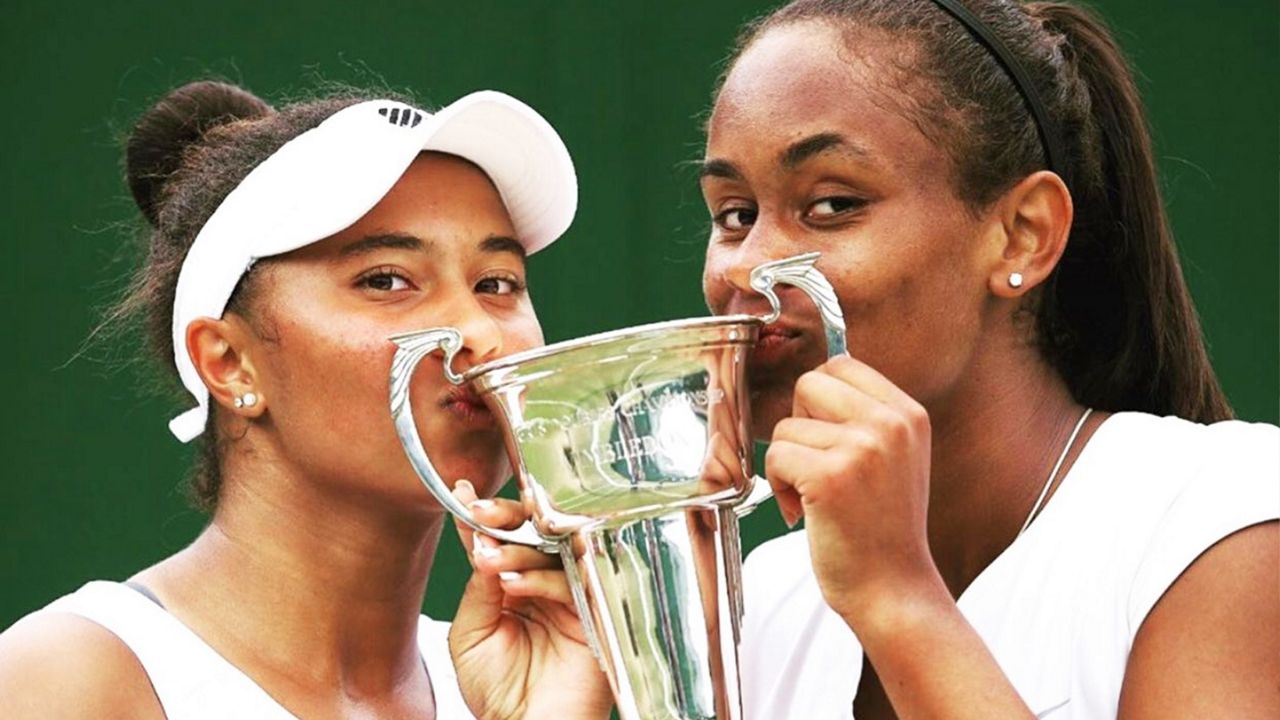 By Editorial Team
Savannah Broadus and Abigail Forbes defeated Bartone and Selekhmeteva in a three set battle to win the Wimbledon Junior Doubles Championships.
Forbes is currently attending UCLA as an incoming freshman in the Fall and Broadus is a Dallas native that was able to break through the Texas Tennis Association ladder. These two were not caught up in the junior hype over the last few years as Gauff, McNally, Baptiste and Navaro dominated major media outlets with their impressive singles play.
This year Forbes sported a top 25 ITF junior ranking, but 15 year old Robin Montgomery and the rapidly rising Sada Nahimana who won the Wimbledon warm up in Nottingham had most of the buzz going into this year's Championships.
With the US Open just around the corner, Savannah and Abigail can test their skill on the hard courts again, but now with some spotlight attached to their names.
Last year Gauff and McNally (currently top 200 WTA ranked pros) were able to take the US Open title against Baptiste and Hewitt in straight sets. This year Savannah and Abigail are favorites in the draw. Most doubles champions move on to great pro careers as Marta Kostyuk and Bianca Andreescu were able to boost their careers with solid performances in WTA singles events following strong doubles performances.
Only time will tell if this doubles team is ready for the WTA Tour, but for now fans should support and lift them up as champions and the future of black tennis.
African hopeful, Sada Nahimana, captures Nottingham Junior International Championship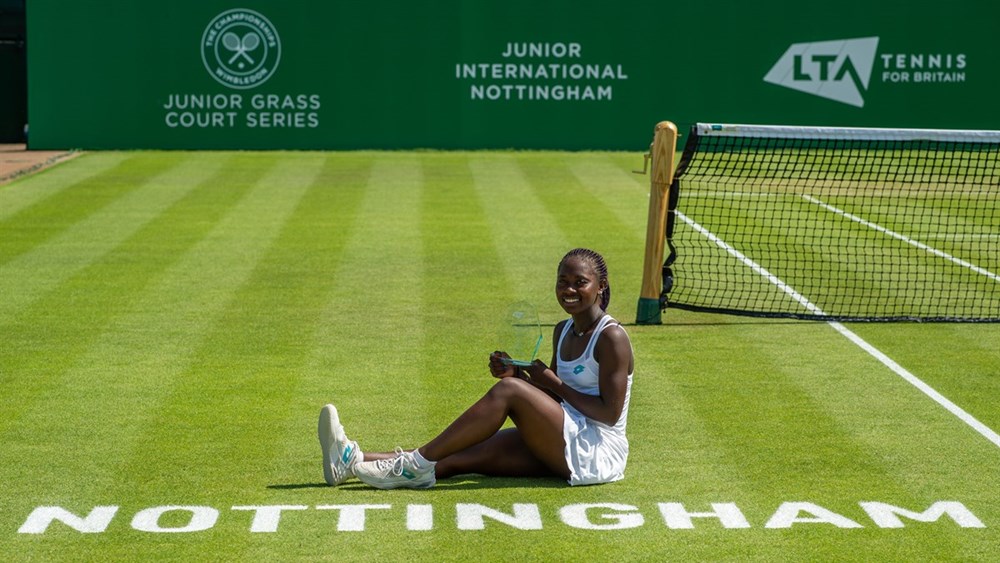 By Editorial Team
Sada Nahimana was able to rally to win both singles and doubles titles on grass this week in Nottingham leading into the Roehamption Championships next week.
Sada of Burundi, Africa sliced through the singles draw with ease as the 4th seed. In what was projected to be a tough encounter with American Tyra Black actually resulted in a one set thumping 6-4, 2-1 after Tyra mysteriously withdrew from the match.
The title win here gives Sada a leg up going into the prestigious Roehamption event where Cori Gauff was able to win the title last year.
The professional ranks are definitely calling Sada as she prepares for the last two junior grand slams. After an early first round loss she is hoping that European grass courts continue to bring her luck through the hard court season and the US Open juniors.