By Editorial Team
The 2019 Miami Open wildcard lineup has many fans scratching their heads this week as they began to see a noticeable trend of IMG talent placed in main draw competition.
This year Jo-Wilfried Tsonga was forced to play in the qualifying rounds while a more unproven Chris Eubanks (signed to IMG) gets to collect a large check as the US main draw wild card recipient.
However, the women's lineup catered to the rising former juniors with CoCo Gauff, Caty McNally, Mari Osaka (Naomi's sister) and Whitney Osuigwe (singed to IMG) all getting a chance to show their best game in the main draw. Again, the more seasoned pros like Allie Kiick and Christina McHale were delegated to the qualifying rounds in order to earn their spot on the big stage.
US youth support was definitely a theme on the WTA Tour this year as several teenagers made the wildcard cut while a couple more young women such as Andreescu and Anisimova earned their position through solid results and high rankings.
CoCo Gauff was able to spend her time wisely as she picked up some practice time with Chris Eubanks in Miami today. These two also make a good mixed-doubles team as they were able to win their first round match in last year's US Open.
Whitney Osuigwe is also eager to prove herself worthy as she has not been able to win a singles match so far this season. Primarily due to scheduling and though early round matches, Whitney has struggled after coming off of such a spectacular season after defeating Bencic in three sets to go on to win her first $80k title.
With so much natural talent, high tennis IQ and mental toughness, Whitney is surely due for a breakout tournament; winning big close to home in Florida could definitely be the boost she regains her footing on the WTA Tour after falling outside of the top 200.
Mari Osaka has also found herself entangled in a losing streak, but she is looking to bounce back and join her sister in the main draw to hopefully provide some stability in her tournament performance.
Jo-Wilfried Tsonga is definitely underrated as a qualifier here in Miami. He could easily reach the second week of play in the main draw if 100% healthy. Last year's injury did leave him with a low 300+ ranking, but he was able to draw on his past success with a strong performance in Montpellier, France to win the Open Sud de France just last month.
Mikael Ymer and Jay Clarke are looking forward to rather jump start their season with a qualifying run in Miami after a slow start to 2019. Jay has improved his game tremendously and has put in the time training at IMG's campus during the off-season. Jay and Mikael could be huge factors in the qualifying draw with anticipation of big wins in the near future.
The Miami Open is looking very colorful this year with the new tournament site at Hard Rock Stadium and players of all professional backgrounds are hungry for tennis stardom.
2021 Calabasas Championships
Battle of the ages: Venus vs. CoCo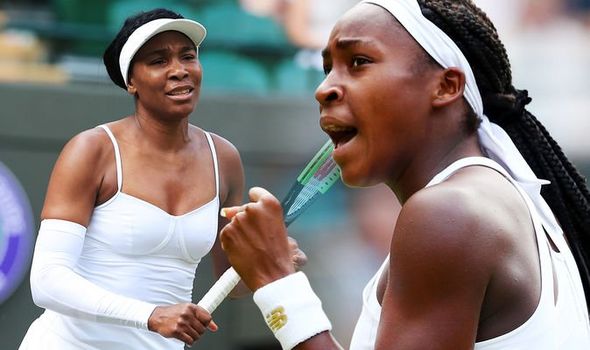 By Editorial Team
In addition to becoming the youngest player to enter the main draw of Wimbledon via qualifying, Cori "CoCo" Gauff has earned a prim-time match-up against one of the greatest grass court players of all time in the first round of play.
This match is not only a first, but also a sharp contrast of current generation talent versus veteran grand slam champion. Venus just turned 39 this month and must now face the 15 year old dynamo that goes by CoCo making this a true battle of the ages. Ironically, as in a Hollywood movie, these two are respectively the oldest and youngest players in the tournament.
Venus can sure respect Cori's hustle in advancing her career at the ripe age of 15. Venus shares a similar start, but was able to win 5 Wimbledon titles with the last win in 2008.
Coming off of a great 2017 season, Venus (unseeded this year) has struggled lately with injuries and fatigue late in matches. This year has not rolled out favorably for Venus after several on-off coaching relationships and hitting partners. Taking on a more independent role of seasoned veteran, Venus is going at it alone on tour. She has a strong management team in place, but they appear to be more assistants than highly experienced coaches giving her instruction.
In contrast, Cori has a tight-knit team around her not to mention her father as head coach. There have been several assistants offering advice, but Corey remains the largest influence on Cori's progress.
Progress is exactly what they have made – and in short record time. Just last year Cori was making her way toward the Roehamption Championship title as the world's number one ranked junior. It seems as if Cori has a trusting relationship with her Dad and is able to take constructive criticism in stride. Hard work has been Cori's mantra since the beginning of her junior career, and that hard work and preparation has landed her here at Wimbledon with a main draw match against Venus Williams.
The odds heavily favor Venus, but nothing is out of the question for Cori. Given the fact that she has played each qualifying round with a "nothing to lose" attitude, it can only be assumed that she will continue to do the same in her first round match.
The big stage is also a factor as Cori has not played on such a large WTA Tour center court yet in her career. This will definitely be a learning experience for Cori. It may be a little ambitious to expect Cori to figure out the atmosphere and surroundings all within a 2 out of 3 match. Cori is undefeated at Roehamption (ITF Juniors and WTA Qualifying), but it remains to be seen if she can muster a win against a declining, but a still very capable Venus Williams on her favorite surface.
Dustin Brown vs Felix Auger Aliassime Highlights STUTTGART 2019