By Editorial Team
Felix Auger-Aliassime made a huge statement this week by pulling off multiple upsets against the world's best in Rio as a main draw wildcard. Felix became an instant threat as he upset top seeded Fabio Fognini 6-2, 6-3 in the first round of play.
Today he was able to edge tour veteran and 2016 champion Pablo Cuevas 6-3, 3-6, 6-3 in the semifinals in a match that could have gone either way after a tough day of serving with a whopping 7 double faults.
However, while getting 81% of his serves in and thumping 9 aces on a slower court surface, Felix wore down Pablo as the match moved into the final set.
After his big win Felix reflected on his magical run in Rio…

"It was a great win for me, beating a better ranked player this week like Fabio [Fognini] is special, but this one today felt even more special because I hadn't been able yet to win three matches at this level in a row and to do it now, specially against Jaume, who beat me two times last year on clay, I think I wasn't the favorite, I didn't feel like the favorite yesterday night when I went to sleep, but when I woke up today I was able to impose myself from the start and I was like: OK, so maybe I'm a different player today. I had a little edge over him and I was able to use that during the whole match. From the moment some people put me on the map at a very young age, maybe 14, I never felt like a prodigy I only felt like I'm good at what I'm doing, I was always working hard, believing in myself but obviously when you see yourself at the papers it changes the way you see the sport. I feel good right now, it's been good but it's not where I wanna stop. There's possibly two more matches this week so I want to go as far as I can and play as good as I can. I don't feel different that I felt last week."

– Rio Open
Felix's aggressive style of play paid dividends all week and he looks forward to more winning patterns against 90th ranked Serbian Laslo Dere of Serbia in the finals. Laslo did not play a semifinal match due to a injury walkover, but should put up a lasting fight against the more tested Felix.
These two will compete against each other for the first time in their career, however Felix should have the edge in the match as confidence from such a great week should propel him into his first career ATP Tour win at the young age of 18.
Felix is sure one to watch as he transition back to the hard courts during the Indian Wells' BNP Open and Miami Open in the coming months. With solid foundations (all the strokes and superior athletic ability), fans are sure to witness the birth of a rising star on the ATP Tour this season.
French Open Men's Qualifying: Who will advance?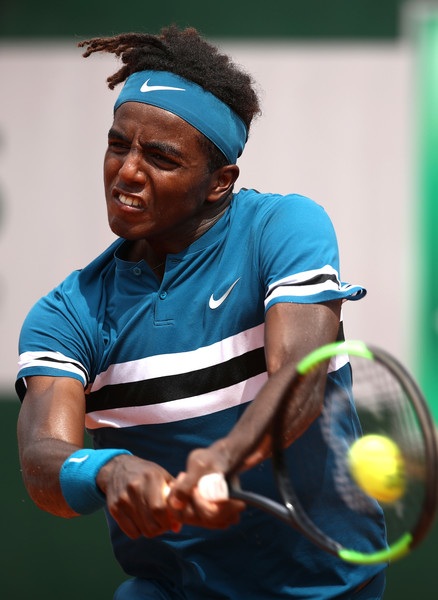 By Editorial Team
This season has been a series of ups and downs for many on tour. The black male component has taken a back seat for the most part with the exception of Felix Auger-Aliassime and Gael Monfils.
Tomorrow marks the beginning of a second (and in some cases a third) chance for several black players on the tour with the French Open Qualifying Draw getting under way. The question still remains: who will advance on the men's tour?
With seven players all in the same ranking category it can be difficult to know who exactly will break out and become the next rising star or "bounce-back" story. Our editorial staff has put together a brief run-down on each player with his chances of at least making it through to the main draw at Roland Garros.
Donald Young is always in contention (as the top rated junior who never seemed to break out) keeps up the good fight with strong family backing and athletic ability. Facing fellow American Marcos Giron in the first round is definitely a challenge, but Donald should be up to challenge on the slower surface.
It will be critical for Donald to apply pressure and force the California college star to make errors early in the match. If Donald is to have a chance he must play aggressive and go for his shots. If he is able to advance here, it should be smooth sailing into the final qualifying round even with a possible match-up against Thanasi Kokkinakis in the next round.
Darian King has a favorable draw going up against the 14th seed Peter Polansky whom he defeated 6-4, 6-1 recently on red clay in Houston, Texas at the Men's Clay Court Championship last month.
With a probable first round win, Darian's road to the main draw does not get easier with Muller and Triocki in his path. However, Darian's ability to stretch points and pull out tough 3 set matches puts him in good position to earn a qualifying spot next week.
Mikael Ymer and Elias Ymer both have great chances of qualifying and making a splash at this year's French Open. With good draws against players that they have recent wins over, it should be a family affair in the main draw.
Dustin Brown has an uphill battle against Denis Istomin without being as active on tour as usual. It will be nearly impossible for Dustin to pull off the upset here, but the red clay does work in his favor. If Dustin is able to push Denis deep in the 3rd set anything can happen, but the odds are definitely against him in this early round match.
Michael Mmoh should be able to rise above his opponents as a seeded player here in Paris and earn a spot in the main draw. Michael has the potential to upset some top ranked players if he is able to maintain a steady baseline pattern against some of the best clay court specialist on the ATP Tour.
Chris Eubanks may struggle a bit as his dynamic serve may be tapered by the red clay surface. Chris' backhand has improved dramatically with the help of new coach Chris Hill, but having to put three matches together in a row on such a slow surface may prove too challenging for the 6'7″ for the Georgia Tech star from Atlanta.
Jay Clarke has an all court game and with a determined professional approach to his game anything is possible for him this week. The only hindrance could be a tough draw against players in top form (including American Noah Rubin) that he would have to defeat in each round. Built for the faster surfaces, we look for Jay to make a big impression this season. However, the French Open red clay may not be his best surface.
In conclusion, Michael Mmoh and the Ymer brothers have the best changes of qualifying in this year's French Open and we look forward to seeing more of them as the season unfolds.
Cori Gauff receives French Open Wildcard at age 15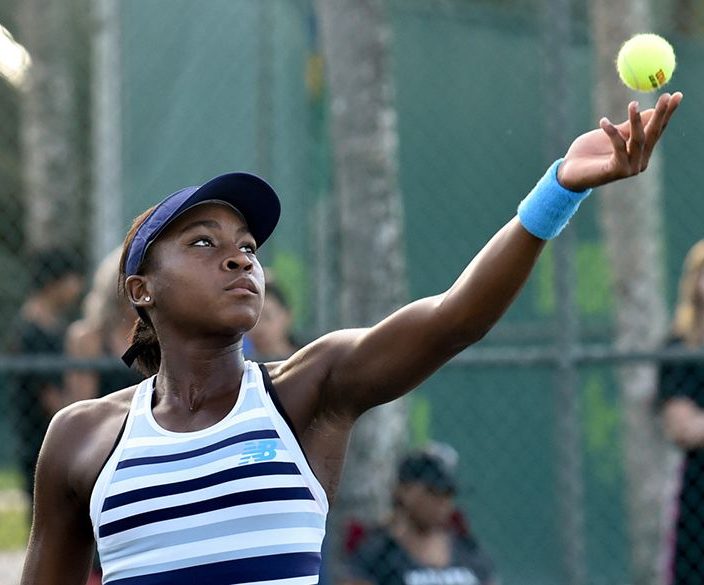 By Editorial Team
Cori "CoCo" Gauff has had such an amazing start to her pro career with round of 16 and quarter finals appearances in ITF W100 events and a ITF W25 final appearance this year.
A recent surge into the top 350 on the WTA Tour at age 15 has many players and fans scratching their heads in disbelief. It has been quite some time since such raw talent and athletic ability has graced a tennis court.
Most fans see glimpses of Venus and Serena as they watch Cori dismantle seasoned pros in straight sets. In any metric, she is definitely on pace to make a name for herself in the sport of tennis.
This week her attention has shifted from the green clay in Florida to the red clay in Europe as she plays the W60 Saint-Gaudens in France this week. She was able to defeat the lucky loser, Lucia Bronzetti 6-4, 6-4 to now face the 4th seed and 143rd ranked, Harriet Dart in the second round.
This will be a good test for Cori going into the French Open where she was able to earn a wild card into the qualifying rounds of play later this month.
The wild card was secured last year with her dramatic three-set win against fellow American and doubles partner, Caty McNally.
With a sharp game and remnants of a successful run last year, Cori should be able to put herself in contention to play in the main draw during the following week.
On the other side of the coin toss, Whitney Osuigwe was not so fortunate as she was heavily banking on her strong performances in the French Open Wilcard Playoff after winning Charlottesville and reaching the semi-finals in Bonita Springs last week.
Whitney has played great tennis with impressive results to back up the phenomenal potential. Maybe she will be able to play more International and Premier WTA Tour events as the season unfolds where she can then catch her big break to crack through the top-100 rankings.
The 33 wildcard recipients were announced from Roland Garros today as follows:
Main Draw:
WOMEN'S SINGLES
1 – ALBIE Audrey (FRA)1
2 – JANICICEVIC Selena (FRA)
3 – PAQUET Chloé (FRA)
4 – PARRY Diane (FRA)
5 – PONCHET Jessika (FRA)2
6 – TAN Harmony (FRA)
7 – HON Priscilla (AUS)3
8 – DAVIS Lauren (USA)3
MEN'S SINGLES
1 – BARRERE Grégoire (FRA)2
2 – HALYS Quentin (FRA)1
3 – HOANG Antoine (FRA)
4 – JANVIER Maxime (FRA)
5 – MAHUT Nicolas (FRA)
6 – MOUTET Corentin (FRA)
7 – POPYRIN Alexei (AUS)3
8 – PAUL Tommy (USA)3
Qualifying
:
WOMEN'S SINGLES
1 – ANDRIANJAFITRIMO Tessah (FRA)
2 – BENCHEIKH Loudmilla (FRA)
3 – GAUFF Cori (USA)4
4 – GEORGES Myrtille (FRA)2
5 – JACQUEMOT Elsa (FRA)5
6 – LEONARD Manon (FRA)
7 – LIM Alizé (FRA)1
8 – YEROLYMOS Margot (FRA)
MEN'S SINGLES
1 – BENCHETRIT Elliot (FRA)2
2 – BLANCANEAUX Geoffrey (FRA)
3 – CORNUT-CHAUVINC (FRA)
4 – DENOLLY Corentin (FRA)
5 – GASTON Hugo (FRA)
6 – GUINARD Manuel (FRA)1
7 – MARTINEAU Mattéo (FRA)
8 – MULLER Alexandre (FRA)
9 – TATLOT Johan-Sébastien (FRA)
Townsend, Osuigwe rematch in Charleston Final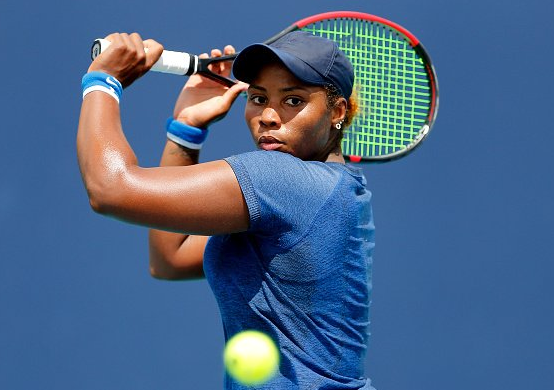 By Editorial Team
Taylor Townsend had an easier time against the red-hot Emma Navarro today in her semifinal match. While Osuigwe had to fend off the top ranked 7th seed Kaja Juvan late in the 3rd set, 6-4.
Taylor has the upper hand going into this match as she can make adjustments since her last loss to Whitney just last week in the 80k quarterfinals.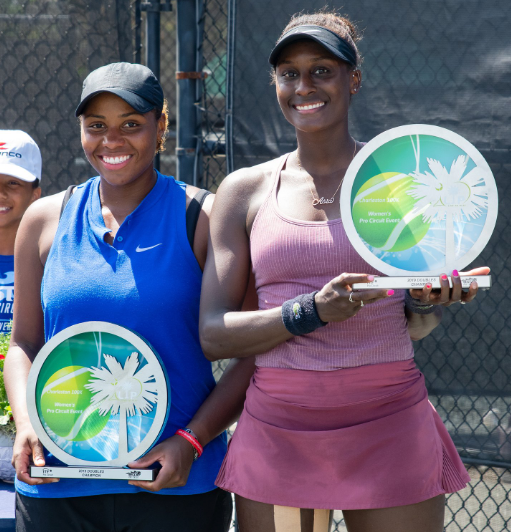 After wrapping up the doubles title today with partner, Asia Muhammad, Taylor should be fresh and in good spirits to battle the tough baseliner.
The complete match can be watched tomorrow on the Tennis Channel at 11am EST.