Press Release
SAN DIEGO – (July 19, 2018) – Cori Gauff, the current No. 1 ranked player in the International Tennis Federation junior rankings, is among the Girls' 18s entries in the USTA Billie Jean King Girls' 18s and 16s National Championships presented by adidas, scheduled for August 4-12, 2018 at the Barnes Tennis Center, 4490 W. Point Loma Blvd., San Diego, CA, 92107.
At 14 years and 4 months, Gauff, a resident of Delray Beach, Fla., is the youngest ever junior world No.1. Earlier this year she captured the French Open girls' singles title with a thrilling 1-6, 6-3, 7-6 (1) victory over 16-year old Caty McNally of Cincinnati, who is also entered in next month's tournament.
Other top entrants in the Girls' 18s division include 16-year old Whitney Osuigwe of Bradenton, Fla., and 15-year old Alexa Noel of Summit, N.J. Osuigwe, currently the No. 2 ranked junior in the world behind Gauff, has been competing on the USTA Pro Circuit this year and is ranked No. 412 in the WTA singles rankings.  Noel, who was born in Scottsdale, Ariz., is currently No. 6 in the ITF junior rankings.
This past April, the USTA renamed the USTA Girls' 16s & 18s National Championships to honor tennis icon Billie Jean King. Tournament officials have announced that King, a member of the International Tennis Hall of Fame, is scheduled to attend the final two days of the tournament.
"With the best junior tennis players coming from around the country to play in this event, we are anticipating an incredible week of high-level junior tennis," said Tournament Director Lornie Kuhle. "All of these players have worked very hard to get into this national tournament. We encourage the local community to come watch and support these amazing young athletes."
A strong group of local players is entered in this year's tournament. Among the local entries is Nicole Mossmer of La Jolla, Calif., the 2016 USTA 16s National Champion, who is competing in the Girl's 18s division this year and Elizabeth Goldsmith of Chula Vista, Calif., the 2017 CIF San Diego Section singles champion. The following are tournament entries from San Diego County:
GIRLS' 18s
Julia Deming — Fallbrook, Calif.                    Lindsay Hung — Oceanside, Calif.
Haley Giavara — San Diego                           Nicole Mossmer — La Jolla, Calif.
Elizabeth Goldsmith — Chula Vista, Calif.     Britt Pursell — Oceanside, Calif.
Julia Haynes — San Diego                             Sophie Raiszadeh — Rancho Santa Fe
Amy Huang — San Diego                               Kathy Wang —     Carlsbad, Calif.
GIRLS' 16s
Midori Castillo — Bonita, Calif.                       Katherine Hui — San Diego
To view the current list of tournament competitors in the 16s and 18s divisions, please go to:  https://tennislink.usta.com/tournaments/TournamentHome/Tournament.aspx?T=208363#&&s=5 (Entry list subject to change)
Over 400 of the top junior tennis players in the country, aged 16 and 18 and under, will compete for the title of National Champion, as well as a wild card entry into the Women's Singles main draw of the 2018 US Open (for the 18s Champion) and a wild card into the 2018 US Open Junior Championships (for the 16s Champion).  The 18s Doubles Champions will also receive a wild card into the US Open Women's Doubles main draw.
The Girls' 16s event will begin on Saturday, Aug. 4 and conclude with the singles and doubles finals on Saturday Aug. 11. The Girls' 18s tournament will get underway on Sunday, Aug. 5 and conclude with the 18s singles championship on Sunday, Aug. 12. Both divisions will feature 256-player singles draws with the top 32 players receiving a first-round bye. There will also be 128-team doubles draws with the top 16 teams getting first-round byes.
The starting time for each day of the tournament will be 9 a.m. (PDT). The Opening Ceremony for the USTA Billie Jean King National Girls' 16s & 18s National Championships is scheduled for 5 p.m. (PDT) on Saturday, Aug. 4 at the Barnes Tennis Center. (Starting times subject to change)
Early-round tournament matches will also be played at San Diego State University's Aztec Tennis Center, 5375 Remington Rd., San Diego, CA, 92115 and the Balboa Tennis Club, 2221 Morley Field Drive, San Diego, CA 92104 from Saturday, Aug. 4 through Wednesday, Aug. 8.
Admission and on-site parking at the Barnes Tennis Center is free each day of the tournament. For fans watching matches at SDSU and the Balboa Tennis Club, admission is free. There is a nominal charge for on-campus parking at SDSU. Parking regulations at the university will be strictly enforced. Parking is free at the Balboa Tennis Club.
For additional information on the USTA Billie Jean King Girls' 16s & 18s National Championships, please go to the tournament website at: http://www.ustagirlsnationals.com/
About USTA Billie Jean King Girls' 16s & 18s Nationals
The USTA Billie Jean King Girls' 16s & 18s National Championships are the premiere hard court tennis tournaments for amateur and professional American girls aged 18 and 16 and under in the United States. In 2010, both age groups began playing their events concurrently at San Diego's Barnes Tennis Center. Tournament participants, who represent nearly every state in the United States, have been endorsed by their respective USTA Section or have received USTA special exemptions based on their results in qualifying tournaments, junior rankings, or results on the WTA Tour or International Tennis Federation Junior Circuit.  Past tournament champions include Chris Evert, Tracy Austin, Andrea Jaeger, Zina Garrison, Mary Jo Fernandez, Jennifer Capriati and Lindsay Davenport.
About George E. Barnes Family Junior Tennis Center
The Center is owned and operated by Youth Tennis San Diego. It was built in 1995 and completed in 1997. The $4.5 million junior tennis facility was made possible with generous public and private donations and is named after the lead donor family – the "George E. Barnes Family Junior Tennis Center." The Center, which is dedicated to the youth of San Diego, offers children 18 and under court priority over adults with advanced reservations.
About Youth Tennis San Diego
Youth Tennis San Diego is a non-profit 501 (c)(3) organization that has been in existence since 1952.  In 2016, Youth Tennis San Diego was recognized with the USTA Organization Member of the Year Award. The  award  is  given  annually  to  an  organization  that  provides  outstanding  service  to its members and  to the  local  community. YTSD was honored at the 2016 USTA Annual Meeting and Conference at the Omni La Costa Resort & Spa in Carlsbad, Calif.
The YTSD Mission is:  "To promote the educational, physical, and social development of all youth through organized tennis and educational activities." Their community programs encourage youth participation, personal integrity, leadership, and competitive spirit in a friendly environment that builds responsible citizens.  YTSD provides thousands of youngsters each year the opportunity to play tennis after school at their neighborhood school. The After School Tennis program provides a safe haven for hundreds of youngsters who are not supervised after school. Through tennis, the children learn the success skills which will give them the confidence and self-esteem needed to confront the negative influences so often found on the streets where they live.

MID-TAC 2019 Annual Championships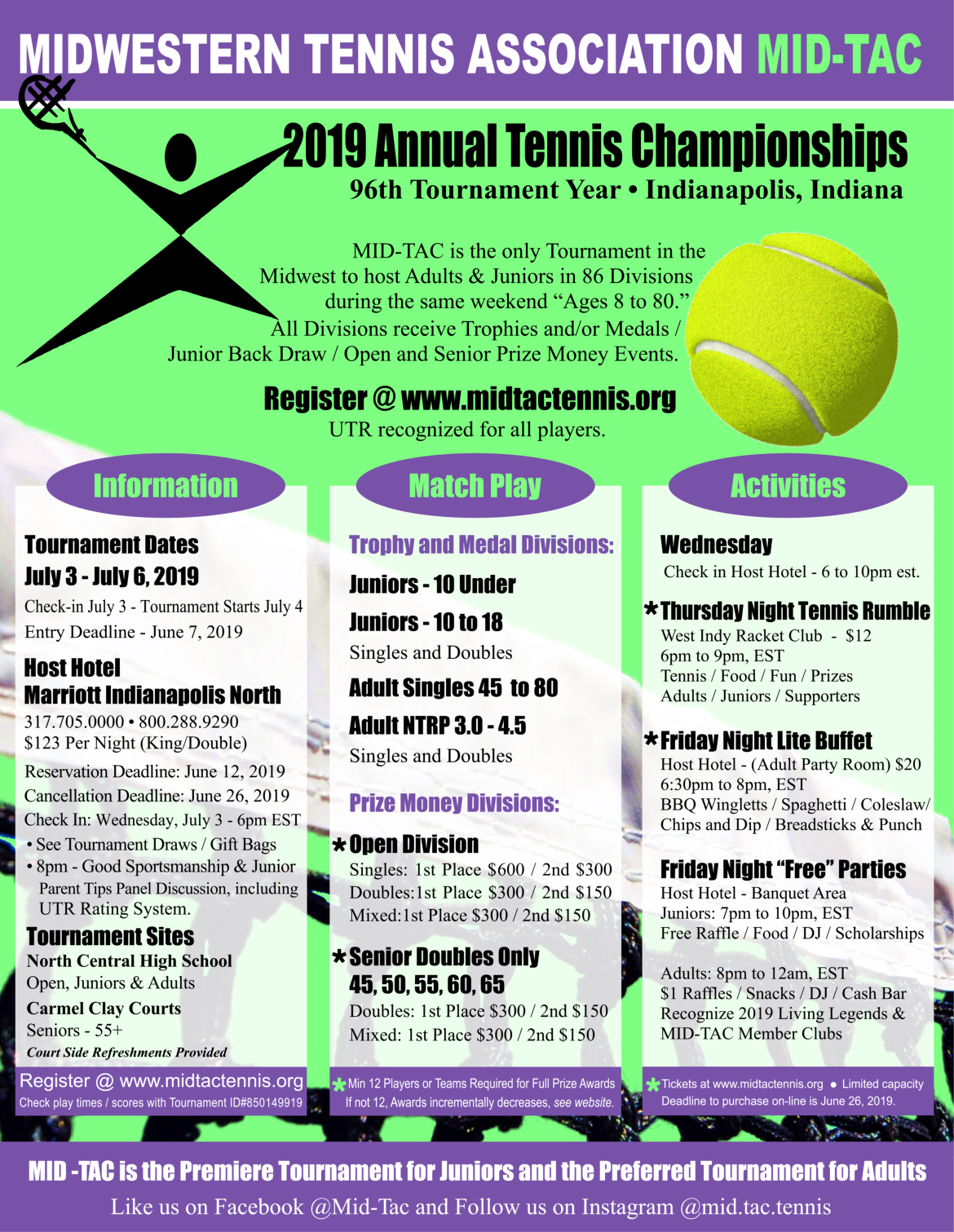 Mid-Tac is celebrating its 96th Tournament Year on July 3 to 6, 2019.
MID-TAC is a 501(c)3 organization and the Midwest Section of the American Tennis Association ("ATA" founded in 1916) and has ties to local community tennis in ten Midwestern States (Iowa, Illinois, Indiana, Kansas, Kentucky, Michigan, Minnesota, Missouri, Ohio, Wisconsin and beyond). We offer year-round opportunities to support MID-TAC by making online Donations or becoming a Sponsor.
All Donations and Sponsorships will be properly acknowledged. Please view details under the above "Donate" and "Sponsorship" tabs. We look forward to your support as we continue our mission to grow the game of tennis.
Tournament Participation Links below:
See "Scales for Calculating Prize Money Divisions" – Click Here
See "Details for 2019 Bollettieri Youth Summer Tennis Camp Scholarships" – Click Here
Marriott Indianapolis North Hotel – (317) 705-0000 or (800) 288-92903645 River Crossing Parkway, Indianapolis, In 46240Rates: $123.00 – Traditional King or Double RoomHotel Reservation Deadline: June 12, 2019Cancellation Deadline without penalty: June 26, 2019
Players set for Newport Beach Oracle Challenger Series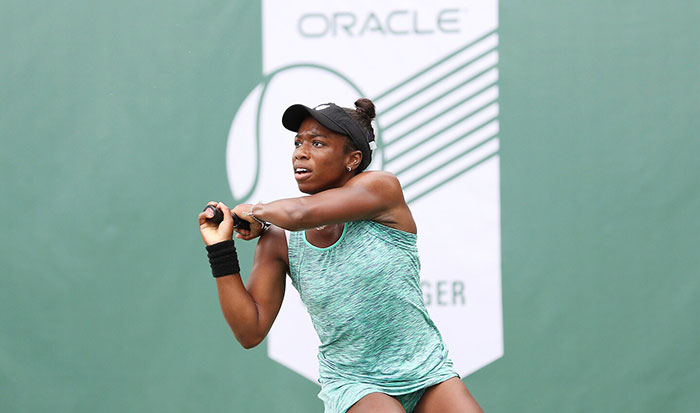 Player lists for the upcoming Newport Beach event were announced today, giving tennis fans plenty to cheer about. Among those slated to appear in Newport Beach are multiple Grand Slam doubles champions, past Oracle Challenger Series finalists and over 30 American players competing for the coveted Oracle Challenger Series wild cards into March's BNP Paribas Open.
Play begins January 21st and extends through January 28th at the Newport Beach Tennis Club.
Players:
ATP
WTA
Serena visits Beautycon POP In Los Angeles Photo Gallery