By Portia Kane
The Pacific Coast Championship Tennis Association (PCCTA), a historical non-profit organization that is known to provide a platform for People of Color to participate in national tennis tournaments, has amazing opportunities in store for its members and players. The organization has been around for 100 years and has helped play a role in helping launch many African American tennis players' careers. The Editorial team was able to do a traditional Q & A interview with the President of PCCTA, Lisa Braboy. She was able to provide insight on the organization's vision and overall objectives, plans for expansion, and news about upcoming tournaments.
BTM: Are there any plans for the annual PCC tournament to take place in other states or is Long Beach going to remain the only city that holds the tournament?
Lisa: We've had elections amongst our new administrators and we have decided to keep the PCC tournament in Long Beach. It's going to continue to be an all children's tournament. We do plan to create another tour that does rotate locations; one tournament that we plan to start in 2018 will take place in Hawaii.
BTM: Is there a plan to have more than one PCC tournament per year in the future?
Lisa: To give you a little background about our organization, we're a 100 years-old and we went down for about 5-6 years because at a certain point we only had 4 people running the entire organization. We've recently put together a new board, and we've revamped our organization. We're more of a networking and philanthropic organization. With all of that said, we only plan on having one PCC tournament per year. We also have an all adult ATA National Championship tournament in Las Vegas, which we plan to continue only having one per year.
BTM: Is there a committee within the PCCTA that travels statewide to discover new upcoming athletes?
Lisa: We do plan to travel and generate clubs for kids and adults to join in different states. We actually have the whole western region, including Arizona, Colorado, Hawaii and many other states. We do plan on having more participation from other states in the future.
BTM: Are there any requirements to participate in a PCC tournament?
Lisa: No, there are no requirements. Anybody can participate, and the tournament is open for participation nationwide. We actually have people from the Caribbean come to participate in the ATA tournaments.
BTM: Since this is a fundraising organization that relies heavily on donations from its members, if there aren't enough donations being made does that mean the tournaments are cancelled?
Lisa: No, the tournaments still happen because we also get funding from court sponsorships, as well as other sponsorships. We do charge an entry fee, so whatever money is left over after we cover our expenses goes towards the kids. We are also going to seek out sponsorship from banks; we've already set up meetings with One United Bank and Chase Bank. We are also creating a Go Fund Me page to help raise money for the tournaments.
BTM: What are some of the benefits of having a PCCTA and ATA membership?
Lisa: We charge a $30 membership fee that will give you dual membership to PCCTA and ATA. We have reduced our fees and ATA has reduced theirs, so the membership fee gives you dual membership for the year. ATA membership gets points and rankings for any tournaments that our members play in. PCCTA does partnerships with auto mechanics which gives our members 10% off their purchases. We also have a Players Party discount, and during the ATA tournaments we have partnered with food trucks to give our members a free meal or reduced cost on their meal. We are looking to partner with nationwide organizations to give our members discounts as well. We would also like for every PCCTA member to get an automatic subscription to Black Tennis Magazine, so hopefully we can work out some sort of deal.
BTM: What are some of the benefits of participating in the PCC and ATA tournaments?
Lisa: The main benefit for tournament participates is the competition. We draw top competition, and at last year's tournament we had 98% non African-Americans. For our ATA tournaments we have participants from the east coast as well as the Caribbean. We have top level players at our tournaments. Even with our new players, we draw really good competition. The second benefit is the opportunity for our participants to network amongst each other. We have so many great things in store for next year's tournaments. For example, next year's Players Party theme at the ATA tournament will be Woods and White; everybody will be wearing white under lights, and a bunch of other surprises will take place—so the social aspect of the tournaments is great. Like I mentioned earlier, we are recruiting business partners because they can advertise their businesses and give our members discounts. They can also help us grow as an organization which is our goal.
BTM: Can players participate every year?
Lisa: Yes, we encourage our players to keep coming back to participate in our tournaments annually.
BTM: Last question, as the president of PCCTA, what are some of your main focuses for the organization?
Lisa: My main focus is to spark cohesiveness amongst the board and office. The overall aim is to form an organization built on growing with no hidden agendas that will get in the way of our vision. My other focus is to build trust in the community. We are an inclusive organization; we incorporate all age groups. We have games where players in their 80's participate. We've also had games where our players in their 80's teamed up with players who were 9 years-old and played a match together. It was very wonderful and motivational to watch. I would also like to emphasize that PCCTA is not about race anymore. We are not just an African-American organization; we reach out to all ethnicities because we believe in pushing humanity forward. We want all people to participate in our tournaments and to be a part of our organization.
We appreciate all of the passion and dedication Lisa Braboy has for PCCTA as her hard work does not go unnoticed. We look forward to the new tournament set to take place in Hawaii 2018 as well as all of the surprise festivities in store during the ATA tournament in Las Vegas. One of the major highlights that Lisa discussed was how PCCTA was able to reinvent themselves after almost shutting down. Because of their resilience, PCCTA will remain a viable platform for all tennis players—no matter their age or ethnicity—to compete against great players of all levels. The opportunities for players and members to network is growing due to PCCTA's plans for expansion. We do look forward to all of the upcoming tennis players that will participate in next year's tournaments. For more information, please visit www.pcc-tennis.org
Harlem Junior Tennis Education Program Spring Gala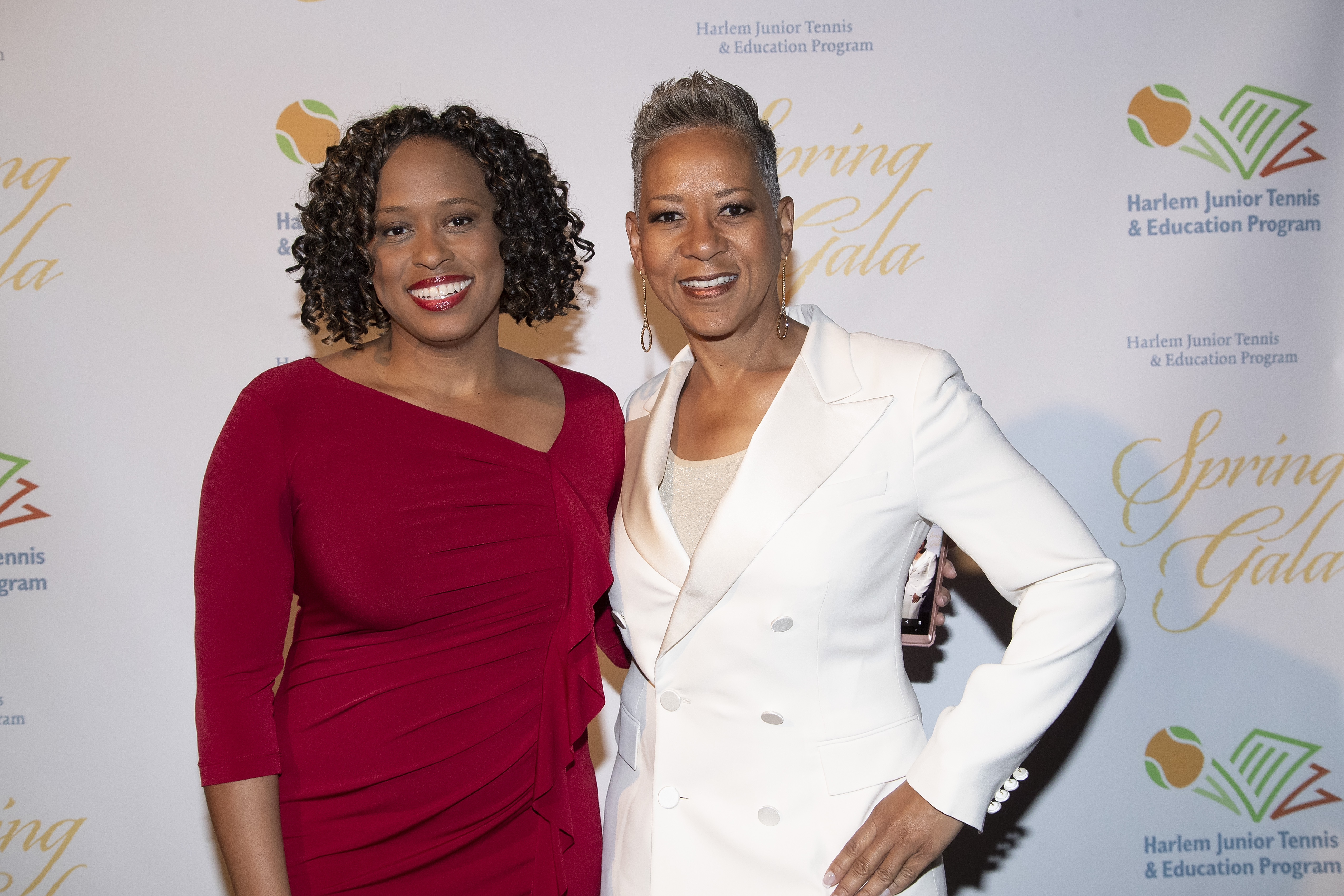 The Spring Gala is an annual event produced to create awareness of one of the most successful youth development programs in the country. HJTEP creates a safe space for youth where they can learn and develop – on and off the courts. This year's event was held at Gotham Hall in New York City on Monday April 29th.
HJTEP continues to promote tennis and education over the years since its inception in 1972. The Spring Gala brings out major celebrities and tennis elite each year. Chanda Rubin won the Shining Star Award and Deborah Slaner Larkin received the Chairman's Award.
HJTEP receives grants and support from a variety of sources ranging from Black Enterprise to the USTA Foundation. To donate toward the mission please click here.
April 30, 2019; New York, NY 2019 Harlem Junior Tennis & Education Program Spring Gala

April 30, 2019; New York, NY 2019 Harlem Junior Tennis & Education Program Spring Gala

April 30, 2019; New York, NY 2019 Harlem Junior Tennis & Education Program Spring Gala

April 30, 2019; New York, NY 2019 Harlem Junior Tennis & Education Program Spring Gala

April 30, 2019; New York, NY 2019 Harlem Junior Tennis & Education Program Spring Gala Chanda Rubin

April 30, 2019; New York, NY 2019 Harlem Junior Tennis & Education Program Spring Gala

April 30, 2019; New York, NY 2019 Harlem Junior Tennis & Education Program Spring Gala

April 30, 2019; New York, NY 2019 Harlem Junior Tennis & Education Program Spring Gala

April 30, 2019; New York, NY 2019 Harlem Junior Tennis & Education Program Spring Gala

April 30, 2019; New York, NY 2019 Harlem Junior Tennis & Education Program Spring Gala

April 30, 2019; New York, NY 2019 Harlem Junior Tennis & Education Program Spring Gala

April 30, 2019; New York, NY 2019 Harlem Junior Tennis & Education Program Spring Gala

April 30, 2019; New York, NY 2019 Harlem Junior Tennis & Education Program Spring Gala

April 30, 2019; New York, NY 2019 Harlem Junior Tennis & Education Program Spring Gala

April 30, 2019; New York, NY 2019 Harlem Junior Tennis & Education Program Spring Gala

April 30, 2019; New York, NY 2019 Harlem Junior Tennis & Education Program Spring Gala

April 30, 2019; New York, NY 2019 Harlem Junior Tennis & Education Program Spring Gala
Son of legendary Dr. J deserves page in black tennis history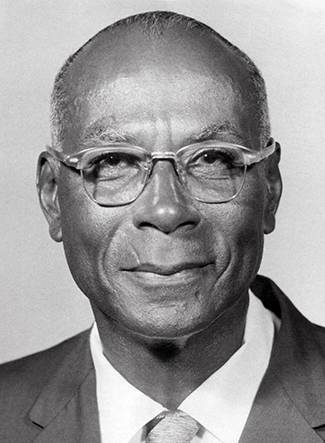 By Larry Bivins
When I asked tennis pro Julien Delaine if he knew Bobby Johnson Jr., the sparkle in his eyes told me the question had struck gold.
"Yeah, man!" Julien said excitedly, adding that anyone who hung around the tennis courts at 16th and Kennedy streets in Washington, D.C., had to know Bobby Johnson Jr. and his three sons. They were fixtures on those courts back in the day.
"He taught me how to kick the serve," Julien said.
The reason I asked was I recently had learned Robert W. Johnson Jr. had passed at age 92. At the time, I knew little about him except he was the son of the legendary Dr. Robert W. (Whirlwind) Johnson, Dr. J., as he was called, who was inducted posthumously into the International Tennis Hall of Fame in 2009 for his role in breaking the color barrier in professional tennis and helping scores of young black tennis players develop their game.
It was on the court at Dr. Johnson's Lynchburg, VA, home where Althea Gibson polished the skills that propelled her to become the first black tennis player to win a Grand Slam tournament when she won the French Open in 1956. It was on that same court where Arthur Ashe honed the talent that led him to become the first black man to win a Grand Slam tournament when he won the U.S. Open in 1968. Both wound up winning multiple slams.
I figured the passing of Dr. J's son, popularly known as Bobby Jr., was worth a blogpost. But I needed to learn more about him. What I discovered was inspirational to say the least!
Bobby Johnson Jr. was integral to Dr. J's legacy, as he led the instruction of those invited to train Dr. J's home academy over more than two decades. But Bobby Johnson Jr. also had established his own reputation in the black tennis community of the nation's capital.
Bobby Johnson Jr., who earned a master's degree in biology from North Carolina Central University and studied medicine at the University of Lausanne in Switzerland, taught biology, chemistry and physical education in D.C. public schools. He coached high school tennis teams at Holton-Arms School in Bethesda and St. Alban's in Washington. He also served as head tennis coach at Howard University.
Bobby Johnson Jr. also competed. He and Dr. J won the father and son National Doubles Championships in 1955. And he played men's singles in the U.S Tennis Championships at Forest Hills, the US Open forerunner, in 1958 and 1959.
But Bobby Jr.'s passion was holding clinics for young black players throughout the District of Columbia, with his sons being among his primary students.
"We all benefitted from one-on-one exposure to his teaching," said Lange Johnson, who runs the Whirlwind Johnson Foundation, dedicated to preserving his grandfather's legacy, including the restoration of his Lynchburg, Va., court and home. "He knew tennis inside and out – strokes, grips, stance and tactics, and he conveyed all of that to us."
Robert Johnson III, also familiarly known as Bobby, said his dad preached what he called the "classic" approach to tennis, marked by use of an Eastern forehand grip because of its flexibility to hit different kinds of shots.
"My dad was a technician, a strategist and a fixer," Bobby said. "He could diagnose a technical problem in your game and have you hitting better in no time."
William Kellibrew, a city of Baltimore health official and a motivational speaker, would echo that. He told me he spent several years as a teenager under Bobby Johnson Jr.'s tutelage at the Turkey Thicket courts in the Brookland area of D.C.
"I have his backhand, which is my strongest tennis asset," Kellibrew said. "I know his fundamental strokes."
D.C. native Merritt Johnson (no relation) said Bobby Johnson Jr. had a huge influence on his approach to coaching young players.
"He still had that old-school way of laying a foundation," Merritt said. "Being young and black, I learned from him a sense of patience and humility on and off the court. "Working for him, he taught me respect for being on time and what it takes to work with kids. Working with kids, you have to be patient."
Apparently, the teachings had an impact. Merritt Johnson was a two-time Washington Post Coach of the Year, as his girls' team at St. John's College High School won 8 of 9 championship matches while compiling a 112-1 record during his tenure. He also has Merritt, who also has competed on the USTA professional circuit, has been a juniors coach at several D.C. area tennis clubs. He has coached at George Washington University and the University of Arizona. He now is a high-performance coach in Seattle, Wash.
Bobby Johnson Jr. would hold clinics all over D.C. But his favorite site was Carter Baron at 16th and Kennedy streets. Bobby Johnson III said his dad would rent courts there during the summer and conduct camps for groups of kids, some of whose parents could afford to pay but did not.
"It used to pain me to see my dad give away lessons for nothing, but he genuinely loved to help people," Bobby told me.
Julien Delaine told me he never could afford lessons, but he and his brothers who lived just a block away from Carter Baron learned just from watching Bobby Johnson Jr. train his sons.
"That was our inspiration," Julien said. "Watching him coach his sons was where I got my instruction. We listened and we learned. We would try to do the drills after watching him and his kids."
In its homage to Black History Month, the Tennis Channel is paying tribute to Dr. Robert (Whirlwind) Johnson in a video that includes clips from the 2009 Hall of Fame induction and last May's ceremony for the refurbished tennis court at Dr. J's home. There was no word of Bobby Johnson Jr.'s contribution to his dad's legacy.
Bobby Johnson III told me a memorial service is being planned for the Spring. Perhaps that will give rise to a campaign for the son of Whirlwind to have his own page in the annals of black tennis history.
Check out Larry at tennisinthehood.com for more community updates and colorful commentary on yesterday's and today's game.
Kamau Murray's XS Tennis teams with Clinton Foundation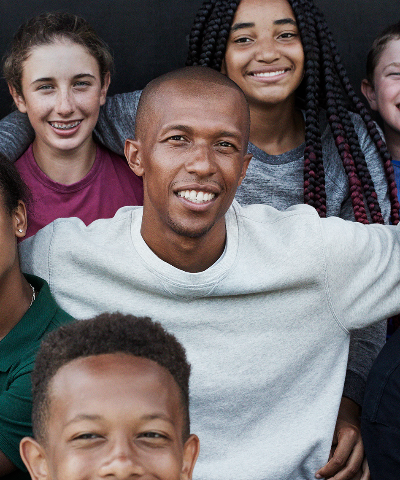 By Editorial Team
Kamau Murray keeps a tight calendar in the midst of coaching a top ranked WTA pro player (Sloane Stephens), managing a non-profit (XS Tennis & Education Foundation) and maybe now local politics. Chicago has been the basis for major overhaul recently as colleges and universities from around the nation pull resources together to held rebuild the neglected South Side streets of Chicago as part of the Clinton Global Initiative University.
XS Tennis Village provided meals to those in need as a alternative site for helping rebuild the community. When asked about the initiative, Chelsea Clinton stated, "We need to give something back and I hope they will take that message and meaning with them after they leave tonight, whether back to their college or university campuses or throughout their lives."
Chelsea Clinton was also accompanied by Mayor Rahm Emanuel for added support. "All of us have a responsibility to our fellow citizens, as Muhammad Ali said, the service to others is the rent we pay for our room here on earth," Emanuel said.
With such a big turnout, Kamau's presence was required in Chicago leaving coaching duties to Sylvester Black. Sylvester was able to fill the role coaching Sloane quite well as he did double duty with on-court coaching igniting a turnaround from Sloane after losing eight straight games to eventually win her semifinal match against KarolínaPlíšková 6-1 in the 3rd set.
With Sylvester backing him up, Kamau may have more opportunities to engage in the political scene of Chicago to make a real difference. The high crime and poverty stricken streets of Chicago could definitely use a sport like tennis to promote education and positive community development.
From saving the community, hosting the Oracle Challenger Series to grooming the next US Open champion, Kamau and XS Tennis are destined for continued success. For more info about Kamau and his efforts at XS Tennis Village click here.