By Editorial Team
Hurricane Tyra Black was able to battle her way into the finals of the ITF Carson International tournament this weekend with steady play and precise ball striking while patiently awaiting her opportunity to attack the net. Tyra defeated the 35th ranked and first seed, Margaryta Bilokin of the Ukraine  4-6, 6-3, 6-3 and now faces the fifth seed, Georgia Drummy of Italy in the finals.
Tyra has the ability to rise fast through the ITF junior ranks as the grand slams are approaching. Her slice forehand was effective in resetting the point when pushed out wide off the court, however it can also be a huge liability. Tyra has a habit of hitting high floating slice forehand second serve returns instead of smacking aggressive topspin forehands. With minor shot selection adjustments, Tyra can transform into a more offensive player with big weapons. Look for big things from her as she continues to improve while excelling rapidly as a bright star in junior tennis.
In the earlier match played today things did not go as planned for Hailey Baptiste as she lost a three set battle to the left handed Georgia Drummy. Hailey lost her momentum after winning the first set 6-3; Georgia began to elevate her game and Hailey could not counter Georgia's powerful ball striking.
Hailey should feel good about a great showing in Carson, and she is playing top junior tennis going into the Summer season. With more time spent on the practice courts, Hailey should have increased consistency from the baseline and an improved big serve that can get generate easy points. The future is bright for these two juniors as they continue to grow into tomorrow's top WTA Tour players.
Gauff gets first US Open win in mixed doubles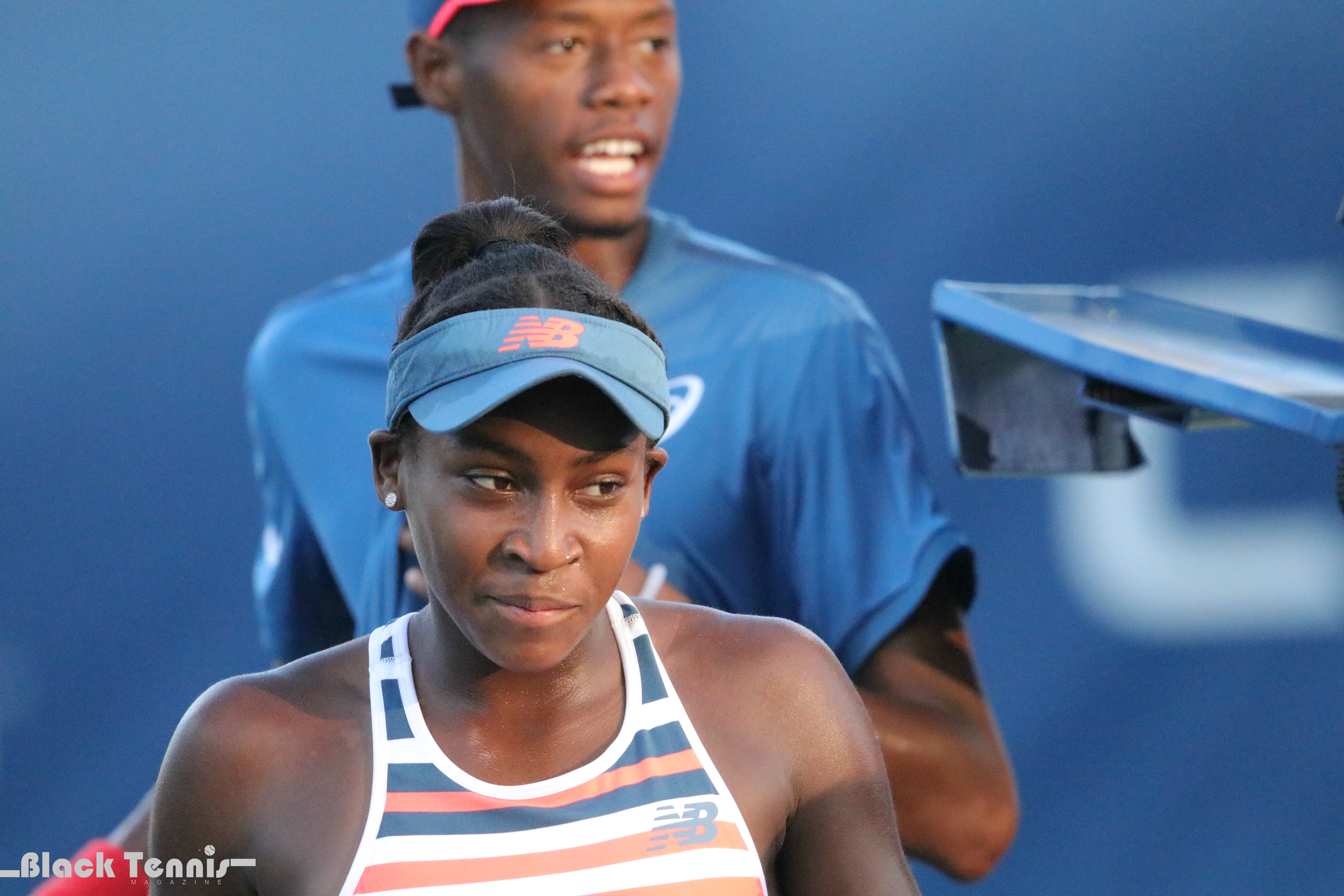 By Editorial Team
Cori Gauff was able to snag a win at the US Open in the main draw mixed doubles today as she and Chris Eubanks were able to hold off Schuurs and Middelkoop in straight sets 6-4, 6-4. With Chris' big serve and Cori's great all-around game, this paring is set to go the distance.
Teens, Osuigwe and Gauff among US Open wild cards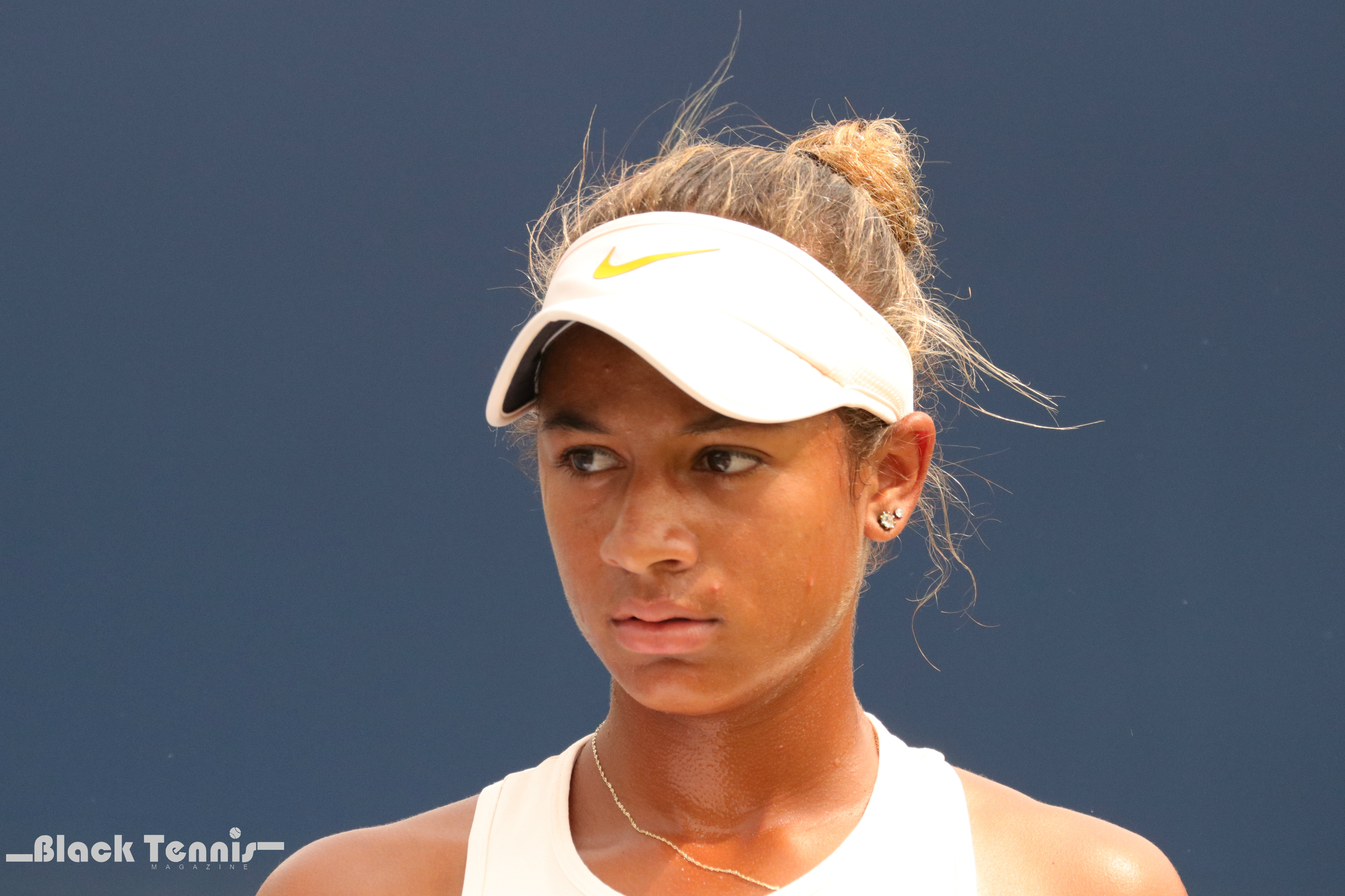 By Editorial Team
With the US Open tournament series in full swing this summer, there are a few juniors looking to make their mark in this year's professional event. Whitney Osuigwe secured an automatic wild card into the main draw by winning the USTA National Championships in San Diego last week.
Whitney is sure to grow into a top WTA Tour player, however recent ITF Pro results suggest that there is still some work remaining in order to make a dent in a stacked grand slam pro event. However, anything is possible during a match so Whitney must come prepared to battle any opponent that is thrown her way.
Separately, Cori Gauff was able to earn a wild card into the qualifying draw after gaining the number one spot in the world junior rankings at age 14. The qualifying draw experience may prove best for the younger upstart as she navigates her way through professional tennis.
In the years to come it is inevitable that Cori will eventually get direct main draw acceptance into WTA grand slams, but for now she must play her way through the preliminary draw in order to compete in this year's main draw event. Expect some big wins from Cori in this year's US Open qualifying.
US Open Wild Card Listing:
Women: Main Draw
Anisimova
Azarenka
Kuznetsova
Liu
Muhammad
Osuigwe
Tan
Australian Player (TBD)
Women: Qualifying Draw
Day
Gauff
McNally
Kratzer
Li
Mattek-Sands
Pegula
Lao
Brodsky
Men: Main Draw
Brooksby
Klahn
Kubler
Mmoh
Moutet
Rubin
Smyczek
Wawrinka
Men: Qualifying Draw
Young
Eubanks
Aragone
Redlicki
Novikov
Fawcett
Blanch
Korda
Nakashima
Gauff's amazing comeback victory for French Open Jr. Title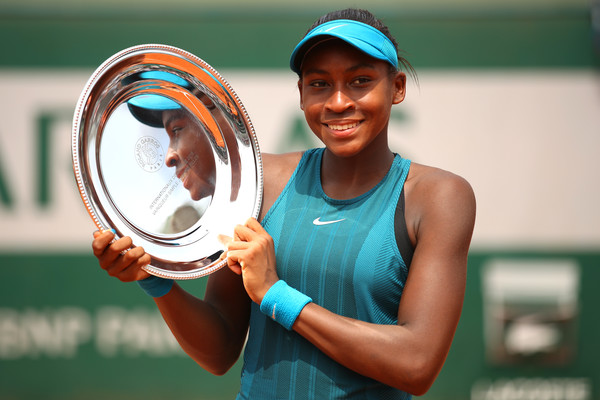 By Editorial Team
Cori Gauff won her first junior grand slam title at Roland Garros in dramatic fashion today. After being down 1-6, 0-2, 0-3, Cori was able to dig deep and put off the bad memories of her 2017 US Open finals loss and somehow pull through to get the win in a third set tiebreaker.
Playing from behind is something new to Cori as she has traditionally destroyed opponents straight sets. Fighting spirit and the ability to make late-match adjustments can now be added to her arsenal of weapons. Caty McNally played a terrific match as she dominated throughout, but could not extend the rally on her backhand side which ultimately resulted in her loss.
Caty is a great singles and doubles player with a lot of variety and shot making ability, but Cori's speed to the ball left her with too many unanswered questions.
The future is bright for Cori as she plans to transition into the WTA Tour over the next couple years. We look forward to seeing more of her play in the coming weeks as the grass court season kicks off in Europe. We had a chance to catch up with Cori after the match as a special guest on our podcast show.
Subscribers can catch our latest interview with Cori on our podcast page later today.