By Jason Barron
Hailey Baptiste and Cori Gauff both posted wins in the ITF Pro Circuit Event in Osprey, Florida this week. The event is the clay court tournament, running from May 21st-May 27th where Cori lost in the round of 16 to 4th seeded Katherine Stewart 7-6, 6-3. However, Hailey was able to advance to the quarterfinals after defeating 8th seed Maria Mateas 6-3, 6-4 today.
Both players are top juniors, with Cori, 14 and Hailey, 16 who are accumulating Pro Circuit ITF points at young ages. This is a good template for them to test their skills. Tiafoe and other players have benefitted from playing on the ITF Pro Circuit and had success before playing on the Pro Tour. Cori has in the past stated that she wants to be the greatest of all time. If she can continue on her path then it is likely that she can achieve great things in her career.
Cori has already showed tremendous versatility in her game with having an advanced skill set that will allow her to be a consistent pro player. Cori has developed power on both sides (forehand and backhand) at this early stage in her career.
At this current ITF Event, Cori played 3 qualifying matches beating older players to make the main draw. In her first main draw win Gauff beat Moldovain player, Alexandra Perper, 6-2, 6-3. Perper is 26, 12 years Cori's senior. It is pretty amazing for Cori to already be getting wins against older, more experienced players. Her game has advanced past her years, and she is really developing good habits from an early age.
Katerina Stewart, 20  – who recently advanced to the Semifinals of the Charleston ITF Event before losing to eventual champion, Taylor Townsend – was able to finally down Cori in two sets. It was a good test for Cori against an experienced pro and one of the better players in the tournament. Cori will need to continue to play matches at this level in order to gain experience and have more success.
Hailey is having a breakout tournament after winning 3 matches to qualify and subsequently defeating Amanda Rodgers, 7-6 (7-2), 6-4. Baptiste will next play 1st seed Deniz Khazaniuk of Israel in the quarterfinals. This should be a competitive match as Baptiste looks to build off of her previous round of 16 performance at an ITF Event in Tampa, Florida.
Hailey and Cori are both young players who have showed they belong on the ITF Pro Circuit and can continue to win matches at the professional level. Hailey is set to play their next matches on Friday, May 25th. Both Baptiste and Gauff have great potential and this ITF event is really showing what they are capable of; hopefully Hailey can ride this momentum into her first ITF title win.
Baptiste, Montgomery & Scott headline USTA Nationals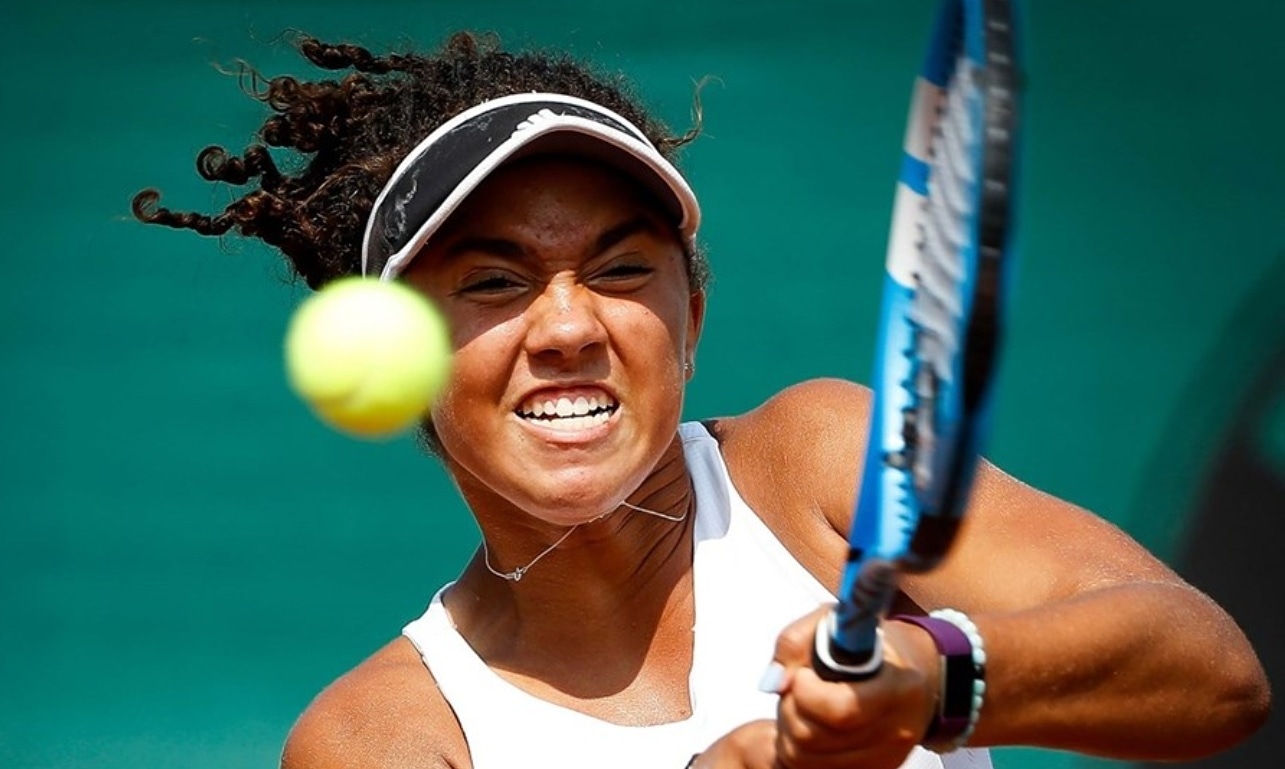 PRESS RELEASE
TOURNAMENT OFFICIALS ANNOUNCE SEEDS FOR USTA for BILLIE JEAN KING GIRLS' 16s & 18s NATIONAL CHAMPIONSHIPS
Opening Ceremony Set for Saturday, August 3, 2019 at Barnes Tennis Center
SAN DIEGO – (August 2, 2019) – Tournament officials have announced the seeded players for the United States Tennis Association Billie Jean King Girls' 16s and 18s National Championships scheduled for August 3-11, 2019 at the Barnes Tennis Center, 4490 W. Point Loma Blvd., San Diego, CA 92107.
The top singles seed in the Girls' 18s division is Hailey Baptiste of Washington, D.C. Other top Girls' 18s seeds include second-seeded Katie Volynets of Walnut Creek, Calif., third-seeded Emma Navarro of Charleston, S.C., and fourth-seeded Alexa Noel of Summit, N.J.

The 17-year-old Baptiste has spent most of the year playing on the USTA Pro Circuit. She is currently ranked No. 283 in the Women's Tennis Association singles rankings. Earlier this week, she upset 2017 US Open finalist Madison Keys 7-6 (4), 6-2 in the first round of the Citi Open in Washington, D.C., before falling to Kristina Mladenovic of France in the second round.

Volynets has also spent much of 2019 competing in USTA Pro Circuit events. The 17-year-old is ranked No. 387 in the WTA singles rankings. Navarro, 18, was a Girls' singles finalist at this year's French Open. She is currently ranked No. 4 in the ITF junior rankings. Noel, 16, reached the Wimbledon Girls' Singles final last month and is No. 7 in the latest ITF junior rankings.
In the Girls' 16s division, Valencia Xu of Livingston, N.J., is the top singles seed. The 16-year-old Xu, who competes in International Tennis Federation and USTA junior events, captured the singles title at the USTA International Grass Court Championship in Haverford, Pa., this past June.

"We have very strong draws in both divisions for this year's National Championships," said Tournament Director Lornie Kuhle. "There are many talented players coming from across the country to compete in this event. I invite fans to come and watch the future of American women's tennis. It's going to be a great week of high-level junior tennis."

For the complete list of seeded players, click here.
For complete draws for the Girls' 16s and 18s divisions, click here.
Over 400 of the top junior tennis players in the country, aged 16 and 18 and under, will compete for the title of National Champion, as well as a wild card entry into the Women's Singles main draw of the 2019 US Open (for the 18s Champion) and a wild card into the 2019 US Open Junior Championships (for the 16s Champion). The 18s Doubles Champions will also receive a wild card into the US Open Women's Doubles main draw.

The Girls' 16s event will begin on Saturday, August 3 and conclude with the singles and doubles finals on Saturday August 10. The Girls' 18s tournament will get underway on Sunday, August 4 and conclude with the 18s singles championship on Sunday, August 11. Both divisions will feature 256-player singles draws with the top 32 players receiving a first-round bye. There will also be 128-team doubles draws with the top 16 teams getting first-round byes.

The starting times for each day of the tournament are as follows:
Saturday, August 3 through Wednesday, August 7 – 8 a.m.
Thursday, August 8 – 8:30 a.m.
Friday, August 9 and Saturday, August 10 – 9 a.m.
Sunday, August 11 – 10 a.m.
(All times PDT)
The Opening Ceremony for the USTA National Girls' 16s & 18s National Championships is scheduled for 4:30 p.m. (PDT) on Saturday, August 3 at the Barnes Tennis Center.

Early-round tournament matches will also be played at San Diego State University's Aztec Tennis Center, 5375 Remington Rd., San Diego, CA 92115 from Saturday, August 3 through Thursday, August 8 and at the Balboa Tennis Club, 2221 Morley Field Drive, San Diego, CA 92104 from Saturday, August 3 through Tuesday, August 6.
Admission and on-site parking at the Barnes Tennis Center is free each day of the tournament. For fans watching matches at SDSU and the Balboa Tennis Club, admission is free. There is a nominal charge for on-campus parking at SDSU. Parking regulations at the university will be strictly enforced. Parking is free at the Balboa Tennis Club.
Tennis Channel will broadcast the Girls' 16s singles final from 1-3 p.m. (PDT) on Saturday, August 10 and the Girls' 18s singles final from 2-4 p.m. (PDT) on Sunday, August 11.
All tournament matches played on Stadium Court at the Barnes Tennis Center will be streamed live at www.ustagirlsnationals.com beginning Saturday, August 3 through Friday, August 9.
To view the official tournament website, please click here.
About USTA Billie Jean King Girls' 16s & 18s Nationals
The USTA Billie Jean King Girls' 16s & 18s National Championships are the premiere hard court tennis tournaments for amateur and professional American girls aged 16 and 18 and under in the United States. In 2010, both age groups began playing their events concurrently at San Diego's Barnes Tennis Center. Tournament participants, who represent nearly every state in the United States, have been endorsed by their respective USTA Section or have received USTA special exemptions based on their results in qualifying tournaments, junior rankings, or results on the WTA Tour or International Tennis Federation Junior Circuit.  Past tournament champions include Chris Evert, Tracy Austin, Andrea Jaeger, Zina Garrison, Mary Jo Fernandez, Jennifer Capriati and Lindsay Davenport.
Seeded Player List:
1. Baptiste, Hailey
2. Volynets, Katie
3. Navarro, Emma
4. Noel, Alexa
5. Ma, Connie
6. Subhash, Natasha
7. Parks, Alycia
8. Black, Hurricane Tyra
9. Forbes, Abigail
10. Broadus, Savannah
11. Mandlik, Elli
12. Beck, Chloe
13. Montgomery, Robin
14. Scott, Katrina
15. chavatipon, charlotte
16. Owensby, Charlotte
17. Boch-Collins, Audrey
Wimbledon Junior Champions fly under radar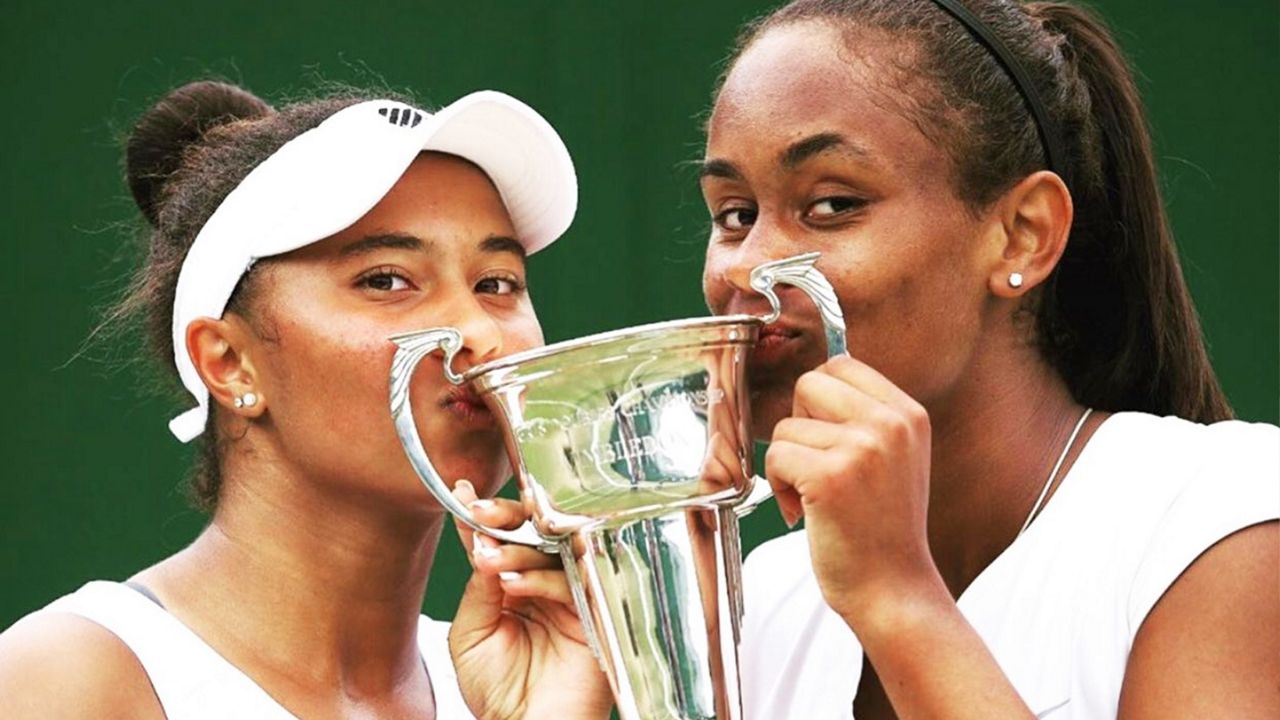 By Editorial Team
Savannah Broadus and Abigail Forbes defeated Bartone and Selekhmeteva in a three set battle to win the Wimbledon Junior Doubles Championships.
Forbes is currently attending UCLA as an incoming freshman in the Fall and Broadus is a Dallas native that was able to break through the Texas Tennis Association ladder. These two were not caught up in the junior hype over the last few years as Gauff, McNally, Baptiste and Navaro dominated major media outlets with their impressive singles play.
This year Forbes sported a top 25 ITF junior ranking, but 15 year old Robin Montgomery and the rapidly rising Sada Nahimana who won the Wimbledon warm up in Nottingham had most of the buzz going into this year's Championships.
With the US Open just around the corner, Savannah and Abigail can test their skill on the hard courts again, but now with some spotlight attached to their names.
Last year Gauff and McNally (currently top 200 WTA ranked pros) were able to take the US Open title against Baptiste and Hewitt in straight sets. This year Savannah and Abigail are favorites in the draw. Most doubles champions move on to great pro careers as Marta Kostyuk and Bianca Andreescu were able to boost their careers with solid performances in WTA singles events following strong doubles performances.
Only time will tell if this doubles team is ready for the WTA Tour, but for now fans should support and lift them up as champions and the future of black tennis.
African hopeful, Sada Nahimana, captures Nottingham Junior International Championship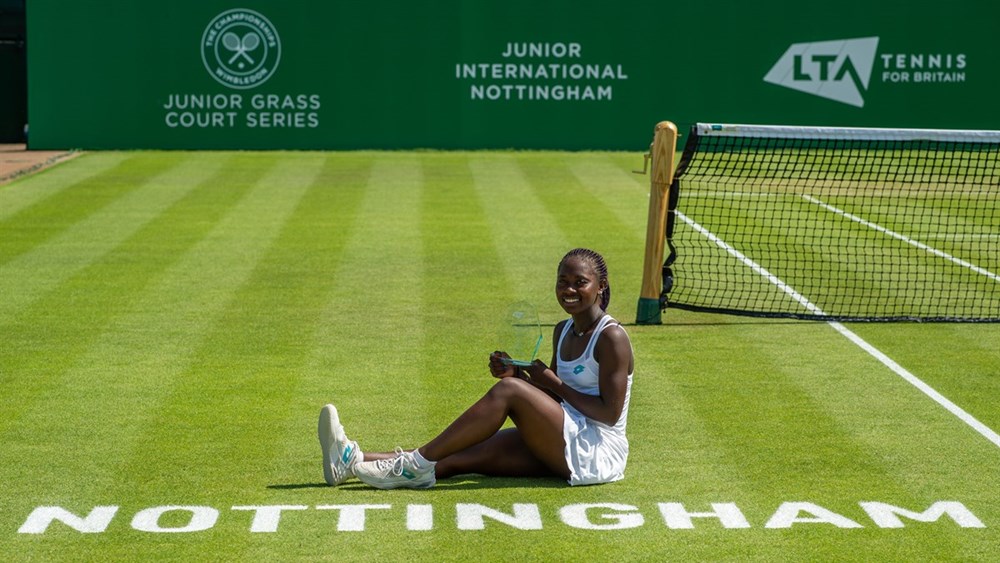 By Editorial Team
Sada Nahimana was able to rally to win both singles and doubles titles on grass this week in Nottingham leading into the Roehamption Championships next week.
Sada of Burundi, Africa sliced through the singles draw with ease as the 4th seed. In what was projected to be a tough encounter with American Tyra Black actually resulted in a one set thumping 6-4, 2-1 after Tyra mysteriously withdrew from the match.
The title win here gives Sada a leg up going into the prestigious Roehamption event where Cori Gauff was able to win the title last year.
The professional ranks are definitely calling Sada as she prepares for the last two junior grand slams. After an early first round loss she is hoping that European grass courts continue to bring her luck through the hard court season and the US Open juniors.