By Editorial Team
Cori "CoCo" Gauff has had such an amazing start to her pro career with round of 16 and quarter finals appearances in ITF W100 events and a ITF W25 final appearance this year.
A recent surge into the top 350 on the WTA Tour at age 15 has many players and fans scratching their heads in disbelief. It has been quite some time since such raw talent and athletic ability has graced a tennis court.
Most fans see glimpses of Venus and Serena as they watch Cori dismantle seasoned pros in straight sets. In any metric, she is definitely on pace to make a name for herself in the sport of tennis.
This week her attention has shifted from the green clay in Florida to the red clay in Europe as she plays the W60 Saint-Gaudens in France this week. She was able to defeat the lucky loser, Lucia Bronzetti 6-4, 6-4 to now face the 4th seed and 143rd ranked, Harriet Dart in the second round.
This will be a good test for Cori going into the French Open where she was able to earn a wild card into the qualifying rounds of play later this month.
The wild card was secured last year with her dramatic three-set win against fellow American and doubles partner, Caty McNally.
With a sharp game and remnants of a successful run last year, Cori should be able to put herself in contention to play in the main draw during the following week.
On the other side of the coin toss, Whitney Osuigwe was not so fortunate as she was heavily banking on her strong performances in the French Open Wilcard Playoff after winning Charlottesville and reaching the semi-finals in Bonita Springs last week.
Whitney has played great tennis with impressive results to back up the phenomenal potential. Maybe she will be able to play more International and Premier WTA Tour events as the season unfolds where she can then catch her big break to crack through the top-100 rankings.
The 33 wildcard recipients were announced from Roland Garros today as follows:
Main Draw:
WOMEN'S SINGLES
1 – ALBIE Audrey (FRA)1
2 – JANICICEVIC Selena (FRA)
3 – PAQUET Chloé (FRA)
4 – PARRY Diane (FRA)
5 – PONCHET Jessika (FRA)2
6 – TAN Harmony (FRA)
7 – HON Priscilla (AUS)3
8 – DAVIS Lauren (USA)3
MEN'S SINGLES
1 – BARRERE Grégoire (FRA)2
2 – HALYS Quentin (FRA)1
3 – HOANG Antoine (FRA)
4 – JANVIER Maxime (FRA)
5 – MAHUT Nicolas (FRA)
6 – MOUTET Corentin (FRA)
7 – POPYRIN Alexei (AUS)3
8 – PAUL Tommy (USA)3
Qualifying
:
WOMEN'S SINGLES
1 – ANDRIANJAFITRIMO Tessah (FRA)
2 – BENCHEIKH Loudmilla (FRA)
3 – GAUFF Cori (USA)4
4 – GEORGES Myrtille (FRA)2
5 – JACQUEMOT Elsa (FRA)5
6 – LEONARD Manon (FRA)
7 – LIM Alizé (FRA)1
8 – YEROLYMOS Margot (FRA)
MEN'S SINGLES
1 – BENCHETRIT Elliot (FRA)2
2 – BLANCANEAUX Geoffrey (FRA)
3 – CORNUT-CHAUVINC (FRA)
4 – DENOLLY Corentin (FRA)
5 – GASTON Hugo (FRA)
6 – GUINARD Manuel (FRA)1
7 – MARTINEAU Mattéo (FRA)
8 – MULLER Alexandre (FRA)
9 – TATLOT Johan-Sébastien (FRA)
Gauff seeks Wimbledon title NOW at age 15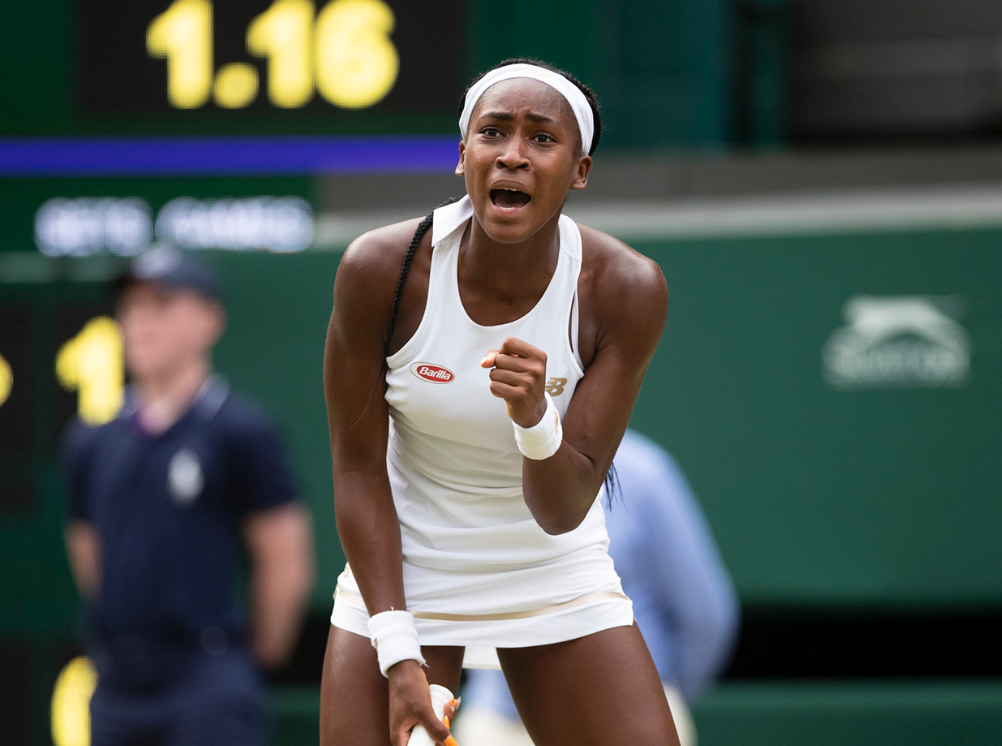 By Editorial Team
Cori "CoCo" Gauff has taken the WTA Tour by storm after qualifying for the main draw and later shredding the competition to reach the round of 16.
After a shocking first round win against Venus Williams 6-4, 6-4, Cori was able to avoid some heavyweights along the way. 10th seeded Aryna Sabalenka was outed by Rybarikova and Madison Keys got outplayed by Hercog just in time for Cori to take full advantage.
Its safe to say that Cori would have had a hard time defeating three heavyweights consecutively. However, considering her fortune of outstanding play and unwavering confidence, it is not out of the question to assume that Cori could have willed herself to defeat Keys and Sabalenka.
Now with the first week behind her and history in the books, Cori is set to face former number one Simona Halep. Simona remains to be deadly force on the WTA Tour as last year's French Open champion.
This is the first encounter between these two, but Simona does not have a Wimbledon title and she did lose in the 3rd round last year. Cori has been able to recover quickly from big emotional wins and regain her focus. She must be able to put such a great week behind her and compete against one of the Tour's best on Monday.
The odds favor Simona given her experience, but a wildcard for Cori remains as heart and sheer determination can't be measured.
The keys for Cori are to simply attack the net while maintaining a high first serve percentage. If there is pressure early on in the match Simona could lose the momentum and crowd support. If the match swings in favor of Cori and she is able to win this match her chances of advancing further is tremendous with 2nd seeded Osaka out early.
In response to the whirlwind success her Dad, Corey Gauff, stated,
"I thought we'd be home celebrating the fourth of July. When she plays Simona, that's going to be her seventh match in the two weeks, but I'm happy. I'm saying, to win a (grand slam) tournament you have to get to the seventh match so in my mind we've gotten to the seventh match."

Wimbledon
A grand slam title is not the question for Cori, but when. She is certainly the next generation in women's tennis and also a huge motivation for junior tennis players across the globe.
Battle of the ages: Venus vs. CoCo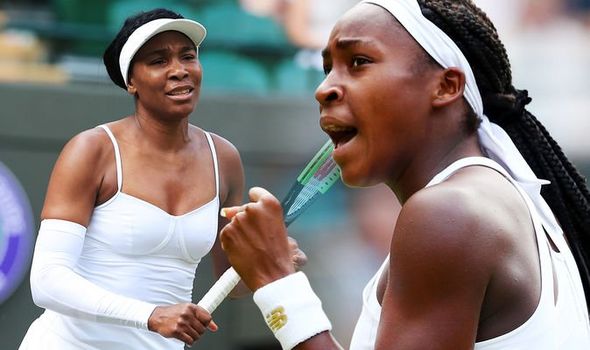 By Editorial Team
In addition to becoming the youngest player to enter the main draw of Wimbledon via qualifying, Cori "CoCo" Gauff has earned a prim-time match-up against one of the greatest grass court players of all time in the first round of play.
This match is not only a first, but also a sharp contrast of current generation talent versus veteran grand slam champion. Venus just turned 39 this month and must now face the 15 year old dynamo that goes by CoCo making this a true battle of the ages. Ironically, as in a Hollywood movie, these two are respectively the oldest and youngest players in the tournament.
Venus can sure respect Cori's hustle in advancing her career at the ripe age of 15. Venus shares a similar start, but was able to win 5 Wimbledon titles with the last win in 2008.
Coming off of a great 2017 season, Venus (unseeded this year) has struggled lately with injuries and fatigue late in matches. This year has not rolled out favorably for Venus after several on-off coaching relationships and hitting partners. Taking on a more independent role of seasoned veteran, Venus is going at it alone on tour. She has a strong management team in place, but they appear to be more assistants than highly experienced coaches giving her instruction.
In contrast, Cori has a tight-knit team around her not to mention her father as head coach. There have been several assistants offering advice, but Corey remains the largest influence on Cori's progress.
Progress is exactly what they have made – and in short record time. Just last year Cori was making her way toward the Roehamption Championship title as the world's number one ranked junior. It seems as if Cori has a trusting relationship with her Dad and is able to take constructive criticism in stride. Hard work has been Cori's mantra since the beginning of her junior career, and that hard work and preparation has landed her here at Wimbledon with a main draw match against Venus Williams.
The odds heavily favor Venus, but nothing is out of the question for Cori. Given the fact that she has played each qualifying round with a "nothing to lose" attitude, it can only be assumed that she will continue to do the same in her first round match.
The big stage is also a factor as Cori has not played on such a large WTA Tour center court yet in her career. This will definitely be a learning experience for Cori. It may be a little ambitious to expect Cori to figure out the atmosphere and surroundings all within a 2 out of 3 match. Cori is undefeated at Roehamption (ITF Juniors and WTA Qualifying), but it remains to be seen if she can muster a win against a declining, but a still very capable Venus Williams on her favorite surface.
Gauff reaches for "the bag" in Final Wimbledon Qualifying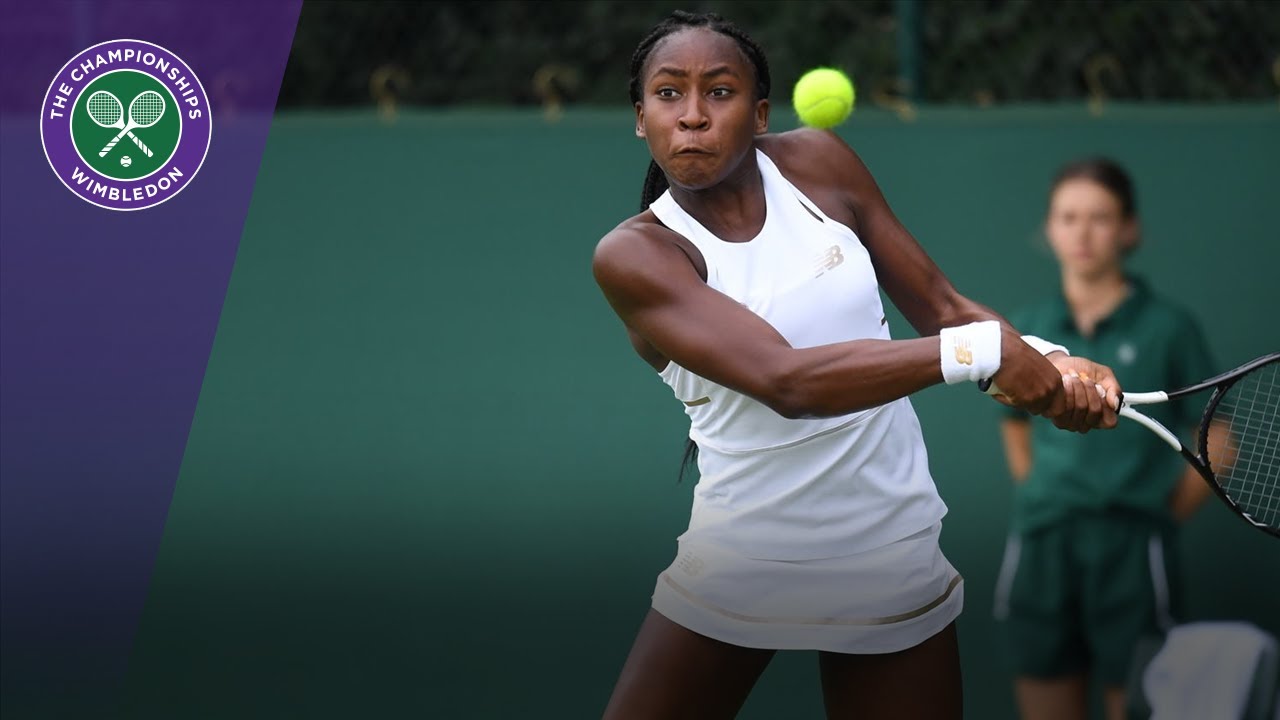 By Editorial Team
Cori "CoCo" Gauff made her way into the Wimbledon qualifying final by shredding the number one seeded Aliona Bolsova 6-3, 6-4 in the first round.
Cori did not have much time to prepare for the grass courts due to the late notice in receiving the wildcard. Many travel plans had to be shifted including school studies. It was a common thread in regards to the last minute timing of Wimbledon announcing the wildcards.
However, it did not take Cori much time to get adjusted since the 2018 Junior Championships where she crashed out early after winning the Junior French Open.
The match up against Aliona couldn't have been any better for Cori's attacking style. She was able to push the slower Spaniard around the court and use her athletic ability to on the faster court surface.
The following round against Ivakhenko was no different as Cori overpowered her and was able to shorten the points to win easily 6-2, 6-3.
Tomorrow's final qualifying round will give Cori an opportunity to showcase her talent and also give her a spot in the main draw to test her skill against the world's best. However, the world #129, Greet Minnen, will not go down easily. These two has never played on tour, but Cori will definitely have to bring her "A Game" and compete well to win.
As of today Cori is undefeated at the Bank of England Sports Centre in Roehamption and will fight to the end to keep her winning streak alive as she reaches for another big payday ($57,136) as a main draw participant.