By Editorial Team
This season has been a series of ups and downs for many on tour. The black male component has taken a back seat for the most part with the exception of Felix Auger-Aliassime and Gael Monfils.
Tomorrow marks the beginning of a second (and in some cases a third) chance for several black players on the tour with the French Open Qualifying Draw getting under way. The question still remains: who will advance on the men's tour?
With seven players all in the same ranking category it can be difficult to know who exactly will break out and become the next rising star or "bounce-back" story. Our editorial staff has put together a brief run-down on each player with his chances of at least making it through to the main draw at Roland Garros.
Donald Young is always in contention (as the top rated junior who never seemed to break out) keeps up the good fight with strong family backing and athletic ability. Facing fellow American Marcos Giron in the first round is definitely a challenge, but Donald should be up to challenge on the slower surface.
It will be critical for Donald to apply pressure and force the California college star to make errors early in the match. If Donald is to have a chance he must play aggressive and go for his shots. If he is able to advance here, it should be smooth sailing into the final qualifying round even with a possible match-up against Thanasi Kokkinakis in the next round.
Darian King has a favorable draw going up against the 14th seed Peter Polansky whom he defeated 6-4, 6-1 recently on red clay in Houston, Texas at the Men's Clay Court Championship last month.
With a probable first round win, Darian's road to the main draw does not get easier with Muller and Triocki in his path. However, Darian's ability to stretch points and pull out tough 3 set matches puts him in good position to earn a qualifying spot next week.
Mikael Ymer and Elias Ymer both have great chances of qualifying and making a splash at this year's French Open. With good draws against players that they have recent wins over, it should be a family affair in the main draw.
Dustin Brown has an uphill battle against Denis Istomin without being as active on tour as usual. It will be nearly impossible for Dustin to pull off the upset here, but the red clay does work in his favor. If Dustin is able to push Denis deep in the 3rd set anything can happen, but the odds are definitely against him in this early round match.
Michael Mmoh should be able to rise above his opponents as a seeded player here in Paris and earn a spot in the main draw. Michael has the potential to upset some top ranked players if he is able to maintain a steady baseline pattern against some of the best clay court specialist on the ATP Tour.
Chris Eubanks may struggle a bit as his dynamic serve may be tapered by the red clay surface. Chris' backhand has improved dramatically with the help of new coach Chris Hill, but having to put three matches together in a row on such a slow surface may prove too challenging for the 6'7″ for the Georgia Tech star from Atlanta.
Jay Clarke has an all court game and with a determined professional approach to his game anything is possible for him this week. The only hindrance could be a tough draw against players in top form (including American Noah Rubin) that he would have to defeat in each round. Built for the faster surfaces, we look for Jay to make a big impression this season. However, the French Open red clay may not be his best surface.
In conclusion, Michael Mmoh and the Ymer brothers have the best changes of qualifying in this year's French Open and we look forward to seeing more of them as the season unfolds.
2019 Wimbledon Wildcards: Clarke, Watson, Jubb & Gauff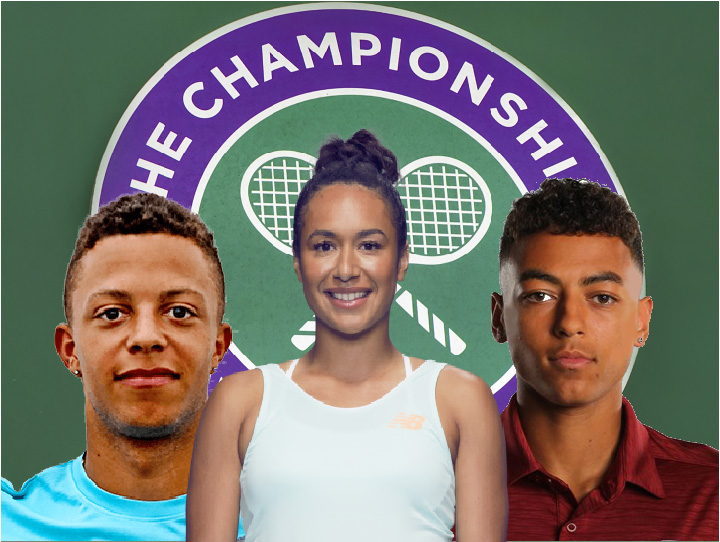 By Editorial Team
Grass court season is coming into full bloom as the Wimbledon Championships are only days away; the qualifying rounds begin on Monday the 24th. This year there were four black wildcards that will compete for a title.
The timing of the wildcard announcement caught both fans and players off-guard. Some players only had days to prepare for their qualifying matches with such late notices. In addition, according to the wimbledon.com website, there are still 6 spots available (2 men and 4 women) that have not been used or reserved for next direct acceptance.
Regardless of the selection process or timing, this year's wildcards are very deserving and have a real chance of making a dent in the main draw. Many have been competing in the warm-up tournaments this week and last week honing their games and adjusting to the high level of play expected during the Championships at the All England Club.
The draws have not been released yet, but our Editorial Team has put together the current list of wildcards and their status leading into the tournament.
Jay Clarke is one of England's rising stars. With a top 150 ranking he is sure to make a splash in this year's main draw as a wildcard recipient. Jay has the perfect all-around game for the grass courts as he is able to serve and volley effortlessly and attack using his big forehand weapon from the ground. It is important that Jay continue his quest toward the top 100 and a couple of wins in the main draw will definitely springboard this young 20 year old into tennis stardom.
Heather Watson is definitely not new to this. This is her 6th year at Wimbledon, but she is still gathering her footing on the WTA Tour after the close upset she had against Serena several years back at Wimbledon. Heather will attempt to rekindle that spark once lit. With a more focused and consistent training schedule and better efforts in major events, Heather could easily go deep in grand slams. She is hoping that a couple of wins here in Wimbledon could put her back into the spotlight as the top European tennis talent.
Paul Jubb is also an England homeboy who made such a heroic effort to win the 2019 NCAA Collegiate Championships last month. In addition to the main draw US Open wildcard he was able secure the Wimbledon main draw wildcard due to his British heritage. Paul could make some noise in the main draw with a big win, but he will mostly likely use the experience to propel his pro career and hopefully sidestep the more grueling ITF World Tennis Tour. Expect to see great things from the University of South Carolina tennis star.
Cori Gauff has been coming on strong professionally this year after winning the French Open Juniors last year and getting past the first round in the Miami Open. This qualifying draw wildcard definitely gives her a boost to complete against the world's best. One of Cori's biggest strengths is that she is a very quick learner and can make adjustments from tournament to tournament. Expect to see a qualifying winner and main draw birth from one of the world's best young talents at age 15.
Felix to face "the showman" Brown in Stuttgart Quarters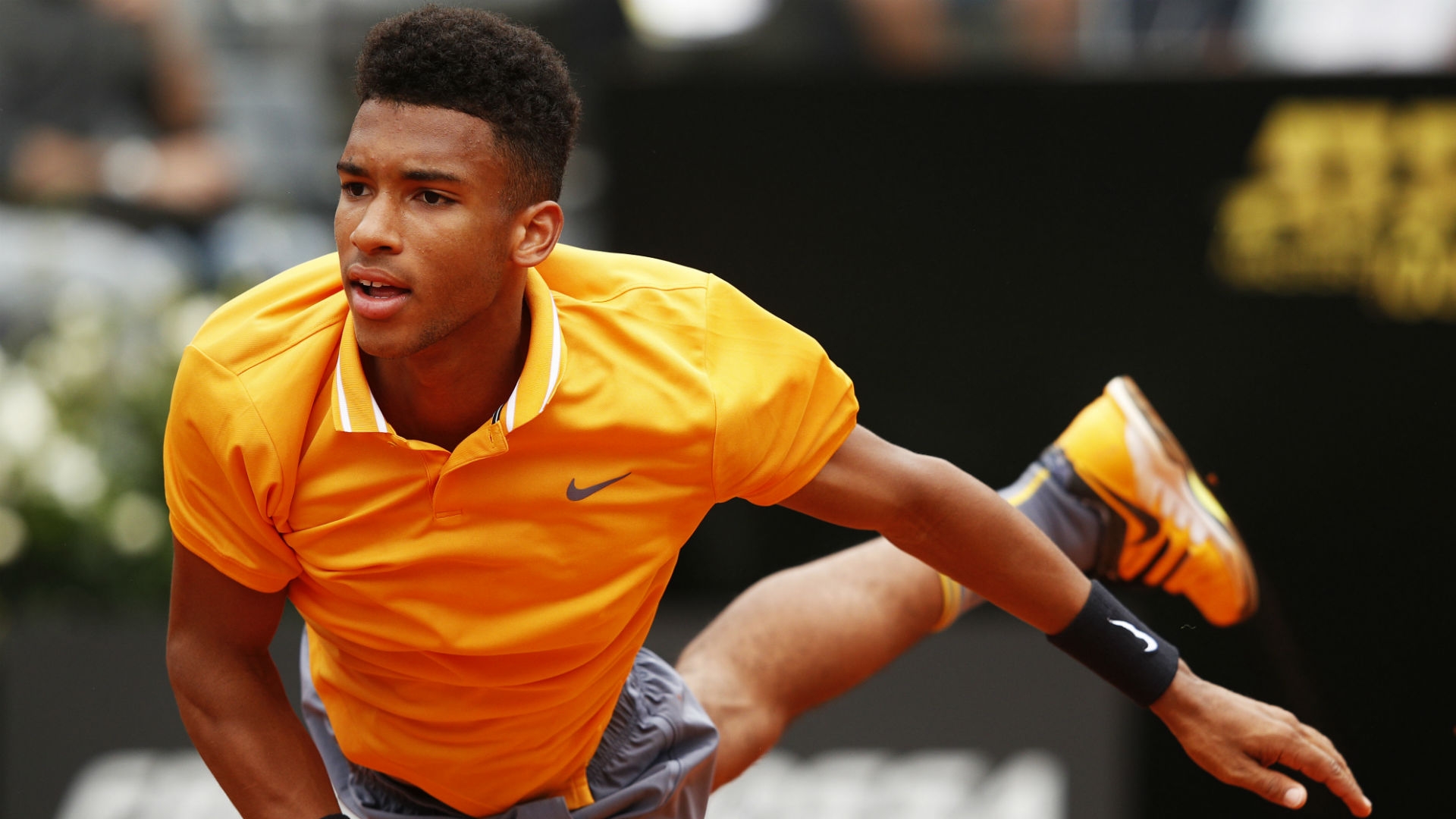 By Editorial Team
The French Open is in the rearview mirror for the pro tour and grass court play has begun in Europe. Felix Aguer-Aliassime is getting off to a quick start in Stuttgart this week at the Mercedes Cup with a big win against a former top 10 tour player, Gilles Simon.
The match was a display of power and perfect form as Felix was able to win 79% of his first serve points in addition to throwing in 15 aces, easily defeating Gilles 7-5, 6-4.
It seemed like Felix was in full stride with big forehand winners while driving backhands into the open court. Felix is making his way into the net more by following his huge serve which seems to be deadly on the faster grass surface.
With the win today Felix must now contend with the super-talented Dustin Brown in the quarterfinal round. Dustin had a much tougher opponent in the R16 against number one seed Alexander Zverev.
Dustin got off to a great start with an early break and first set win to put himself in position to receive a match point in the second set. Dustin was able to run Alex north to south in an unorthodox style of play to edge out the win decisively in the third set winning 6-4, 6-7, 6-3.
Up next should be a classic match between a power player and a finesse player. Felix should be able to run down the north-south patterns and make Dustin pay for opening up the court.
Dustin must cut down on unforced errors at the baseline and attack the net on every occasion. Dustin has such a natural serve and volley game on grass; this should benefit him as he plays more warm-up tournaments leading up to Wimbledon.
Felix is blazing the ATP Tour and seems fresh after withdrawing from the French Open due to injury. Players, including Rafa Nadal, are taking notice of the 18 year old from Canada.
With a likely win here, Felix would make his fourth semi-final appearance this season and possibly his first big ATP Tour 250 title win of his career. Ranked #21 in world doesn't hurt either as he comes into Wimbledon as a seeded favorite.
Felix stated in regards to his chances here in Stuttgart,
"I still have a lot of things to learn on this surface, moving, coming forward, mixing shots, but it is all positive at the moment. I'm still chasing my first title and it would be cool to grab it here in Stuttgart or later this year."
Sloane edges closer to French Open title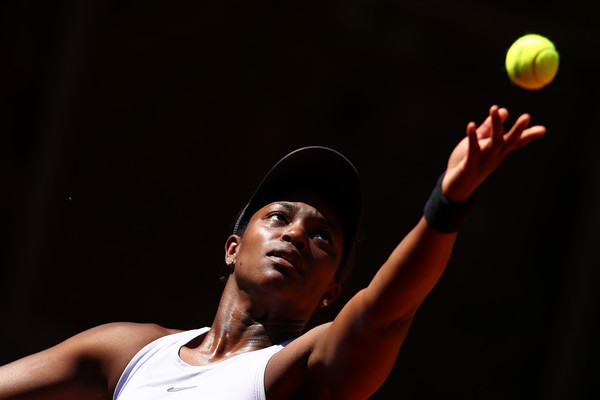 By Editorial Team
Sloane Stephens passed a huge test today against Garbine Muguruza who seemed to be playing top tennis coming into the round of 16 match today.
Sloane had to overcome an early service break in the first set to reel off consecutive games with a 6-4 first set. win.
With the wind at her back she was able to maintain her focus and rip passing shots by the more impatient Muguruza as she approached the net against her faster opponent.
The road to the finals shifts into full gear now as Sloane must face a former top-5 player, Johanna Konta on Tuesday. Sloane's match history against Johanna has not been a blazing success by any stretch. With no wins to speak of and losses this season on both clay and hard courts, Sloane must strategically position herself and muster up a much needed win.
Johanna is the more aggressive player who enjoys taking balls on the rise so Sloane must use her speed to retrieve balls while drawing her less graceful opponent into the net.
The match will come down to execution during the big points. Sloane appears to be in a zone with her game coming together in a timely fashion and fit enough to last three sets if needed. This is sure to be a fight to the finish as both players are set to be heavy favorites coming into the semifinal round.
The bottom half of the draw is wide open with Sloane in great position to take full advantage of Pliskova, Wozniacki and Kerber all dismissed in the early rounds. Sloane anticipates a rematch against Halep or Keys in the finals, but she must get past Konta on Tuesday whom she has not managed to defeat in any of their previous matches in Rome or Brisbane.