By Editorial Team
Felix Auger-Aliassime has taken the Miami tennis fans on a long ride over the last two weeks. Sprinting into the semifinals after rising through the qualifying rounds is no easy task for anyone. The mental and physical demands of the sport take a toll on even the most seasoned professionals on tour.
Felix has been able to weave his way through the draw nicely as he was able to take advantage of the softer segment of the draw. With that, defeating Borna Coric 7-6, 6-2 today definitely added legitimacy to his star status on theg ATP Tour. Coric has the reputation of not giving an inch on the court, so to defeat a solid baseliner on the slower conditions in Miami is a great feat unto itself.
Felix's serve has been such a huge weapon for him during the Miami Open. He was able to win well over 75% of his service games with a staggering 87% first-serve percentage. In addition, big shots made early into the points allowed Felix to dominate the match as he became more free with his multi-faceted game.
With all the stokes and a masterful way of assembling points in an attacking fashion, Felix is a major factor on the ATP Tour and stands a real chance of clinching his first ATP Master 1000 title this weekend.
When asked about his role as superstar on the Tour and breakthroughs like here in Miami, Felix replied,

"I think I have been dealing with this for the last couple of years, so I think in a way that's why I am able now to have these kind of results, because this extra pressure, this attention that I gave maybe last year or the year before to the outcomes, to the medias, that's a bit behind me now where I'm able really to stay in the present and really focus on what I have to do in the court, finding ways to win. That just keeps me going and just keeps me happy. "

Miami Open postmatch press interview
The next opponent for Felix is the American defending champion, John Isner. John has also been able to levy his service talent and avoid the challenge of facing top seeded Novak Djokovic of Serbia.
The keys for victory against Isner are high first-serve percentage, attacking the weaker backhand side of Isner and praying for that one break of serve that could put him out front in the set. Felix will definitely have chances to win the match; fans hope his fine execution continues as they anticipate a Felix vs. Tiafoe final.
Frances, on the other hand, has a much more difficult route to take as he must defeat a red hot Dennis Shapovalov tomorrow and then most likely follow that win up with a spectacular performance to defeat Roger Federer who's hungry for his first title win of the year after coming off an unfortunate loss to Dominic Thiem in the BNP Open Final.
Dustin Brown vs Felix Auger Aliassime Highlights STUTTGART 2019
Osaka: mission impossible draw at French Open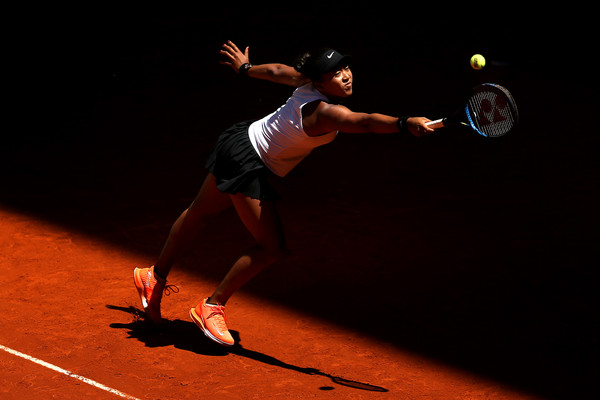 By Editorial Team
Naomi Osaka did not have an easy first round on the red clay of Roland Garros against 90th ranked Anna Karolina Schiemlova.
Dropping the first set 6-0 and having to battle back deep into into the second set tiebreak was not anticipated by the WTA world #1. However, she was able to regain control with a commanding 6-1 third set to finish the match.
Red clay has admittedly not been the best surface for Osaka and the results prove that, but as the top seed in every event there are expectations to be upheld. Not to mention her most recent multi-million dollar endorsements with Nike and Mastercard.
This year's French Open draw has not been kind to the #1 seed, Osaka. On the heels of near disaster in the first round, she has to face a thirsty Victoria Azarenka who has been reeling since promising start to the 2016 season where she was able to reach top-5 ranking status and take home both Indian Wells and Miami Open titles before falling victim to the injury bug later in the year to miss a grand slam finals opportunity.
Osaka definitely has her hands full as she battles through an uncharacteristically difficult draw for a world number one.
From the looks of Serena's draw it appears to be an apples to oranges comparison. Serena is in Naomi's section of the draw, but her road to the quarterfinals looks almost scripted in that she has an edge over each opponent.
If Osaka is able to squeeze past Victoria she would have to most likely face the very dangerous Maria Sakkari who has racked up top-10 wins all of last year and who doesn't appear to be slowing down given her 29th seeded position in this year's French Open.
Madison Keys can never be taken lightly as she performs well in Roland Garros with a semifinal appearance last year. If the draw shakes out accordingly, Naomi would have to go up against Madison in the round of 16.
Madison's year has not gotten off to such a great start, but with a title win in Charleston anything is possible. If Madison's timing is in line with her movement she is really hard to beat – unless your name is Sloane Stephens.
Not to mention Serena who is playing well enough – barring any injuries to reach the quarterfinals in a possible "Serena/Osaka rematch."
The top half of the women's draw is stacked to the ceiling with no easy rounds at all for Naomi.
It is important for Osaka to maintain her composure and take the journey in stride. With defeat starring her in the face each round, Osaka must keep the big picture in mind… dominate the hard court season in August.
MID-TAC 2019 Annual Championships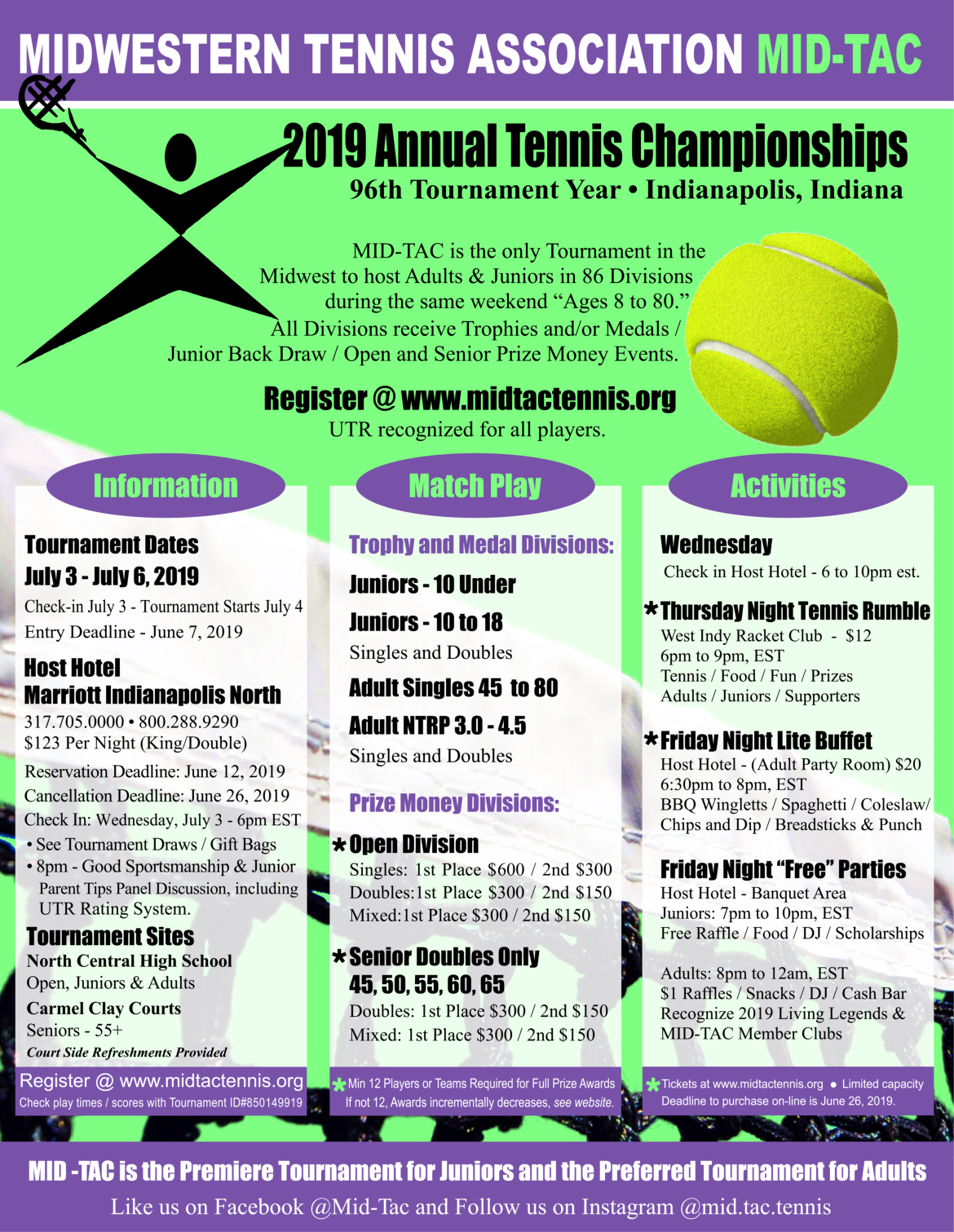 Mid-Tac is celebrating its 96th Tournament Year on July 3 to 6, 2019.
MID-TAC is a 501(c)3 organization and the Midwest Section of the American Tennis Association ("ATA" founded in 1916) and has ties to local community tennis in ten Midwestern States (Iowa, Illinois, Indiana, Kansas, Kentucky, Michigan, Minnesota, Missouri, Ohio, Wisconsin and beyond). We offer year-round opportunities to support MID-TAC by making online Donations or becoming a Sponsor.
All Donations and Sponsorships will be properly acknowledged. Please view details under the above "Donate" and "Sponsorship" tabs. We look forward to your support as we continue our mission to grow the game of tennis.
Tournament Participation Links below:
See "Scales for Calculating Prize Money Divisions" – Click Here
See "Details for 2019 Bollettieri Youth Summer Tennis Camp Scholarships" – Click Here
Marriott Indianapolis North Hotel – (317) 705-0000 or (800) 288-92903645 River Crossing Parkway, Indianapolis, In 46240Rates: $123.00 – Traditional King or Double RoomHotel Reservation Deadline: June 12, 2019Cancellation Deadline without penalty: June 26, 2019