By Editorial Team
Felix Auger-Aliassime has taken the Miami tennis fans on a long ride over the last two weeks. Sprinting into the semifinals after rising through the qualifying rounds is no easy task for anyone. The mental and physical demands of the sport take a toll on even the most seasoned professionals on tour.
Felix has been able to weave his way through the draw nicely as he was able to take advantage of the softer segment of the draw. With that, defeating Borna Coric 7-6, 6-2 today definitely added legitimacy to his star status on theg ATP Tour. Coric has the reputation of not giving an inch on the court, so to defeat a solid baseliner on the slower conditions in Miami is a great feat unto itself.
Felix's serve has been such a huge weapon for him during the Miami Open. He was able to win well over 75% of his service games with a staggering 87% first-serve percentage. In addition, big shots made early into the points allowed Felix to dominate the match as he became more free with his multi-faceted game.
With all the stokes and a masterful way of assembling points in an attacking fashion, Felix is a major factor on the ATP Tour and stands a real chance of clinching his first ATP Master 1000 title this weekend.
When asked about his role as superstar on the Tour and breakthroughs like here in Miami, Felix replied,

"I think I have been dealing with this for the last couple of years, so I think in a way that's why I am able now to have these kind of results, because this extra pressure, this attention that I gave maybe last year or the year before to the outcomes, to the medias, that's a bit behind me now where I'm able really to stay in the present and really focus on what I have to do in the court, finding ways to win. That just keeps me going and just keeps me happy. "

Miami Open postmatch press interview
The next opponent for Felix is the American defending champion, John Isner. John has also been able to levy his service talent and avoid the challenge of facing top seeded Novak Djokovic of Serbia.
The keys for victory against Isner are high first-serve percentage, attacking the weaker backhand side of Isner and praying for that one break of serve that could put him out front in the set. Felix will definitely have chances to win the match; fans hope his fine execution continues as they anticipate a Felix vs. Tiafoe final.
Frances, on the other hand, has a much more difficult route to take as he must defeat a red hot Dennis Shapovalov tomorrow and then most likely follow that win up with a spectacular performance to defeat Roger Federer who's hungry for his first title win of the year after coming off an unfortunate loss to Dominic Thiem in the BNP Open Final.
2021 Calabasas Championships
Battle of the ages: Venus vs. CoCo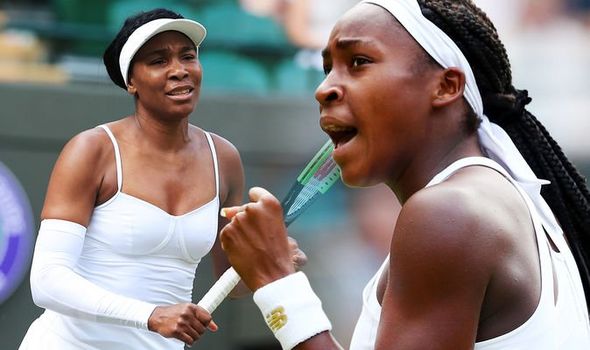 By Editorial Team
In addition to becoming the youngest player to enter the main draw of Wimbledon via qualifying, Cori "CoCo" Gauff has earned a prim-time match-up against one of the greatest grass court players of all time in the first round of play.
This match is not only a first, but also a sharp contrast of current generation talent versus veteran grand slam champion. Venus just turned 39 this month and must now face the 15 year old dynamo that goes by CoCo making this a true battle of the ages. Ironically, as in a Hollywood movie, these two are respectively the oldest and youngest players in the tournament.
Venus can sure respect Cori's hustle in advancing her career at the ripe age of 15. Venus shares a similar start, but was able to win 5 Wimbledon titles with the last win in 2008.
Coming off of a great 2017 season, Venus (unseeded this year) has struggled lately with injuries and fatigue late in matches. This year has not rolled out favorably for Venus after several on-off coaching relationships and hitting partners. Taking on a more independent role of seasoned veteran, Venus is going at it alone on tour. She has a strong management team in place, but they appear to be more assistants than highly experienced coaches giving her instruction.
In contrast, Cori has a tight-knit team around her not to mention her father as head coach. There have been several assistants offering advice, but Corey remains the largest influence on Cori's progress.
Progress is exactly what they have made – and in short record time. Just last year Cori was making her way toward the Roehamption Championship title as the world's number one ranked junior. It seems as if Cori has a trusting relationship with her Dad and is able to take constructive criticism in stride. Hard work has been Cori's mantra since the beginning of her junior career, and that hard work and preparation has landed her here at Wimbledon with a main draw match against Venus Williams.
The odds heavily favor Venus, but nothing is out of the question for Cori. Given the fact that she has played each qualifying round with a "nothing to lose" attitude, it can only be assumed that she will continue to do the same in her first round match.
The big stage is also a factor as Cori has not played on such a large WTA Tour center court yet in her career. This will definitely be a learning experience for Cori. It may be a little ambitious to expect Cori to figure out the atmosphere and surroundings all within a 2 out of 3 match. Cori is undefeated at Roehamption (ITF Juniors and WTA Qualifying), but it remains to be seen if she can muster a win against a declining, but a still very capable Venus Williams on her favorite surface.
Dustin Brown vs Felix Auger Aliassime Highlights STUTTGART 2019