By Editorial Team
The French Open Junior rounds started today with many notables in action such as Mathys Erhard, Andrew Fenty and Cori Gauff. The field seemed a little light this year with Hailey Baptiste and Tyra Black withdrawing from competition due to not making the main draw cutoff. However, those who did play represent in strong fashion. Cori was able to blow past Stefania Rogozinska Dzik 6-3, 6-0 today will little opposition.
Cori advances to play Sada Nahimana in the second round and if she passes this test she goes up against the second seed Xinyu Wang out of China. Cori has the game and is fit enough to go deep into the draw. Just last week she was able to qualify and reach the R16 main draw in her first Pro ITF event in Florida before losing to Katerina Stewart. Expect to see great things from this 14 year old phenom in the near future.
Within the boys bracket, Mathys of France gave it his best, but was not able to move past the first round after winning the first set against the number one seed Sebastian Baez in a tie breaker. The quality of play started to rise later in the match which caused Mathys to implode in the third set. At the young of 16, Mathys should be able to elevate through the ranks as his game develops under the French Tennis Federation.
On the winning side, Andrew Fenty was able to pull together a good first round win against Admir Kalender 6-2, 1-6, 6-1. Andrew faces Ray Ho in the second round as the draw opens up with the 5th seed, Gaston of France, losing in the first round today.
Andrew has a very mature and steady game at age 18 and is sure to continue to use his big service game to extend his reach in this year's major grand slams and college tennis at the University of Michigan.
All of the junior action can be viewed on Tennis Channel Plus each day as players work their way through the draw in an attempt to make history as French Open Junior Champion.
African hopeful, Sada Nahimana, captures Nottingham Junior International Championship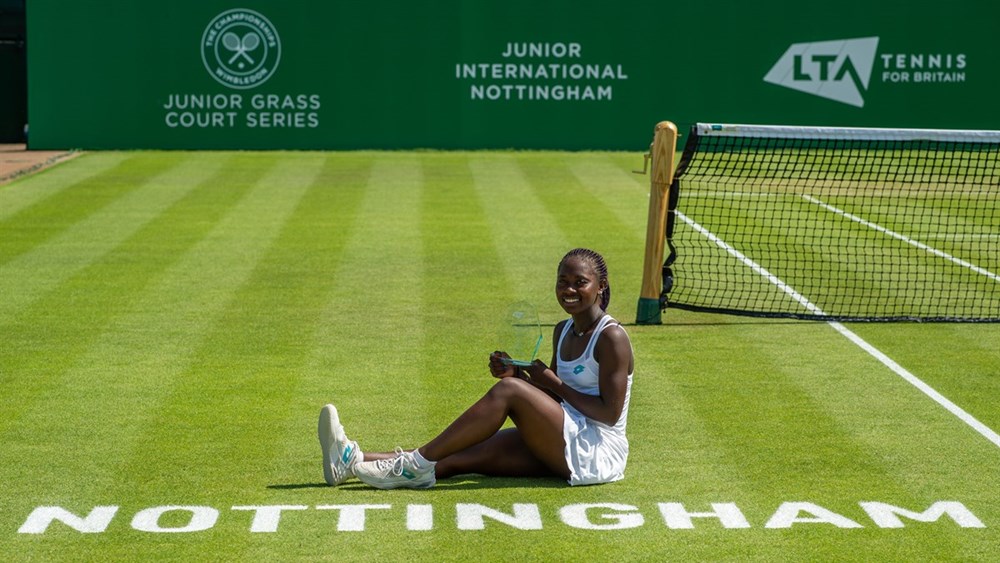 By Editorial Team
Sada Nahimana was able to rally to win both singles and doubles titles on grass this week in Nottingham leading into the Roehamption Championships next week.
Sada of Burundi, Africa sliced through the singles draw with ease as the 4th seed. In what was projected to be a tough encounter with American Tyra Black actually resulted in a one set thumping 6-4, 2-1 after Tyra mysteriously withdrew from the match.
The title win here gives Sada a leg up going into the prestigious Roehamption event where Cori Gauff was able to win the title last year.
The professional ranks are definitely calling Sada as she prepares for the last two junior grand slams. After an early first round loss she is hoping that European grass courts continue to bring her luck through the hard court season and the US Open juniors.
Robin Montgomery advances to Easter Bowl Finals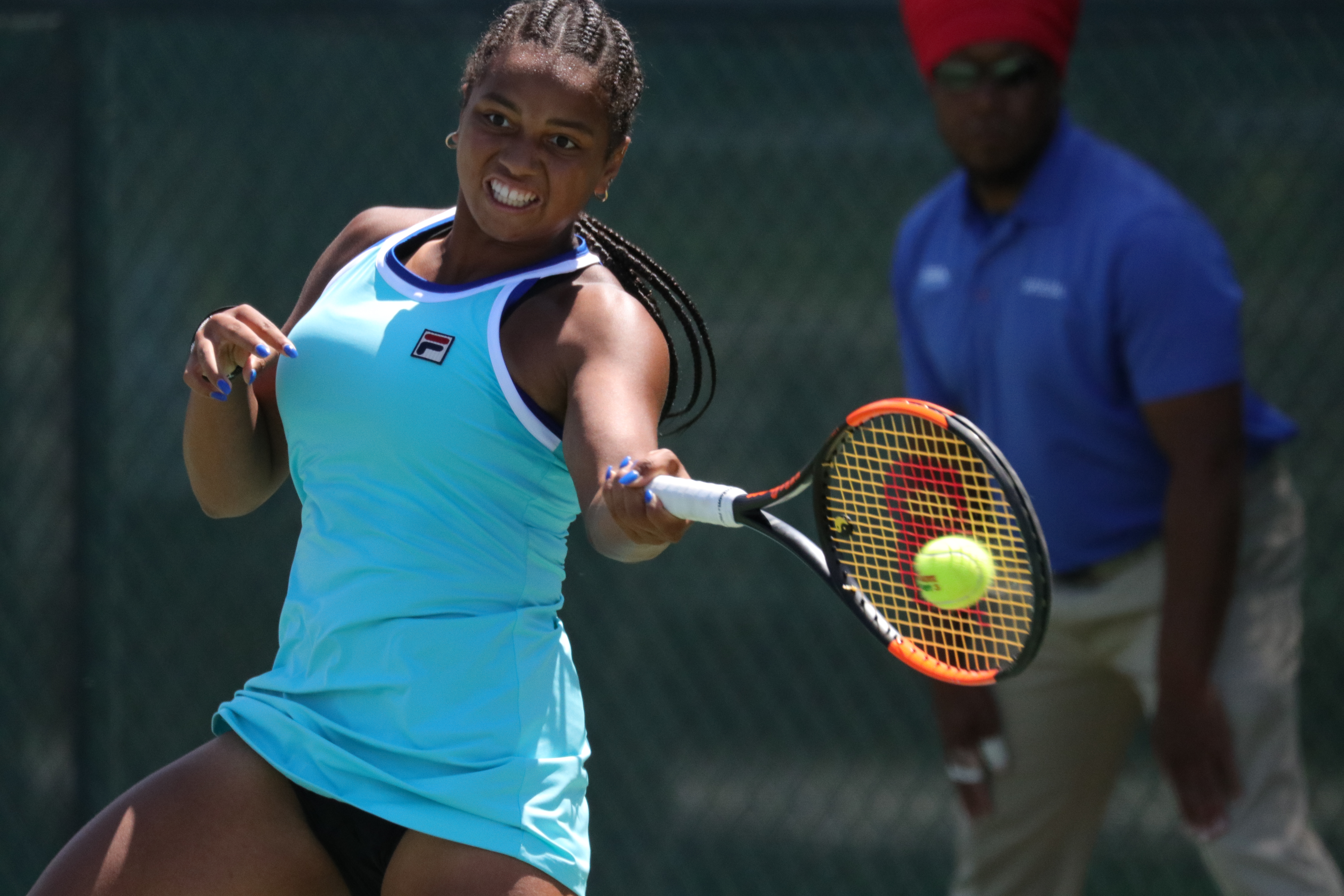 By Editorial Team (Updated Results)
Robin Montgomery reached the finals of the Easter Bowl this year without losing a set. Her impressive play earned her a title match against the top seed and WTA Tour ranked 565, Emma Navarro tomorrow.
If the past is any predictor of the future, Robin should be able to squeeze her way into the finals this weekend. She would play the winner of Lea Ma and Emma Jackson.
The number one seed Tyra Black was easily defeated today 6-4, 7-6 by 16 year old Jackson so the draw is wide open for a big run into the final round. Robin would likely face Emma Navarro in the final assuming there are no further upsets.
The live feed of all the matches can be seen at http://www.easterbowl.com/
CoCo Gauff turns pro after winning 2018 Orange Bowl title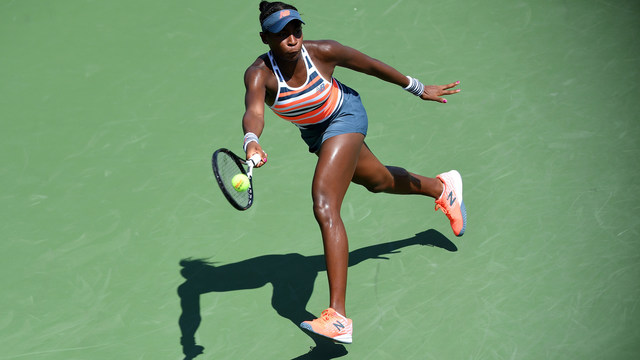 By Editorial Team
CoCo Gauff was able to dominate the field in her home state of Florida this weekend with a statement win over Diane Parry 6-0, 6-0 to advance to the final round where she had to overcome a third set deficit against 2nd seeded Qinwen Zheng of China to eventually prevail 6-4 in the third and final set. 
When asked how she was able to manage her emotions during the match, CoCo responded, "My dad told me at the beginning of the tournament, 'This is probably your last junior tournament, so play how you want to be remembered,'" Gauff said. "And that's how I was thinking. People mostly know me to always fight, and even when I was down, I was like, 'That's how I want to be remembered,' at least in junior tennis, and see what the next chapter has for me."
In addition to winning the 2018 Orange Bowl, CoCo committed to playing a full season of professional tennis beginning in 2019. She will bypass all junior grand slams and primarily play the World Tour Tennis 25 series of tournaments in effort to boost her current top 700 ranking in order to qualify for larger professional grand slam tournaments.
Her goal is to reach the top 200 by the end of 2019. With the hard work and focus that she has exhibited over the last several months, CoCo is sure to gain her footing in the pro ranks and make a huge impact on the WTA Tour at the young age of 14. Coco is definitely the future of American tennis.