By USC Athletics
Freshman Salma Ewing won the ITA Southwest Regional Singles Championship this morning (Oct. 22). The No. 5 ranked Freshman/Newcomer in the nation defeated Pepperdine's Jessica Failla 3-6, 6-2, 6-2 in the finals to claim the championship title.
Ewing is USC's ninth ITA Regional Singles Champion, with the most recent being Zoë Scandalis in 2015.
With the win, Ewing has secured placement in the ITA Fall Championships, which will take place on Nov. 7-11 in Surprise, Ariz.
After having a bye in the Round of 128, Ewing blasted through the rounds of 64 and 32 with decisive two-set wins.
In the Round of 16, Ewing faced off against No. 86 Alaina Miller of UCLA, and won with a 6-3, 6-3 score. After securing placement in the Quarterfinals, it appeared she would have to take on the No. 1 seed in the tournament, Pepperdine's Ashley Lahey. Ewing defeated Lahey, the No. 4 ranked player in the country, with a 6-2, 6-4 score to punch her ticked to the Semifinals.
On Sunday, Ewing beat another Bruin, No. 52 Abi Altick 6-1, 6-3 to lock down her spot in the final match on Monday morning.
After falling in the first set 3-6 to Pepperdine's Jessica Failla, Ewing battled back in true Trojan form to win the next two sets 6-2, 6-2 to claim the match and the singles title.
Fellow Trojan freshman Danielle Willson also had a strong showing at the tournament as she reached the Round of 16 where she fell to No. 41 Evgeniya Levashova of Pepperdine.
In the doubles portion of the competition, two Trojan pairs reached the Quarterfinals: No. 27 ranked duo Kulikov/Valdes and Branstine/Weissmann. Kulikov/Valdes fell to UCLA's Andrews/Broomfield 8-3, and Branstine and Weissmann lost to UCLA's No. 29 Bolton/Hart.
For full results from the tournament, click here.
Hart, Andrews & Broomfield of UCLA head to ITA Fall Championships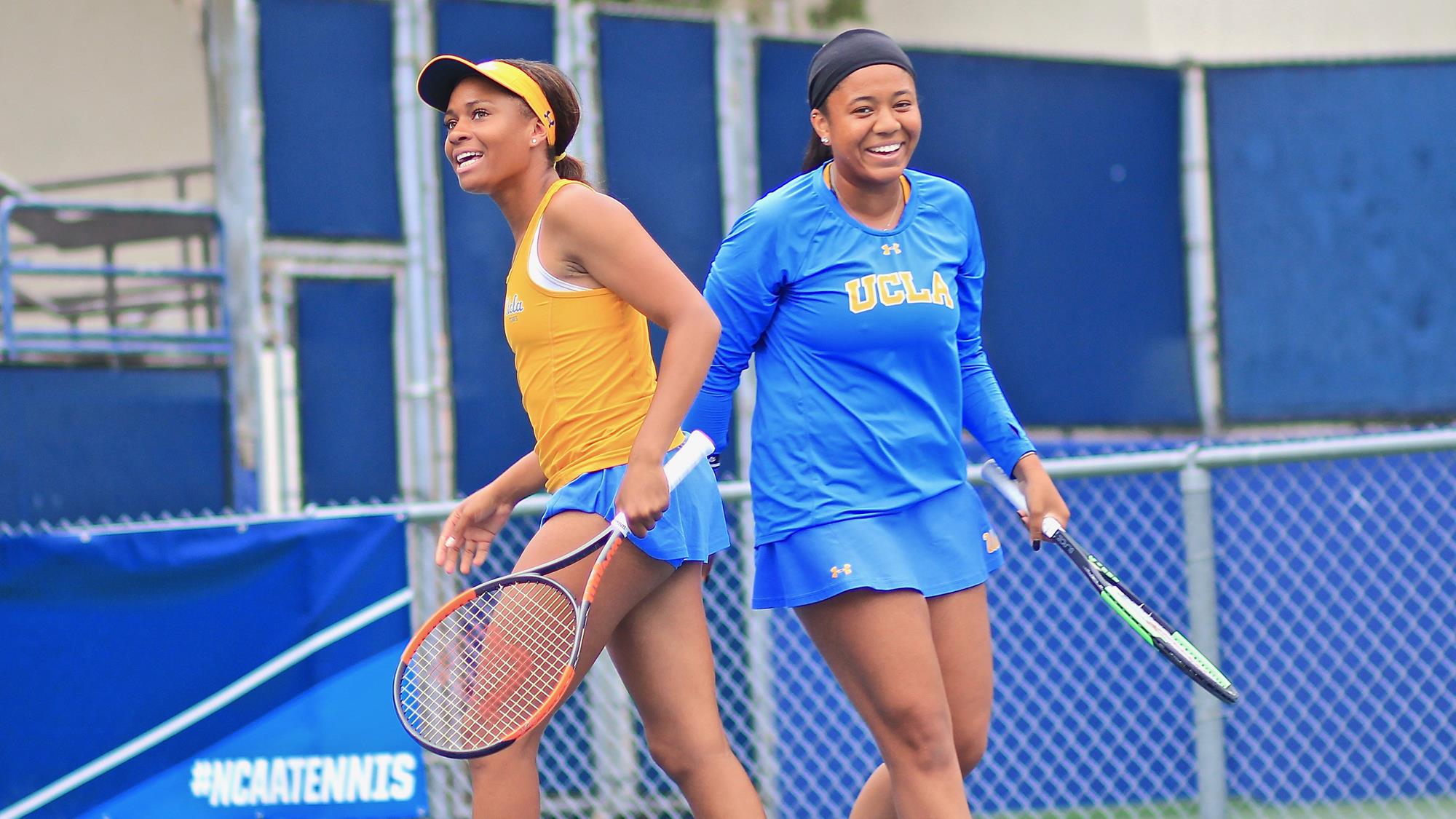 UCLA Bruins News
SURPRISE, Ariz. – The UCLA women's tennis team will officially mark the end of the 2018 portion of its schedule at the Oracle ITA National Fall Championships this week, when it sends five players to the Surprise Tennis & Racquet Complex. The five-day event will conclude Sunday, Nov. 11, with ESPN3 and the ESPN App providing live coverage of the singles finals.
Seven Top-10 singles players from the Oracle/ITA preseason list and five Top-10 doubles tandems are in the star-studded field. UCLA will be represented by two singles players and two doubles teams. It was recently announced that the Fall Championships singles winners will be granted main-draw wildcard spots in the 2019 Oracle Challenger Series tournament. More information is available HERE.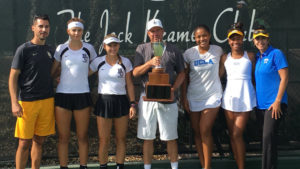 Heading up the Bruin contingency is the red-hot doubles duo of Gabby Andrews and Ayan Broomfield, which has now claimed back-to-back titles after topping the Jack Kramer Collegiate Tournament field. Previously, the pair won the ITA Southwest Regional Championships doubles title to earn an automatic bid in this week's draw. For the year, Andrews-Broomfield holds an unblemished mark at 8-0. Seeded sixth, the pair will face off with Air Force's TJ Fumagalli-Kristin Kerrigan Wednesday.
Earning an at-large doubles bid, meanwhile, was the 29th-ranked combination of Elysia Bolton and Jada Hart. The pair, which turned in strong performances at the Riviera/ITA All-American Championships and ITA Regionals, currently sits at 7-2 on the year. Bolton-Hart is staring down top-seeded and third-ranked Michaela Gordon and Emily Arbuthnott of Stanford in the first round.
Bolton, who is No. 3 among freshmen according to Oracle/ITA, also picked up an at-large berth in the singles draw. Seeded 13th, Bolton will face Princeton's Stephanie Schrage in opening-round play. If victorious, Bolton could take on 2017 NCAA singles champion Brienne Minor of Michigan in the second round and past Oracle ITA Masters foe No. 3 Estela Perez-Somarriba of Miami in the Round of 16. Bolton is 7-3 across three highly-regarded tournaments this fall.
Joining Bolton in the singles draw is sophomore teammate Abi Altick, who also picked up an at-large nod. No. 52 Altick will take on No. 20 Marianna Petrei of Idaho in search of her sixth win of the fall. Two of Altick's five triumphs thus far have come over ranked opponents (No. 53 Sabina Machalova of Ole Miss, No. 51 Petra Melounova of Hawai'i).
Andrews-Broomfield Claims Regional Title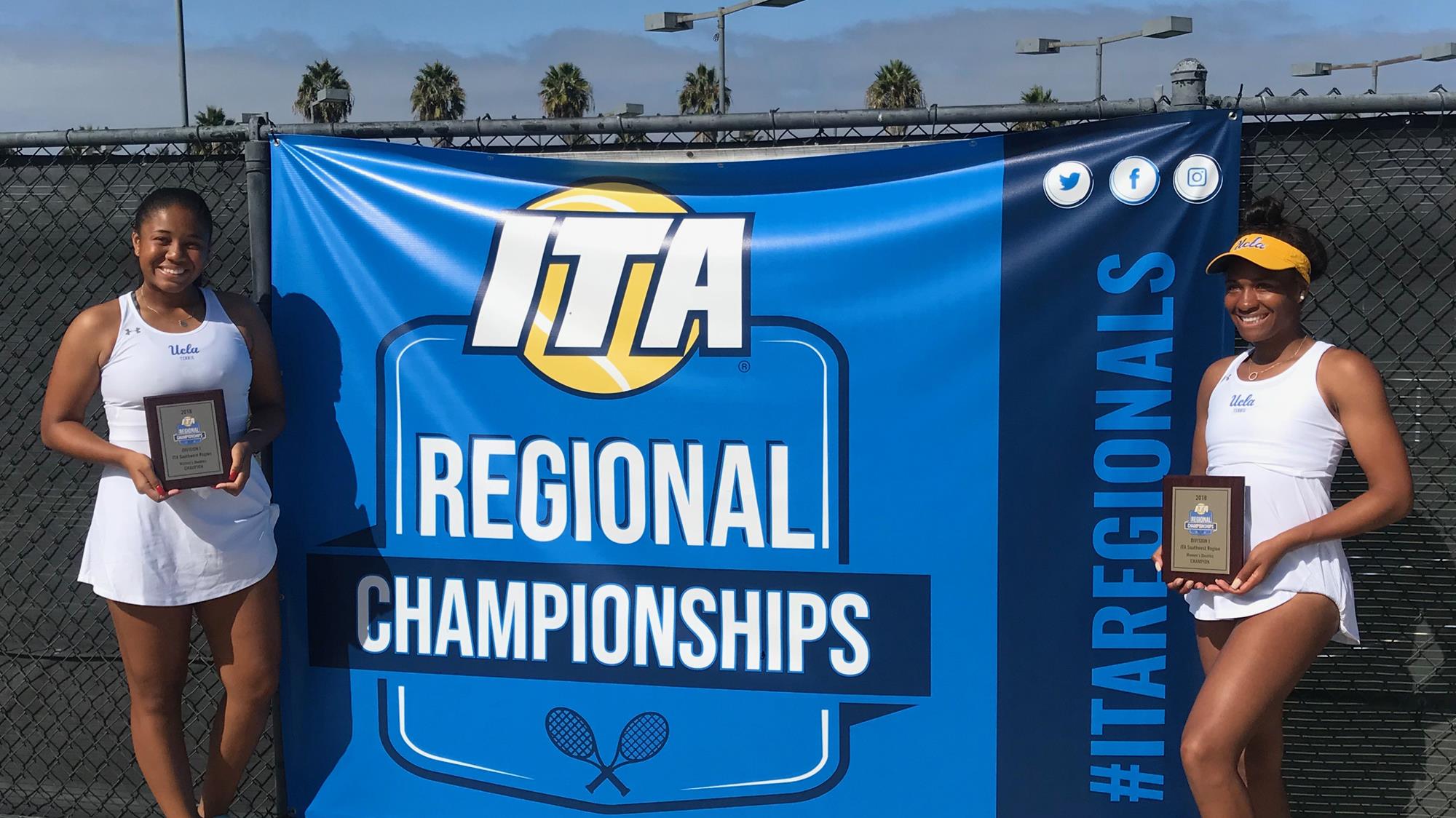 By UCLA Athletics
SAN DIEGO – The UCLA women's tennis doubles duo of Ayan Broomfield and Gabby Andrews fought back Monday to take the ITA Southwest Regional Championships doubles title and claim a spot in November's Fall Championships. The pair defeated Ashley Lahey and Evgeniya Levashova of Pepperdine, 1-6, 6-4, 1-0 (8), in a thrilling final.
It was a successful trip South for the Bruins, who had three teams reach the doubles semifinals and three singles quarterfinalists. Each of the seven Bruins in action tallied at least one singles win over the five-day event. The doubles title marked a repeat performance for Andrews, who teamed with Jada Hart to win last year.
Andrews-Broomfield was fast out of the gate, defeating duos from Grand Canyon and San Diego State by 8-0 and 8-3 scores, respectively. The quarterfinal round marked the pair's first match against a Pac-12 foe in crosstown rivals Angela Kulikov and Rianna Valdes of USC. Andrews-Broomfield would keep rolling, earning a spot in the semifinals with an 8-3 victory and setting up a showdown with teammates Abi Altick and Alaina Miller.
Altick-Miller had defeated a pair of San Diego-area teams before notching an impressive quarterfinal-round win over Pepperdine's Jessica Failla-Anastasia Iamachkine, 8-2. The all-Bruin semifinal, which was a best-of-three-sets affair, needed a tiebreak in the first. Andrews-Broomfield edged its counterpart and then doubled up Altick-Miller in the second for a 7-6, 6-3 win.
On the other side, 29th-ranked Elysia Bolton-Jada Hart cruised into the semis with three 8-3 wins. There, the freshman-junior combination was edged in a close one, 7-6, 6-4, by No. 26 Lahey-Levashova.
The Pepperdine pair looked destined for the title with a 6-1 first-set win over Andrews-Broomfield. The Bruins charged back, though, forcing a tiebreaking first-to-10 third set. The back-and-forth final set ultimately went to the Bruins. The 1-6, 6-4, 1-0 (8) victory sends Andrews-Broomfield to Surprise, Ariz. for the Oracle ITA National Fall Championships, to be played Nov. 7-11.
In singles, six Bruins made the Round of 32, while five reached the Round of 16. No. 86 Miller had two hard-fought wins to reach that round, while fellow senior Broomfield took it a step further by defeating No. 104 Dzina Milovanovic of Pepperdine, 7-6, 6-3, in the quarterfinals. Broomfield's win avenged Andrews' loss to Milovanovic one round earlier. No. 15 Jada Hart beat Jenny Moinard of San Diego State, 6-3, 7-6, before watching her journey end versus Pepperdine's Jessica Failla in three sets.
Underclassmen Abi Altick and Elysia Bolton had standout performances, as both reached the semifinals. Each notched a big win in the quarters, as No. 52 Altick defeated No. 51 Petra Melounova of Hawai'i (6-3, 7-6) and Bolton ousted No. 41 Levashova (6-1, 4-6, 6-2). Freshman Katie LaFrance recorded the first win of her Bruin career, 6-1, 6-3 over Autum Prudhomme of Grand Canyon in an extra match.
For full results from the tournament, click here.
Xavier & Bethune-Cookman win 2018 HBCU National Championships
Bethune-Cookman University and Xavier University of Louisiana took home the men's and women's titles, respectively, at the 2018 HBCU Tennis National Championships held at the USTA National Campus in Orlando.
The annual event featured 21 teams representing 13 historically black college and universities. Players competed individually, in both singles and doubles competitions, to earn overall team points. This was the first time in the event's history that it was held at the USTA National Campus.
For the Bethune-Cookman men, they took home the overall men's title for the first time in the event's 18-year history. The Wildcats finished with 25 points, five points clear of the second place finisher, Xavier. BCU adds this men's title to four previous women's titles (2006, 2012-14).
The Xavier University women earned their second title and first since 2007, finishing with 19 points, edging second-place Morgan State by one point. The Xavier men had won the title in three of the previous five years.
Players and coaches of winning teams will be available for interview later this week.
Photo: Manuela Davies of USTA
Men's Team Results:
Bethune-Cookman University – 25
Xavier University of Louisiana – 20
North Carolina Central University – 17
Morgan State University – 14.5
Florida A&M University – 6
Jackson State University – 5.5
North Carolina A&T University – 5
Shaw University- 3
Alabama A&M University – 3
Virginia State University – 2
Women's Team Results:
Xavier University of Louisiana – 19
Morgan State University – 18
Florida A&M University- 14
Alabama A&M University- 13
Jackson State University- 13
Bethune-Cookman University- 8
Shaw University – 7
North Carolina A&T University- 5
Savannah State University- 4
Elizabeth City State University – 2
Johnson C. Smith University- 0
Singles Championships Results:
Men's A Singles
Gabriel Cucalon [NCCU] (1)
def. Andrew Alawi [JSU] (2)
6-1; 6-2
Men's B Singles
Victor Bravo [BCU] def Victor Castro [BCU]
Team Concensus Victory
Men's C Singles
Serhii Karchev [MSU] def. Philip Lynch [BCU]
6-1; 6-3
Women's A Singles
Lucia Solis [JSU] def Mialiniaina Rakotondrazafy [FAMU]
6-2; 2-6; 6-3
Women's B Singles
Michelle Ncube [BCU]
def. Asmara Faluki [MSU]
6-2; 6-2
Women's C Singles
Yi Chen Pao [XULA] (3)
def. Oriane Yehouenou [MSU]
6-1; 6-0
Doubles Championships Results
Men's A Doubles
Shaikh Abdullah / Santiago Perez [XULA]
def. Shrey Gupta / Nihit Rawal [MSU]
6-3
Men's B Doubles
Philip Lynch / Juan Navarro [BCU]
def. Christos Dagklis / Athanasios Spyropoulos [NCCU] [NCCU]
7-6(5)
Women's A Doubles
Farah Baklouti / Borodii Mariia (3) [XULA]
def. Peggy Rooke / Asmara Faluki (4) [MSU]
6-4
Women's B Doubles
Charlene Goreau / Yi Chen Pao (1) [XULA]
def. Averiana Mitchell / Dana Santiago [MSU]
6-3