By USC Athletics
Freshman Salma Ewing won the ITA Southwest Regional Singles Championship this morning (Oct. 22). The No. 5 ranked Freshman/Newcomer in the nation defeated Pepperdine's Jessica Failla 3-6, 6-2, 6-2 in the finals to claim the championship title.
Ewing is USC's ninth ITA Regional Singles Champion, with the most recent being Zoë Scandalis in 2015.
With the win, Ewing has secured placement in the ITA Fall Championships, which will take place on Nov. 7-11 in Surprise, Ariz.
After having a bye in the Round of 128, Ewing blasted through the rounds of 64 and 32 with decisive two-set wins.
In the Round of 16, Ewing faced off against No. 86 Alaina Miller of UCLA, and won with a 6-3, 6-3 score. After securing placement in the Quarterfinals, it appeared she would have to take on the No. 1 seed in the tournament, Pepperdine's Ashley Lahey. Ewing defeated Lahey, the No. 4 ranked player in the country, with a 6-2, 6-4 score to punch her ticked to the Semifinals.
On Sunday, Ewing beat another Bruin, No. 52 Abi Altick 6-1, 6-3 to lock down her spot in the final match on Monday morning.
After falling in the first set 3-6 to Pepperdine's Jessica Failla, Ewing battled back in true Trojan form to win the next two sets 6-2, 6-2 to claim the match and the singles title.
Fellow Trojan freshman Danielle Willson also had a strong showing at the tournament as she reached the Round of 16 where she fell to No. 41 Evgeniya Levashova of Pepperdine.
In the doubles portion of the competition, two Trojan pairs reached the Quarterfinals: No. 27 ranked duo Kulikov/Valdes and Branstine/Weissmann. Kulikov/Valdes fell to UCLA's Andrews/Broomfield 8-3, and Branstine and Weissmann lost to UCLA's No. 29 Bolton/Hart.
For full results from the tournament, click here.
Stanford three-peats as Pac-12 Women's Tennis Champions with win over UCLA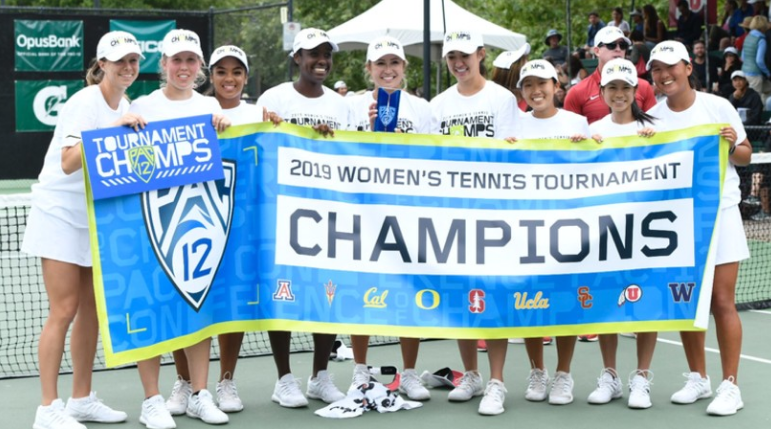 By Holly Roberts of Pac-12 Conference
OJAI, Calif. – Top-seeded and No. 5 nationally ranked Stanford (22-1) captured its third consecutive Pac-12 Women's Tennis Championship tournament title and its fourth straight NCAA Tournament automatic bid with a 4-2 comeback victory over No. 2 seed and No. 9 ranked UCLA (18-7) at Libbey Park on Saturday.
The title match beared striking resemblance to last year's tourney finale in which the Bruins took the doubles point and evened the match 2-2, but the Cardinal surged late with key victories once again highlighted by the clincher from junior Emily Arbuthnott at No. 4 singles.
"It's obviously amazing to clinch a final like this," said Arbuthnott, who not only clinched the 2018 Pac-12 team title for the Cardinal but has also secured the winning point in five consecutive meetings against the Bruins.
"We have this joke on our team that I end up clinching all the time. I think it might be the way I play – I don't play too fast or too slowly, but it means a lot," added Arbuthnnott. "Obviously I would have preferred to have won the match point that I had in the second set and get done faster, but I think getting through those three-set matches, especially in situations where you know if you win you've won the match, that it's great character building. I've been in that situation so many times now that I feel quite comfortable."
"She's really solid and her matches go a little longer which is one of the reasons that she clinches a lot," said Stanford head coach Lele Forood. "We have people like [Caroline] Lampl who bangs the ball through the court and gets off the court sooner – it takes a little bit of both."
The Bruins have secured the doubles point in their last seven meetings against the Cardinal, but Stanford has rebounded to win the last five of those contests.
"We've got great singles players," said Forood of her team's resiliency. "That doesn't faze us exactly. We'd like to win it and they [UCLA] were very good in the doubles, so we just know that we've gotta win a bunch of singles matches."
Now with a Pac-12 tourney three-peat in the record book, Stanford will turn its attention to defending its 2018 NCAA National Championship, which it claimed as the No. 15 seed and four top-10 upsets.
"Probably better doubles from us," joked Farood on what it will take to repeat as NCAA champions. "Just a lot of belief like we came through in singles today."
"We're really excited, especially with the new setup this year with teams hosting third rounds as well," said Arbuthnott of the Cardinal's upcoming NCAA Tournament play. "We're really looking forward to getting back and trying to defend that title. It was really close last year, but we have the same team and we know we're capable of it."
The NCAA Women's Tennis Championship Selection Show will stream live on NCAA.com on Monday, April 29 at 3:30 p.m. PT.
2019 PAC-12 WOMEN'S TENNIS CHAMPIONSHIP
No. 1 Stanford 4, No. 2 UCLA 2

DOUBLES:
1. Gabby Andrews/Ayan Broomfield, UCLA def. Caroline Lampl/Kimi Yee, STAN – 6-4
2. Elysia Bolton/Jada Hart, UCLA v. Emily Arbuthnott/Michaela Gordon, STAN – 6-5 unf.
3. Abi Altick/Taylor Johnson, UCLA def. Melissa Lord/Niluka Madurawe, STAN – 6-3
Order of finish: 3, 1
SINGLES:
1. Michaela Gordon, STAN def. Jada Hart, UCLA – 6-4, 6-4
2. Melissa Lord, STAN def. Elysia Bolton, UCLA – 7-5, 6-3
3. Caroline Lampl, STAN def. Ayan Broomfield, UCLA – 6-2, 6-1
4. Emily Arbuthnott, STAN def. Alaina Miller, UCLA – 6-1, 6-7 (3), 6-0
5. Janice Shin, STAN v. Abi Altick, UCLA – 2-6, 6-4, 2-1 unf.
6. Gabby Andrews, UCLA def. Emma Higuchi, STAN – 6-3, 6-2
Order of finish: 3, 6, 2, 1, 4
Hart dominates NCAA star Ewing in dual clash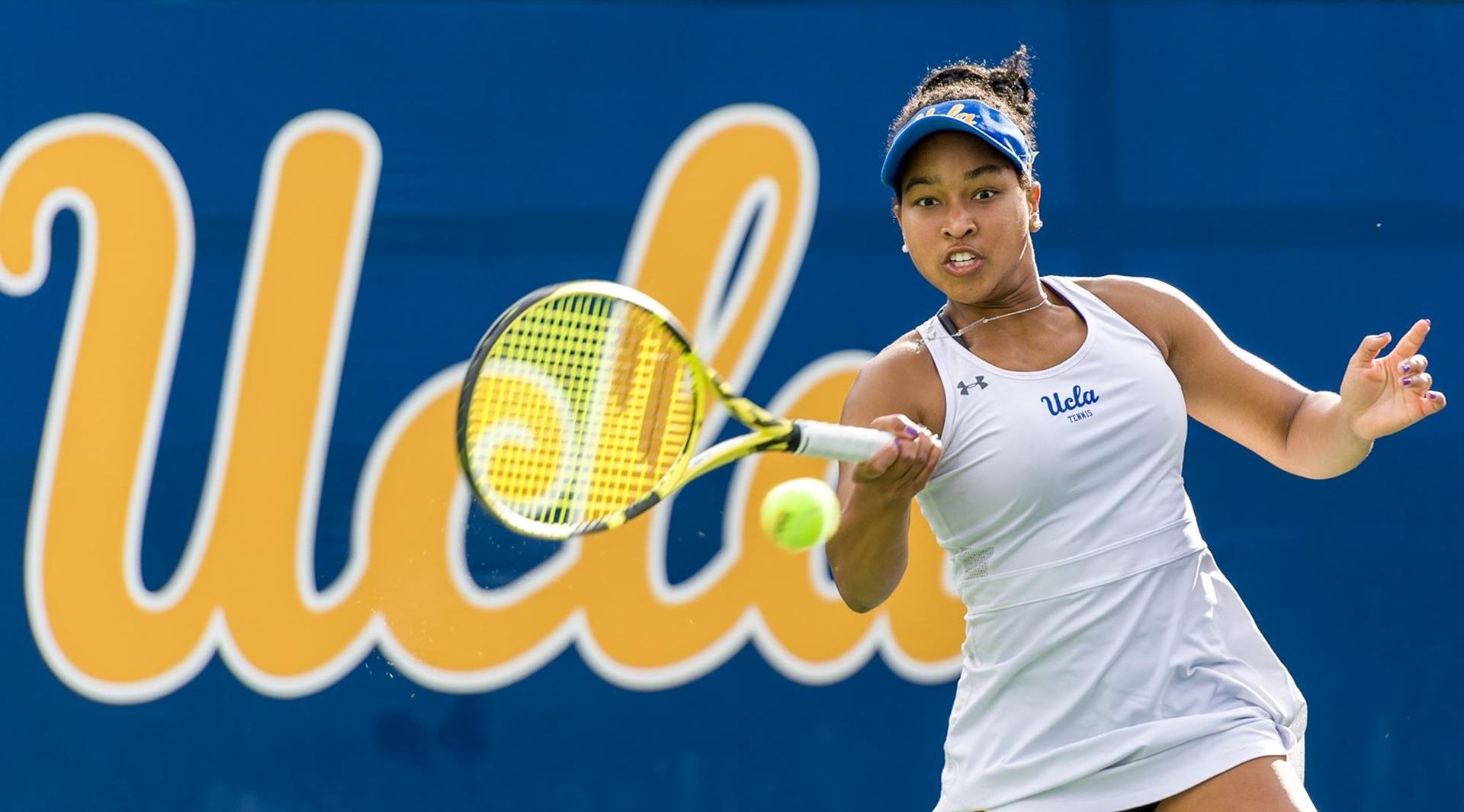 LOS ANGELES – The No. 5 UCLA women's tennis team fell to No. 32 USC 4-1 in a non-conference match Friday at Los Angeles Tennis Center.
USC got on the board first, winning a close doubles competition. Jada Hartmomentarily pulled the Bruins (7-2) even with a dominant performance on the top court, but the Trojans (6-2) eventually prevailed with three singles victories.
The 14th-ranked UCLA pair of Elysia Bolton and Jada Hart went up a break on Becca Weissmann and Danielle Willson at 4-2 on Court 2 and used that on the way to a 6-4 decision and the first win of the day. Bolton-Hart improved to 16-5 on the year with the win.
The Trojans pulled even on Court 3, where their pair of Constance Branstine and Estella Jaeger jumped out to a 4-1 lead over No. 38 Abi Altick and Alaina Miller. The UCLA pair countered with a break and found itself down 3-4, but Branstine and Jaeger took the final two games.
That left it up to the top court, where the UCLA combination of Gabby Andrews and Ayan Broomfield picked up an early break for a 3-1 lead. Angela Kulikov and Rianna Valdes answered with four straight games, though, for a 5-3 advantage. A late break by the Bruin pair could not turn it back around, as Kulikov-Valdes gave USC the day's first point.
The Trojans carried their momentum into singles play, where they tallied four first-set wins.
Hart did her part with a commanding performance on the top court. Playing against No. 34 Salma Ewing, the redshirt junior cruised to a 6-0 first set. Ewing took the first two games of the second set, but that did not faze Hart. The Bruin won the next six games and the match to tie the overall score at 1-1. Hart improved to 2-1 on the dual-match season, with each of her wins coming against top-45 players.
No. 120 Weissmann put Miller behind the eight ball with a 6-0 first set on Court 5. The Bruin recovered with two of the first three games in the second set, but Weissmann worked her way back to a 6-4 win and the Trojans' second point of the day.
On Court 3, No. 112 Broomfield took two of the first three games before Valdes answered with five of the next six to earn the early edge. The Trojan never trailed in the second set, posting mirror-image 6-3 performances to extend the lead to 3-1.
The overall result was ultimately decided on Court 2, where Kulikov topped No. 11 Bolton with a 6-3 first set. UCLA's freshman charged into the second set with a 4-1 lead, but Kulikov fought back for a 7-5 victory to clinch the match.
The Bruins will open Pac-12 play Friday, March 8 with a visit to Arizona State. First serve from Whiteman Tennis Center will occur at 12:30 p.m., PT.
Tennis Match Results
USC vs UCLA
3/1/2019 at Los Angeles, CA
(Los Angeles Tennis Center)
#32 USC 4, #5 UCLA 1
Singles competition
1. Jada Hart (UCLA) def. #34 Salma Ewing (USC) 6-0, 6-2
2. Angela Kulikov (USC) def. #11 Elysia Bolton (UCLA) 6-3, 7-5
3. Rianna Valdes (USC) def. #112 Ayan Broomfield (UCLA) 6-3, 6-3
4. Abi Altick (UCLA) vs. Ana Neffa (USC) 2-6, 4-5, unfinished
5. #120 Becca Weissmann (USC) def. Alaina Miller (UCLA) 6-0, 6-4
6. Taylor Johnson (UCLA) vs. Danielle Willson (USC) 6-2, 5-7, 0-2, unfinished
Doubles competition
1. Angela Kulikov/Rianna Valdes (USC) def. #8 Gabby Andrews/Ayan Broomfield (UCLA) 6-4
2. #14 Elysia Bolton/Jada Hart (UCLA) def. Becca Weissmann/Danielle Willson (USC) 6-4
3. Constance Branstine/Estella Jaeger (USC) def. #38 Abi Altick/Alaina Miller (UCLA) 6-3
Match Notes:
USC 6-2; National ranking #32
UCLA 7-2; National ranking #5
Order of finish: Doubles (2,3,1); Singles (1,5,3,2)
T-1:53
Coverage by UCLA Athletics
Hart, Andrews & Broomfield of UCLA head to ITA Fall Championships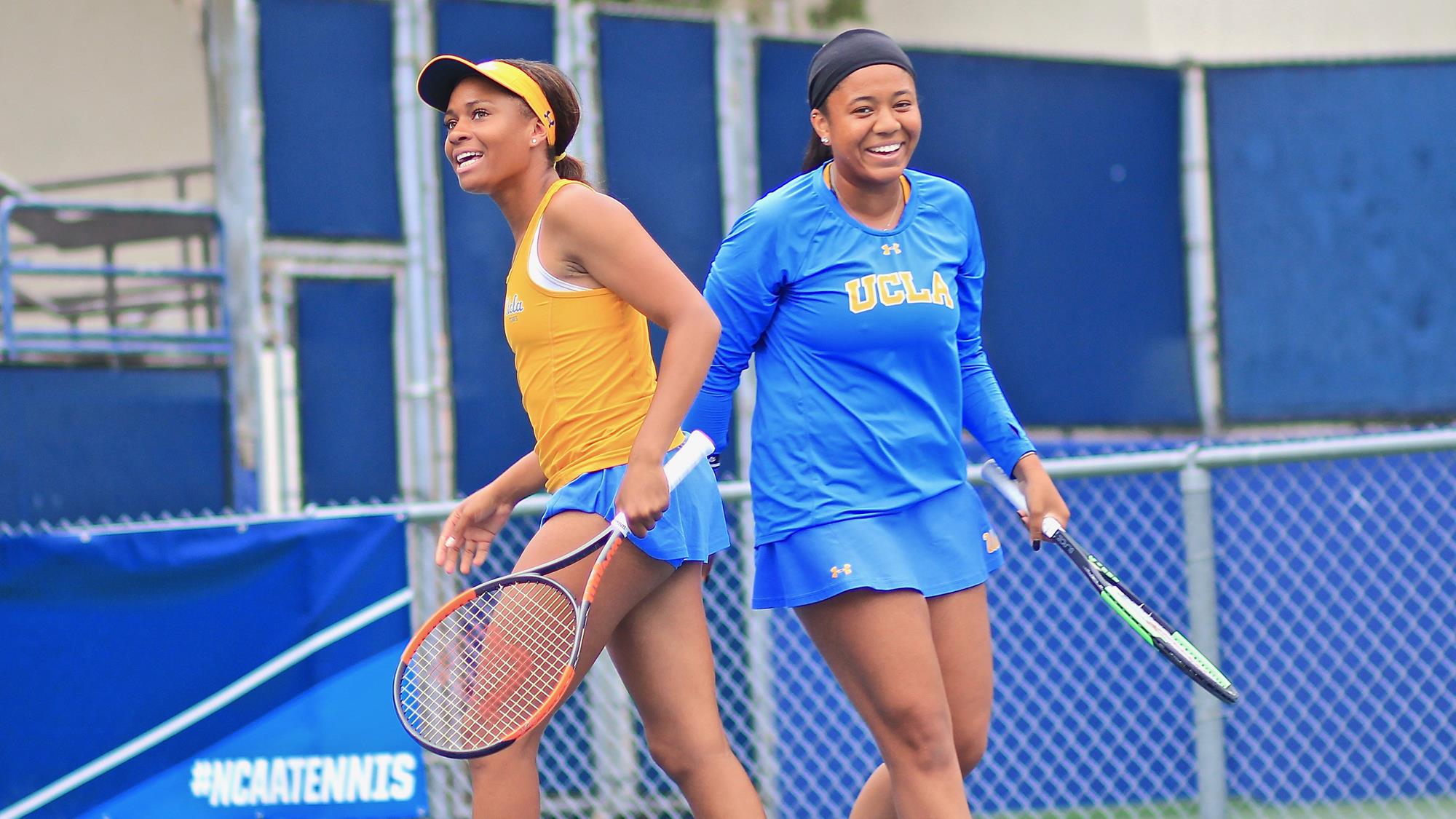 UCLA Bruins News
SURPRISE, Ariz. – The UCLA women's tennis team will officially mark the end of the 2018 portion of its schedule at the Oracle ITA National Fall Championships this week, when it sends five players to the Surprise Tennis & Racquet Complex. The five-day event will conclude Sunday, Nov. 11, with ESPN3 and the ESPN App providing live coverage of the singles finals.
Seven Top-10 singles players from the Oracle/ITA preseason list and five Top-10 doubles tandems are in the star-studded field. UCLA will be represented by two singles players and two doubles teams. It was recently announced that the Fall Championships singles winners will be granted main-draw wildcard spots in the 2019 Oracle Challenger Series tournament. More information is available HERE.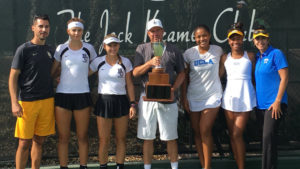 Heading up the Bruin contingency is the red-hot doubles duo of Gabby Andrews and Ayan Broomfield, which has now claimed back-to-back titles after topping the Jack Kramer Collegiate Tournament field. Previously, the pair won the ITA Southwest Regional Championships doubles title to earn an automatic bid in this week's draw. For the year, Andrews-Broomfield holds an unblemished mark at 8-0. Seeded sixth, the pair will face off with Air Force's TJ Fumagalli-Kristin Kerrigan Wednesday.
Earning an at-large doubles bid, meanwhile, was the 29th-ranked combination of Elysia Bolton and Jada Hart. The pair, which turned in strong performances at the Riviera/ITA All-American Championships and ITA Regionals, currently sits at 7-2 on the year. Bolton-Hart is staring down top-seeded and third-ranked Michaela Gordon and Emily Arbuthnott of Stanford in the first round.
Bolton, who is No. 3 among freshmen according to Oracle/ITA, also picked up an at-large berth in the singles draw. Seeded 13th, Bolton will face Princeton's Stephanie Schrage in opening-round play. If victorious, Bolton could take on 2017 NCAA singles champion Brienne Minor of Michigan in the second round and past Oracle ITA Masters foe No. 3 Estela Perez-Somarriba of Miami in the Round of 16. Bolton is 7-3 across three highly-regarded tournaments this fall.
Joining Bolton in the singles draw is sophomore teammate Abi Altick, who also picked up an at-large nod. No. 52 Altick will take on No. 20 Marianna Petrei of Idaho in search of her sixth win of the fall. Two of Altick's five triumphs thus far have come over ranked opponents (No. 53 Sabina Machalova of Ole Miss, No. 51 Petra Melounova of Hawai'i).