Bethune-Cookman University and Xavier University of Louisiana took home the men's and women's titles, respectively, at the 2018 HBCU Tennis National Championships held at the USTA National Campus in Orlando.
The annual event featured 21 teams representing 13 historically black college and universities. Players competed individually, in both singles and doubles competitions, to earn overall team points. This was the first time in the event's history that it was held at the USTA National Campus.
For the Bethune-Cookman men, they took home the overall men's title for the first time in the event's 18-year history. The Wildcats finished with 25 points, five points clear of the second place finisher, Xavier. BCU adds this men's title to four previous women's titles (2006, 2012-14).
The Xavier University women earned their second title and first since 2007, finishing with 19 points, edging second-place Morgan State by one point. The Xavier men had won the title in three of the previous five years.
Players and coaches of winning teams will be available for interview later this week.
Photo: Manuela Davies of USTA
Men's Team Results:
Bethune-Cookman University – 25
Xavier University of Louisiana – 20
North Carolina Central University – 17
Morgan State University – 14.5
Florida A&M University – 6
Jackson State University – 5.5
North Carolina A&T University – 5
Shaw University- 3
Alabama A&M University – 3
Virginia State University – 2
Women's Team Results:
Xavier University of Louisiana – 19
Morgan State University – 18
Florida A&M University- 14
Alabama A&M University- 13
Jackson State University- 13
Bethune-Cookman University- 8
Shaw University – 7
North Carolina A&T University- 5
Savannah State University- 4
Elizabeth City State University – 2
Johnson C. Smith University- 0
Singles Championships Results:
Men's A Singles
Gabriel Cucalon [NCCU] (1)
def. Andrew Alawi [JSU] (2)
6-1; 6-2
Men's B Singles
Victor Bravo [BCU] def Victor Castro [BCU]
Team Concensus Victory
Men's C Singles
Serhii Karchev [MSU] def. Philip Lynch [BCU]
6-1; 6-3
Women's A Singles
Lucia Solis [JSU] def Mialiniaina Rakotondrazafy [FAMU]
6-2; 2-6; 6-3
Women's B Singles
Michelle Ncube [BCU]
def. Asmara Faluki [MSU]
6-2; 6-2
Women's C Singles
Yi Chen Pao [XULA] (3)
def. Oriane Yehouenou [MSU]
6-1; 6-0
Doubles Championships Results
Men's A Doubles
Shaikh Abdullah / Santiago Perez [XULA]
def. Shrey Gupta / Nihit Rawal [MSU]
6-3
Men's B Doubles
Philip Lynch / Juan Navarro [BCU]
def. Christos Dagklis / Athanasios Spyropoulos [NCCU] [NCCU]
7-6(5)
Women's A Doubles
Farah Baklouti / Borodii Mariia (3) [XULA]
def. Peggy Rooke / Asmara Faluki (4) [MSU]
6-4
Women's B Doubles
Charlene Goreau / Yi Chen Pao (1) [XULA]
def. Averiana Mitchell / Dana Santiago [MSU]
6-3
Broomfield, Andrews win NCAA Doubles Championship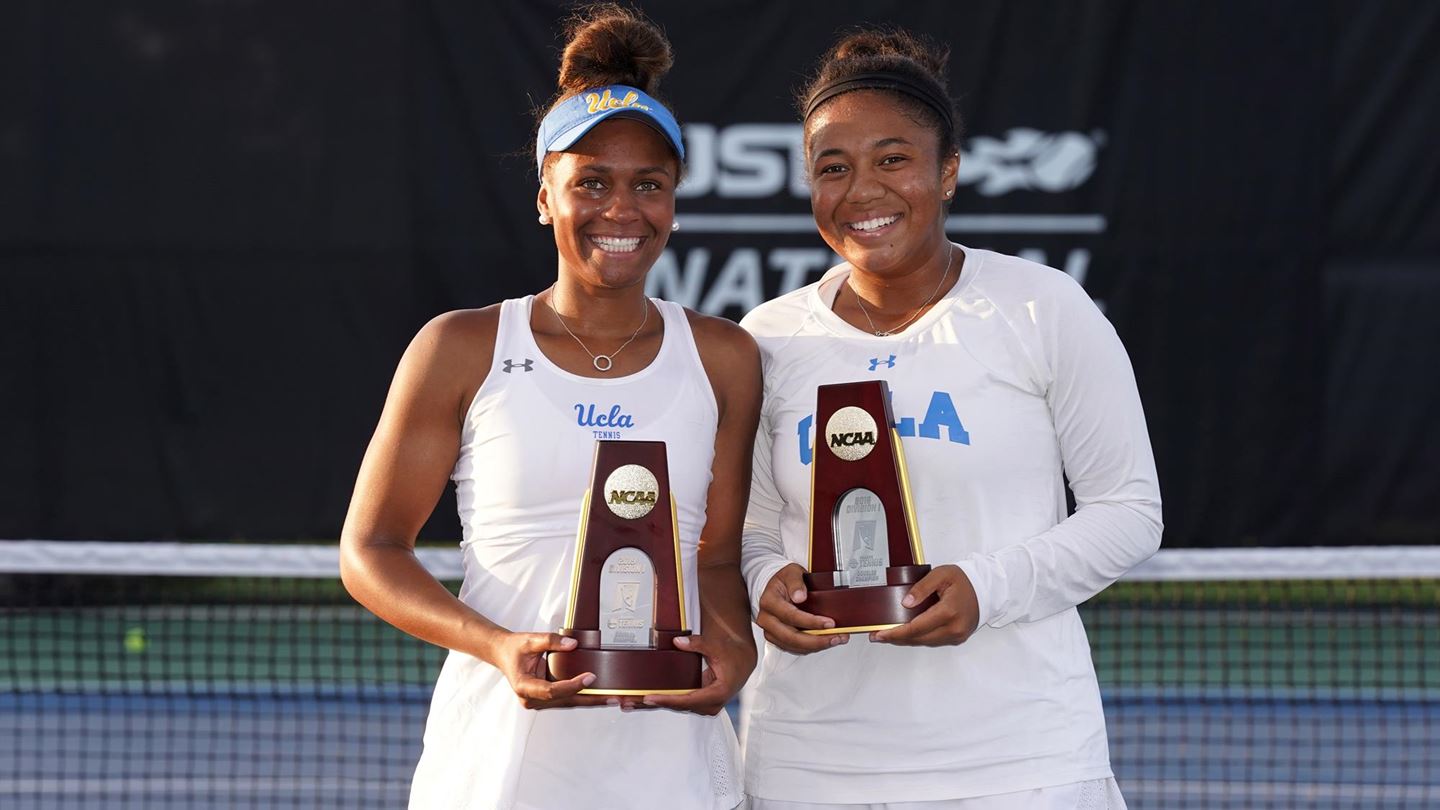 Press Release:
Orlando, Fla. – May 25, 2019. Broomfield and Andrews registered the program's first NCAA doubles title since 2008, outlasting Kate Fahey-Brienne Minor of Michigan 5-7, 7-6(6), 1-0(9) in the final round. The three-set win marked the pair's third of the week, posting a pair of 10-7 decisions before Saturday's 11-9 thriller.
The duo posted tiebreaking wins in three other sets, as well. In order to reach the final, the Bruins dealt No. 1-seeded Angela Kulikov-Rianna Valdes of crosstown rival USC a 6-4, 6-4 loss in Friday's semifinal round. The third-seeded tandem handed losses to the first-, 10th-, 12th-, 25th- and 37th-ranked teams in the nation en route to the program's seventh doubles championship.
Jubb delivers first tennis national championship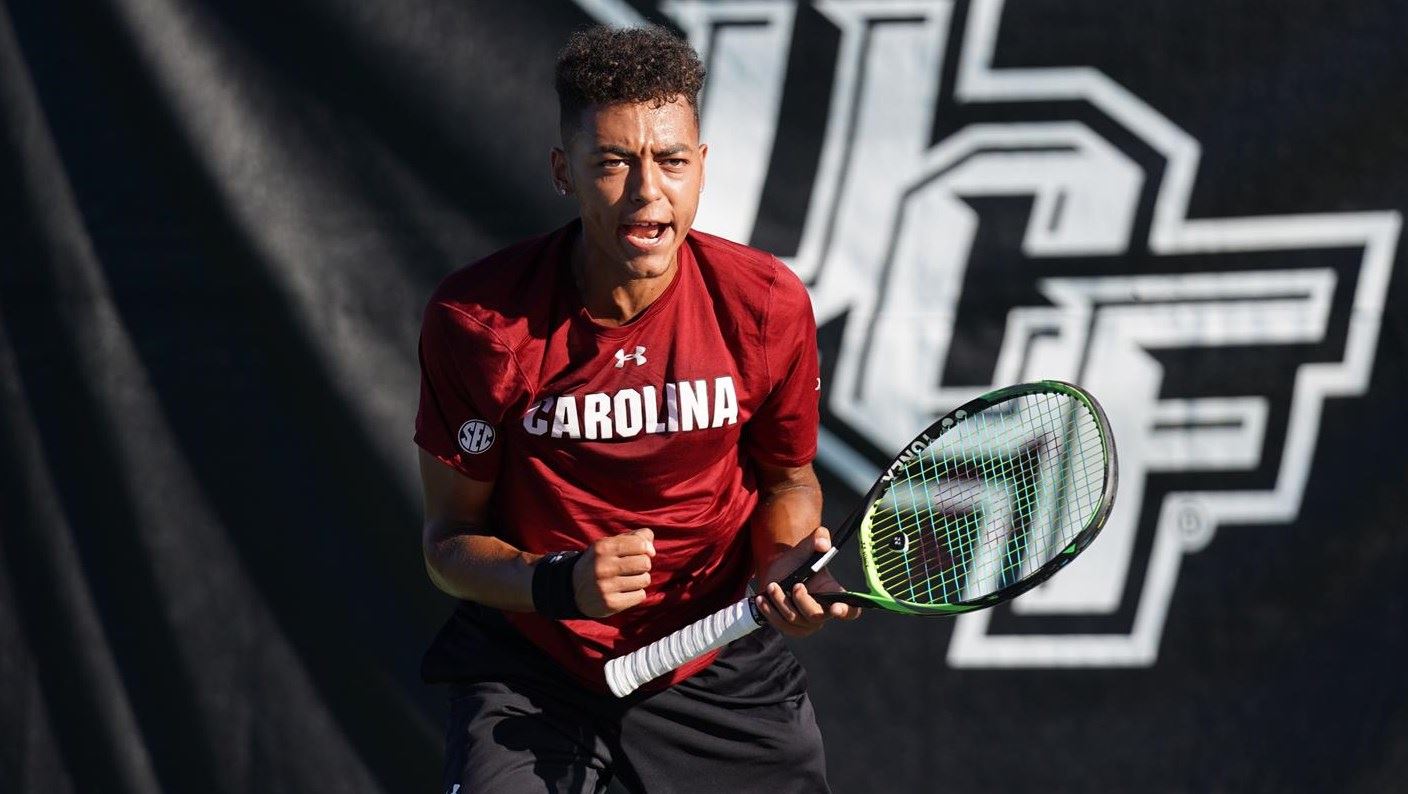 Press Release:
ORLANDO, Fla. – South Carolina junior Paul Jubb capped off his brilliant run through the NCAA Singles Championship with a 6-3, 7-6 (2) win over the top player in the country to deliver the Gamecocks' first national championship in men's tennis. The Hull, England, native dropped just one set in his six victories en route to the title.

Facing a familiar foe on Mississippi State's Nuno Borges, the No. 1 ranked player in the nation, Jubb knew he would have a battle on his hands in the championship match. He also knew he had pushed Borges to the limit twice before this season.

"I was so relentless with my feet," Jubb said. "That was the main thing we were saying with my coach, just going into every single ball. I'm one of the toughest players from the back and my tempo is so high, so I was just trying to keep that up the whole match."

Both players shook off early nerves as each dropped his first service game. Jubb turned the momentum after a tough hold at 3-3. After clipping the net twice to see a 40-Love lead erased, Jubb worked a long rally until Borges sailed his final shot long to decide the game.

Jubb immediately pounced in Borges' service game, bursting to a 40-15 lead. The Bulldogs' senior again forced the game to deuce with a big serve, but again saw Jubb take the deciding point when his great return led to a Borges error and a 4-3 Jubb lead.

The two SEC heavy-weights went toe-to-toe as the next game also went to deuce. Again Jubb delivered, this time with a clean forehand winner up the line to surge ahead 5-3. He went on to take a 40-15 lead in the next game and closed out the set with a great return for a 6-3 victory.

Jubb kept the pressure on in the second set, winning the first two games before Borges got back on serve with a break in the third. After both players held at Love in the eighth and ninth games of the set, both were pressed but held in their next service games, including Borges holding off Jubb's first championship point with a huge second serve to even the set at 5-5.

Two games later, Jubb served first to open the tiebreak, winning that point and two more on Borges' serve as the Gamecock senior's forehand continued to paint lines. The two split the next four points for a 4-2 Jubb advantage.

After switching sides, Jubb's great return immediately put Borges behind the point. As he tried to work his way back in, Jubb came to net and knocked off a high backhand volley into the open court to go up 5-2. A Borges mishit set up another championship point.

Jubb hit a strong serve up the T that had Borges reaching, and the Gamecock junior buried a forehand up the line for the clean winner and the national title.

"Unbelievable," Jubb said after the match. "I had to overcome so much mental toughness after losing to him twice this season. Overcoming that fear and regaining believe that I could win was so big for me today, and I did it."
Stanford three-peats as Pac-12 Women's Tennis Champions with win over UCLA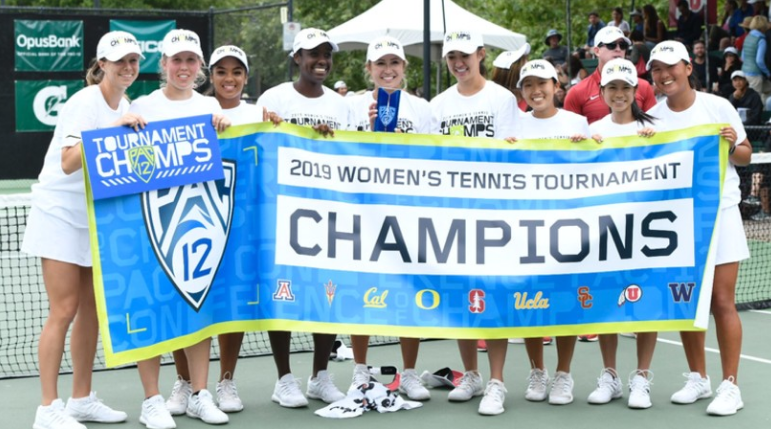 By Holly Roberts of Pac-12 Conference
OJAI, Calif. – Top-seeded and No. 5 nationally ranked Stanford (22-1) captured its third consecutive Pac-12 Women's Tennis Championship tournament title and its fourth straight NCAA Tournament automatic bid with a 4-2 comeback victory over No. 2 seed and No. 9 ranked UCLA (18-7) at Libbey Park on Saturday.
The title match beared striking resemblance to last year's tourney finale in which the Bruins took the doubles point and evened the match 2-2, but the Cardinal surged late with key victories once again highlighted by the clincher from junior Emily Arbuthnott at No. 4 singles.
"It's obviously amazing to clinch a final like this," said Arbuthnott, who not only clinched the 2018 Pac-12 team title for the Cardinal but has also secured the winning point in five consecutive meetings against the Bruins.
"We have this joke on our team that I end up clinching all the time. I think it might be the way I play – I don't play too fast or too slowly, but it means a lot," added Arbuthnnott. "Obviously I would have preferred to have won the match point that I had in the second set and get done faster, but I think getting through those three-set matches, especially in situations where you know if you win you've won the match, that it's great character building. I've been in that situation so many times now that I feel quite comfortable."
"She's really solid and her matches go a little longer which is one of the reasons that she clinches a lot," said Stanford head coach Lele Forood. "We have people like [Caroline] Lampl who bangs the ball through the court and gets off the court sooner – it takes a little bit of both."
The Bruins have secured the doubles point in their last seven meetings against the Cardinal, but Stanford has rebounded to win the last five of those contests.
"We've got great singles players," said Forood of her team's resiliency. "That doesn't faze us exactly. We'd like to win it and they [UCLA] were very good in the doubles, so we just know that we've gotta win a bunch of singles matches."
Now with a Pac-12 tourney three-peat in the record book, Stanford will turn its attention to defending its 2018 NCAA National Championship, which it claimed as the No. 15 seed and four top-10 upsets.
"Probably better doubles from us," joked Farood on what it will take to repeat as NCAA champions. "Just a lot of belief like we came through in singles today."
"We're really excited, especially with the new setup this year with teams hosting third rounds as well," said Arbuthnott of the Cardinal's upcoming NCAA Tournament play. "We're really looking forward to getting back and trying to defend that title. It was really close last year, but we have the same team and we know we're capable of it."
The NCAA Women's Tennis Championship Selection Show will stream live on NCAA.com on Monday, April 29 at 3:30 p.m. PT.
2019 PAC-12 WOMEN'S TENNIS CHAMPIONSHIP
No. 1 Stanford 4, No. 2 UCLA 2

DOUBLES:
1. Gabby Andrews/Ayan Broomfield, UCLA def. Caroline Lampl/Kimi Yee, STAN – 6-4
2. Elysia Bolton/Jada Hart, UCLA v. Emily Arbuthnott/Michaela Gordon, STAN – 6-5 unf.
3. Abi Altick/Taylor Johnson, UCLA def. Melissa Lord/Niluka Madurawe, STAN – 6-3
Order of finish: 3, 1
SINGLES:
1. Michaela Gordon, STAN def. Jada Hart, UCLA – 6-4, 6-4
2. Melissa Lord, STAN def. Elysia Bolton, UCLA – 7-5, 6-3
3. Caroline Lampl, STAN def. Ayan Broomfield, UCLA – 6-2, 6-1
4. Emily Arbuthnott, STAN def. Alaina Miller, UCLA – 6-1, 6-7 (3), 6-0
5. Janice Shin, STAN v. Abi Altick, UCLA – 2-6, 6-4, 2-1 unf.
6. Gabby Andrews, UCLA def. Emma Higuchi, STAN – 6-3, 6-2
Order of finish: 3, 6, 2, 1, 4