By Editorial Team
In March 2017, the ITF announced reforms to entry-level professional tennis including the introduction in 2019 of a transition tour.
According to itftennis.com, "The aims of the reforms are to provide a clearer and more effective pathway from the Junior Circuit to the Pro Circuit and to ensure that prize money at ITF Pro Circuit tournaments is better targeted to potentially enable more players to make a living from the professional game." However, it is the opinion of most that this "pathway" is made by weeding out (or cutting) the bottom percentile players from participating in WTA/ATP Tour events.
The ITF mentioned that the new tournament structure will enable the ATP/WTA players to make a real living from prize money on tour. The pro tour would be able to fully support approximately 750 active players as they compete in events that span over only 7 days enabling them to play more tournaments on a weekly basis with little or no overlap.
Direct entries are based on ATP/WTA rankings and ITF Pro rankings with the allowance for wild cards and also the direct entry of the highest ranked Top 100 juniors. This allows for more junior participation into professional tennis.
Starting in 2019, all $15k events will be considered the Transition Tour and $25k to $100k+ events are ATP/WTA Tour events that count toward a player's pro tour ranking.
Those lower ranked junior players going into the 2019 season with no WTA/WTA/ITF Pro ranking will be in for a bumpy ride as they will have to make it through the Transition Tour prior to working toward a ATP/WTA Tour ranking. This season was filled with anxiety as junior players in particular worked frantically to accumulate enough points to at least meet the new pro tennis requirements to play $25k tournaments.
It is estimated that the new cutoff will be a top 750 ranking to at least ensure direct entry into either main draw or qualifying rounds. In addition, a pro tour ranking will be given to players who compete in at least 3 ITF Pro events and earn 3 points during play.
A computer algorithm tracks player points and uses the best ranking (ITF Pro or ATP/WTA ranking) to automatically determine who gets direct acceptance into the draws.
The only real strategy for young aspiring professionals looking to enter tennis super stardom is to win at the $15k tournament level. Its a simple strategy that obviously only a few select can achieve, but it is the only way to ensure advancement to the next level. Players on the border line of 750 ranking will battle against unranked players to earn the right to advance into the $25k and above events.
There are petitions spreading across the tour (with 2,000 signatures as of July 2018) , but to no avail as the Transition Tour will be rolling out regardless of the push-back.
The new Transition Tour will be competitive and boil down to wins/loses rather than favor with local tournament directors. Rather, rankings and points will end up ruling the day. Prospective pro tour players should not overthink the process here. If so, they could miss critical opportunities to compete and earn points for advancement. The only way to ensure success is preparation, training, good coaching and a willingness to play multiple $15k tournaments over an entire 12 month season.
For more info check out the ITF videos below further explaining the Transition Tour and its application to ATP/WTA Tour level events.
Transition Tour for Male Players:
Transition Tour for Female Players:  
Muhammad Wins Hometown Event With Sanchez to Take 30th Career Pro Doubles Title
SUMMERLIN, Nev. (Nov. 11, 2018) – In the doubles final, Las Vegas' Asia Muhammad and Maria Sanchez improved their record to 21-1 on the year as they beat fellow American's Sophie Chang and Alexandra Mueller, 6-3, 6-4, to win the doubles title. While longtime partners Chang and Mueller end their year, Muhammad and Sanchez will look to end their year on a high note in Houston.
Asia, who reached the doubles quarterfinals of the 2016 US Open, has now won 30 career pro doubles titles, three coming on the WTA Tour and 27 now on the USTA Pro Circuit. She learned to play tennis at the Andre Agassi Boys and Girls Club in Las Vegas. Sanchez won her 21st doubles title on the USTA Pro Circuit.
Asia was the crowd favorite all week and said she enjoys coming back to play her local event each year. "We travel all over the world and see some amazing things, but to come back here and play in front of so many familiar faces is special," she said.
Tournament director Mike Copenhaver said this was an historic year for the Red Rock Pro Open. "With it being the 10th anniversary, and part of the USTA Australian Open Wild Card Challenge, marquee night matches and our matches televised all week by Tennis Channel, it's one that was written for the record books!"
This week Asia will be competing in Houston, Texas at the Oracle Challenger Series where top US players are competing for a main draw wildcard.
Osuigwe joins Watson, Muhammad and King in Houston Oracle Challenge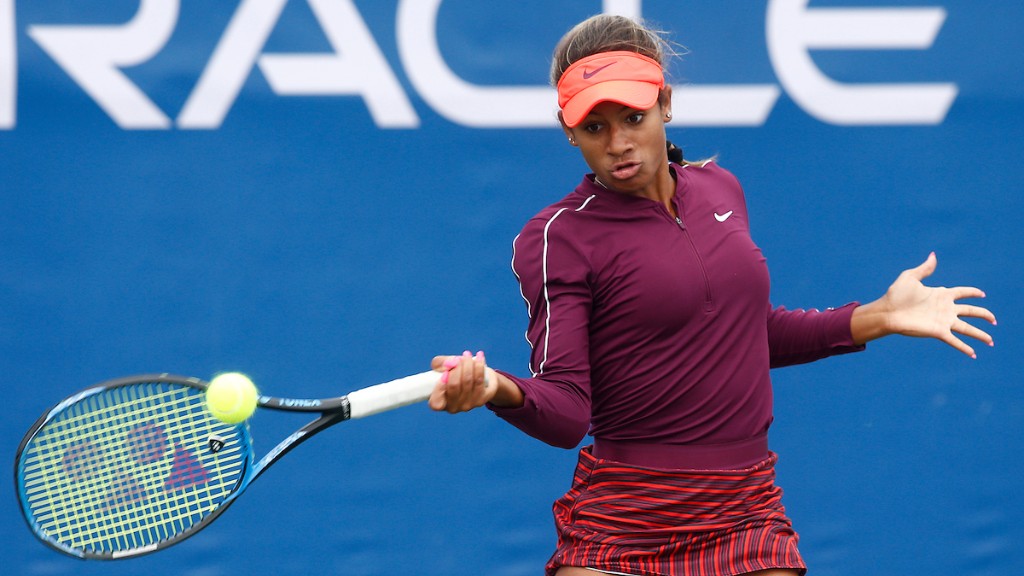 By Editorial Team
On the heels of a $80k title win in Tyler, Texas, Whitney Osuigwe remains on the hunt for more upset wins in Houston this week. She was able to qualify for the main draw comfortably with a decisive win today over Réka LucaJani 6-3, 6-4 and now faces 199th ranked Naomi Broady of Great Britain in the 1st round. Whitney has made a huge leap into the top 250 after a string of great wins, but she is not slowing down as she aims to manufacture more wins with her steady play and mental toughness.
Watson and Muhammad are also aiming to have a good showing after facing major headwinds in Las Vegas last week with early round losses. The stakes are high for both players as they compete to finish the year within the top 100. Heather is right on the cusp of the top 100, but she will have to work overtime in Houston to reach her goals.
On the men's side, Darian King will compete to get in his groove found last year (reached the round of 64 in main draw of 2017 BNP Open) to possibly qualify for an opportunity to play in next year's 2019 BNP Open Qualifying Draw. A main draw wildcard goes to the highest finisher of the 5 tournament Challenger Series events. Darian may be out of contention for the main draw, but no fight is lacking for this talented 26 year old from Barbados. Opportunity is sure to find Darian as he continues to perfect his athletic style of play.
Match play begins tomorrow, click here to view the draws and order of play.
Match Preview: Tiafoe vs. Tsitsipas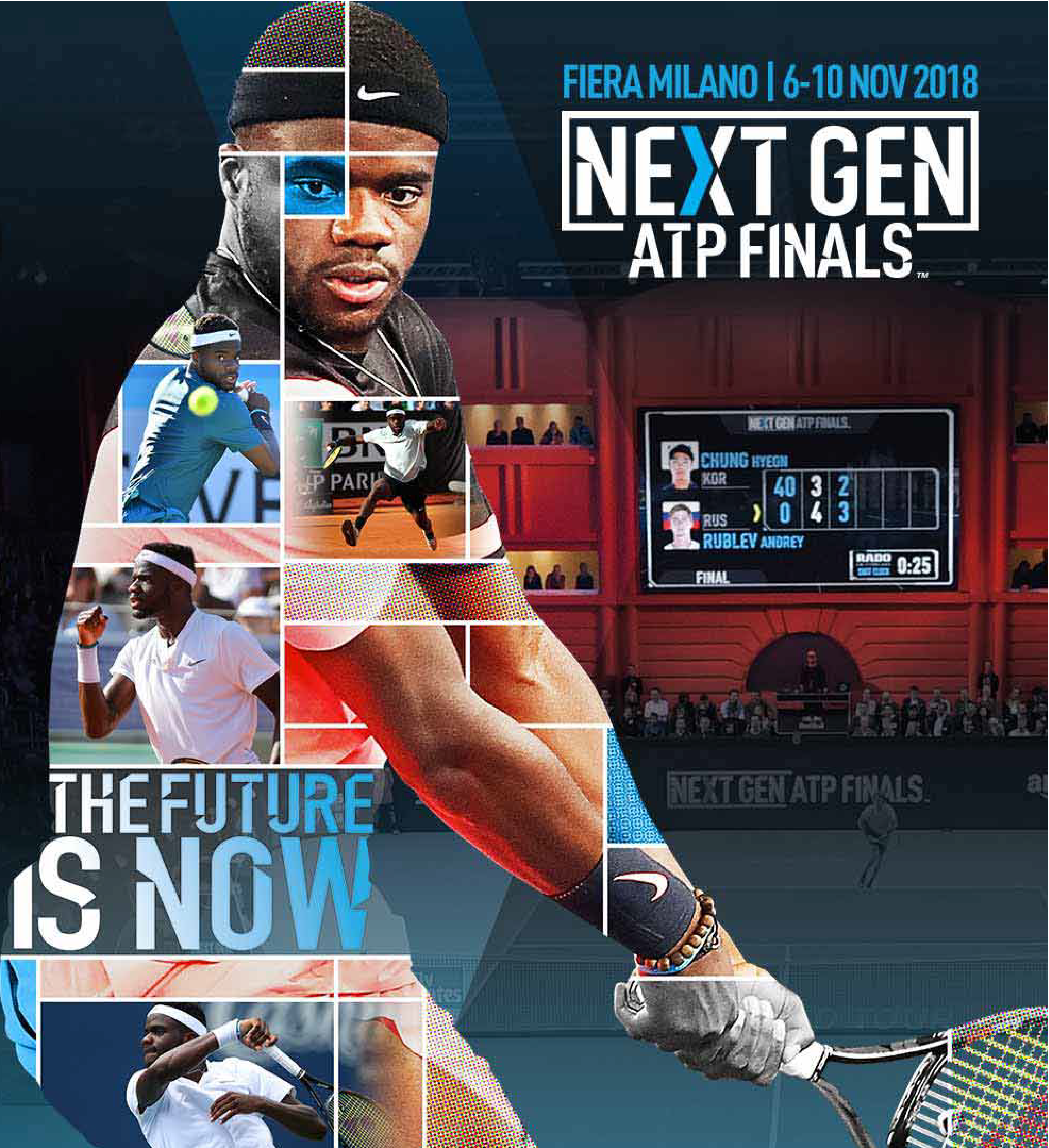 By Jason Barron
Frances Tiafoe will look to play well in the year-end ATP Next Gen Finals tournament in Milan. Tiafoe is part of a field of 8 players who are all 21 years or younger. For any young player on the tour it is their goal to make the Next Gen Finals.
The tournament is played under special rules with each set played up to 4 games instead of 6 and if the set is tied at 3-3, then they play a tiebreak to decide it. It makes for quicker matches and the players really have be on their game to start because there will be less chances to make a comeback.
In Tiafoe's first match he beat Polish player Hubert Hurkacz in 4 sets 4-1, 4-2, 2-4, 4-3 (12-10). Tiafoe started the match out with strong serving and quick ball striking. Hurkacz did make a comeback in the 3rd and 4th set, but Tiafoe was able to hold his nerve and outlast his opponent in the deciding tiebreak. Tiafoe will have his work cut out for him in his next match against the 15th ranked player and tournament favorite, the Greek wunderkind Stefanos Tsitsipas. They have played once before with Tsitsipas winning in straight sets in 2017.
Tiafoe will need to serve well and make Tsitsipas come to the net to make him uncomfortable. Tiafoe can't get into too many long baseline exchanges because that is playing to Tsitsipas' strengths who utilizes strong groundstrokes to win points. Tiafoe should look to put away points with clever backhands and be wary of the Tsitsipas' serves because he can be tough to break when getting his first serves in.
Tiafoe has likely reached his own personal goal of making it to the Next Gen Finals. Next he will face his toughest test and history has shown that Tiafoe tends to struggle against taller players, standing at 6'2, while Tsitsipas is 6'4. After the Tsitsipas match, Tiafoe would play Spanish player, Jaume Munar the following day.
Tiafoe should beat the lower ranked Munar, but the real test will come against Tsitsipas, the youngest player in the ATP Top 20. The match is scheduled for Wednesday, November 7th. Stream the Next Gen Finals with Amazon Prime.