INDIAN WELLS, Calif., November 9, 2018 – For a record-tying fifth consecutive year, the BNP Paribas Open – held each March at the Indian Wells Tennis Garden – has been voted the ATP World Tour Masters 1000 Tournament of the Year, as determined by player vote.
The BNP Paribas Open, the largest WTA and ATP World Tour combined two-week event in the world, has swept the top tournament honors on both the men's and women's Tours each year since 2014. The Masters 1000 designation is the highest category on the ATP World Tour, outside of the Tour Finals, and includes the tournaments in Miami, Monte Carlo, Madrid, Rome, Cincinnati, Canada, Shanghai, and Paris, in addition to Indian Wells.
"We are honored and humbled that for the fifth straight year, our event has been recognized by the players as "Tournament of the Year," Tournament Director Tommy Haas said. "Our entire staff works incredibly hard to deliver a world-class experience, and our goal will be to make the 2019 event even better this March."
Each year, the BNP Paribas Open strives to ensure that continuous improvements to the Indian Wells Tennis Garden make the event a premier destination for fans, players, media and sponsors. A full-scale renovation to Stadium 1 in 2017 added more than 21 new restaurants and concessions to the second-largest tennis stadium in the world, while players enjoy top-notch facilities, amenities and practice courts. Continuously at the forefront of innovation in the tennis world and the sporting industry as a whole, the BNP Paribas Open remains the only tournament in the world to have Hawk-Eye on all match courts for both main draw and qualifying matches.
The BNP Paribas Open is known throughout the tennis community as "Tennis Paradise" – a reflection of the stunning natural beauty and backdrop of the desert landscape, highlighted by the world-class tennis players that participate in the renowned global event. For more information about the BNP Paribas Open and to purchase tickets to the 2019 event, visit bnpparibasopen.com.
About the BNP Paribas Open
The BNP Paribas Open is the largest ATP World Tour and WTA combined two-week event in the world, and is held annually at the Indian Wells Tennis Garden. The tournament offers more than $14 million in prize money, and is the only event to provide the Hawkeye line challenge system on all match courts, including qualifying rounds. For more information, visit www.bnpparibasopen.com.
About BNP Paribas
BNP Paribas is a leading bank in Europe with an international reach. It has a presence in 75 countries, with more than 189,000 employees, including more than 146,000 in Europe. The Group has key positions in its three main activities: Domestic Markets and International Financial Services (whose retail banking networks and financial services are covered by Retail Banking & Services) and Corporate & Institutional Banking, which serves two client franchises: corporate clients and institutional investors.
The Group helps all its clients (individuals, community associations, entrepreneurs, SMEs, corporate and institutional clients) to realize their projects through solutions spanning financing, investment, savings and protection insurance. In Europe, the Group has four domestic markets (Belgium, France, Italy and Luxembourg) and BNP Paribas Personal Finance is the leader in consumer lending. BNP Paribas is rolling out its integrated retail banking model in Mediterranean countries, in Turkey, in Eastern Europe and a large network in the western part of the United States. In its Corporate & Institutional Banking and International Financial Services activities, BNP Paribas also enjoys top positions in Europe, a strong presence in the Americas as well as a solid and fast-growing business in Asia-Pacific.
MID-TAC 2019 Annual Championships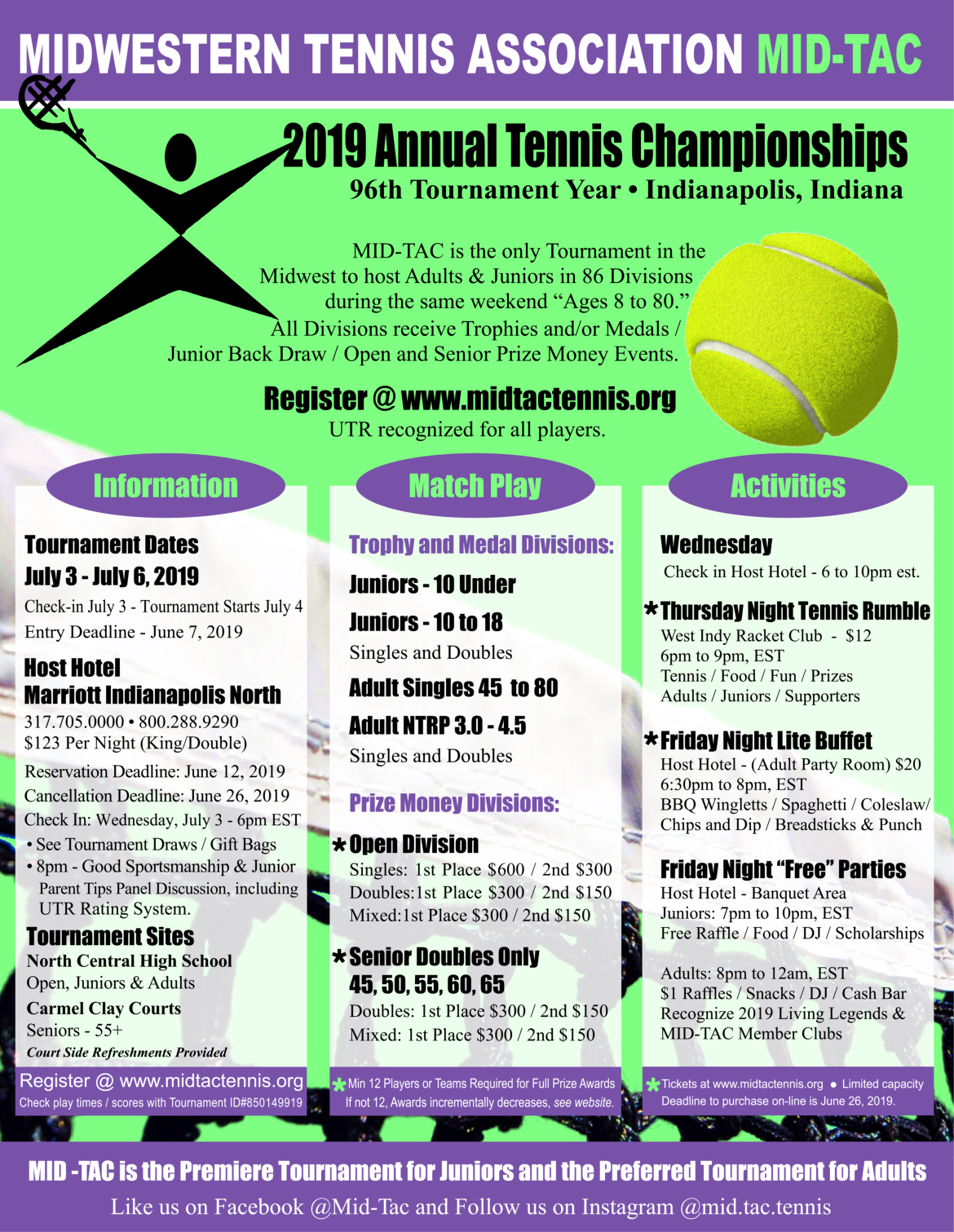 Mid-Tac is celebrating its 96th Tournament Year on July 3 to 6, 2019.
MID-TAC is a 501(c)3 organization and the Midwest Section of the American Tennis Association ("ATA" founded in 1916) and has ties to local community tennis in ten Midwestern States (Iowa, Illinois, Indiana, Kansas, Kentucky, Michigan, Minnesota, Missouri, Ohio, Wisconsin and beyond). We offer year-round opportunities to support MID-TAC by making online Donations or becoming a Sponsor.
All Donations and Sponsorships will be properly acknowledged. Please view details under the above "Donate" and "Sponsorship" tabs. We look forward to your support as we continue our mission to grow the game of tennis.
Tournament Participation Links below:
See "Scales for Calculating Prize Money Divisions" – Click Here
See "Details for 2019 Bollettieri Youth Summer Tennis Camp Scholarships" – Click Here
Marriott Indianapolis North Hotel – (317) 705-0000 or (800) 288-92903645 River Crossing Parkway, Indianapolis, In 46240Rates: $123.00 – Traditional King or Double RoomHotel Reservation Deadline: June 12, 2019Cancellation Deadline without penalty: June 26, 2019
Players set for Newport Beach Oracle Challenger Series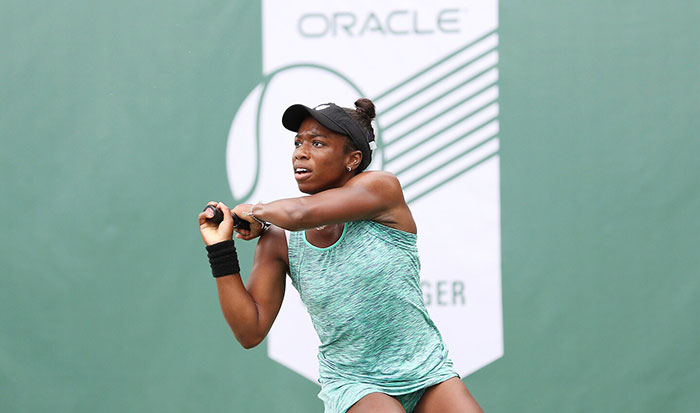 Player lists for the upcoming Newport Beach event were announced today, giving tennis fans plenty to cheer about. Among those slated to appear in Newport Beach are multiple Grand Slam doubles champions, past Oracle Challenger Series finalists and over 30 American players competing for the coveted Oracle Challenger Series wild cards into March's BNP Paribas Open.
Play begins January 21st and extends through January 28th at the Newport Beach Tennis Club.
Players:
ATP
WTA
Serena visits Beautycon POP In Los Angeles Photo Gallery