NOVEMBER 08, 2018. The ITF today announced the launch of the ITF World Tennis Tour in 2019 that will serve as a player pathway between the junior game and elite levels of professional tennis.
The launch of the tour is the culmination of a series of ITF reforms designed to support talented junior players in their progression to the senior game, and target the prize money effectively at professional tournaments to enable more players to make a living. The tour will also increase the number of nations hosting ITF tournaments in 2019, providing opportunities for more players.
The ITF World Tennis Tour forms part of a new worldwide tournament structure that has been agreed between the ITF, ATP and WTA in order to address the current challenges at entry level. Under the ITF World Tennis Tour umbrella, tournaments will be split into the following categories: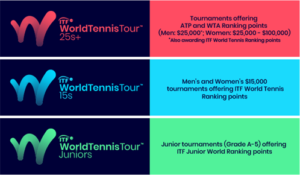 The ITF has unveiled the ITF World Tennis Tour™ logo and sub-brands that have been created to unify the look and feel of the ITF World Tennis Tour across over 1,600 tournaments that are expected to be staged in 2019.
The reforms followed a three-year ITF review of professional and junior tennis that included an analysis of player and event data from 2001-13, and a survey of more than 50,000 stakeholders. They address fundamental issues in the existing player pathway and changing trends in tennis that include too many players trying to compete on the professional circuit; too few players breaking even; longer playing careers at the top of the game; and the difficulty for many talented junior players in transitioning to professional tennis.
The first phase of the reforms saw an extensive programme of prize money increases on the ITF Pro Circuit in 2016 and 2017, with total prize money increasing by around $1.5 million.
The reforms announced today include the new tournament at entry-level – ITF World Tennis Tour 15s category – that will be staged within a more localised circuit structure with cheaper hosting requirements that reduces costs for players and tournament organisers. Offering ITF World Tennis Ranking points, these tournaments will also increase opportunities for players from more countries to join the pathway and be supported in their transition to professional tennis.
The introduction of the ITF World Tennis Ranking will ensure a consistent approach for entries into all events, with players using their ATP/WTA ranking followed by ITF ranking.
In order that successful players in juniors, 15s and men's 25s tournaments are able to progress more quickly to the next level, there will be reserved places in higher-level tournaments for highly-ranked players on the ITF Junior World Ranking and ITF World Tennis Ranking. This includes reserved places for ITF-ranked players in the main draw and qualifying of ATP Challenger tournaments.
The implementation of the new ATP, WTA and ITF ranking systems will take place at the end of 2018. Any ATP or WTA ranking points earned at $15,000 ITF Pro Circuit tournaments (as well ATP points earned in early rounds of $25,000 Pro Circuit events) in 2018 will be converted into ITF World Tennis Ranking points.
ITF President David Haggerty said: "The ITF World Tennis Tour provides a clear and integrated pathway designed to attract and retain the best new talent. As part of our ITF2024 strategy, it is our mission to deliver for the next generation of players, and the new Tour will help address the issues of progression between the junior and senior game, and potentially enable more professional players to make a living."
Thomas Konigsfeldt, Chair of the ITF Men's and Women's Circuit Committees, said: "It is vital that we provide opportunities for players of any nation or background to start their journey towards the top 100. The inclusion of the 15s tournaments as part of a new Tour will allow players to take the first steps towards becoming a future champion within a more targeted and affordable circuit structure."
Click here for further information on the ITF World Tennis Tour
Click here for further information on the ITF Player Pathway Review on professional tennis
Click here for further information on the ITF Player Pathway Review on junior tennis
2021 Calabasas Championships
Battle of the ages: Venus vs. CoCo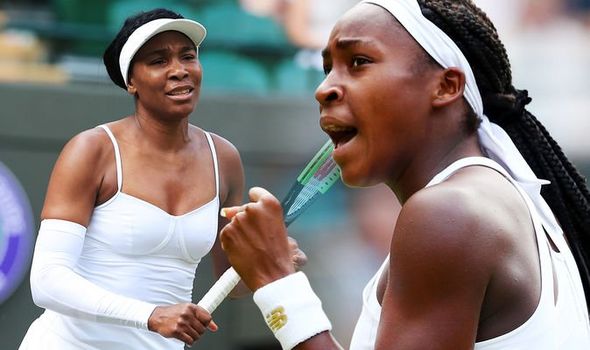 By Editorial Team
In addition to becoming the youngest player to enter the main draw of Wimbledon via qualifying, Cori "CoCo" Gauff has earned a prim-time match-up against one of the greatest grass court players of all time in the first round of play.
This match is not only a first, but also a sharp contrast of current generation talent versus veteran grand slam champion. Venus just turned 39 this month and must now face the 15 year old dynamo that goes by CoCo making this a true battle of the ages. Ironically, as in a Hollywood movie, these two are respectively the oldest and youngest players in the tournament.
Venus can sure respect Cori's hustle in advancing her career at the ripe age of 15. Venus shares a similar start, but was able to win 5 Wimbledon titles with the last win in 2008.
Coming off of a great 2017 season, Venus (unseeded this year) has struggled lately with injuries and fatigue late in matches. This year has not rolled out favorably for Venus after several on-off coaching relationships and hitting partners. Taking on a more independent role of seasoned veteran, Venus is going at it alone on tour. She has a strong management team in place, but they appear to be more assistants than highly experienced coaches giving her instruction.
In contrast, Cori has a tight-knit team around her not to mention her father as head coach. There have been several assistants offering advice, but Corey remains the largest influence on Cori's progress.
Progress is exactly what they have made – and in short record time. Just last year Cori was making her way toward the Roehamption Championship title as the world's number one ranked junior. It seems as if Cori has a trusting relationship with her Dad and is able to take constructive criticism in stride. Hard work has been Cori's mantra since the beginning of her junior career, and that hard work and preparation has landed her here at Wimbledon with a main draw match against Venus Williams.
The odds heavily favor Venus, but nothing is out of the question for Cori. Given the fact that she has played each qualifying round with a "nothing to lose" attitude, it can only be assumed that she will continue to do the same in her first round match.
The big stage is also a factor as Cori has not played on such a large WTA Tour center court yet in her career. This will definitely be a learning experience for Cori. It may be a little ambitious to expect Cori to figure out the atmosphere and surroundings all within a 2 out of 3 match. Cori is undefeated at Roehamption (ITF Juniors and WTA Qualifying), but it remains to be seen if she can muster a win against a declining, but a still very capable Venus Williams on her favorite surface.
Dustin Brown vs Felix Auger Aliassime Highlights STUTTGART 2019