Editorial Team
Hilton Head Island, SC – Professional Tennis Registry (PTR) will present its annual awards during the 2018 PTR International Tennis Symposium. The event, which includes more than 40 educational presentations for tennis coaches, will be held February 13-16, on Hilton Head Island, South Carolina.
Marty Woods, of Reseda, California, has been named PTR Member of the Year for the State. This award is presented to a PTR member who has shown dedication and diligence in promoting and supporting tennis and PTR. Woods was selected for his outstanding work in the Los Angeles community representing his hero through the Pete Brown Jr Tennis Program.
Coach Pete Brown opened up a whole new world for Woods when he needed it most, as a young child growing up fatherless in a tough South-Central neighborhood. "The guy was just truly a saint," Woods said. "They don't come around like him too often. I'll never be able to do the things Pete did."
At just 6 years old, Woods' mother took him to Roosevelt Park to swim. That day when they passed the tennis courts they were decorated with balloons and flags. A voice called out, "Hey kids, do you want to learn how to play tennis?" The allure of a free racquet sealed the deal. That is how Woods met Pete Brown. Over the next few years, Brown became a father figure to Marty Woods.
After college, while Woods was working for a computer science company in Orange County, when he got a call. Brown's health was failing and he implored Woods to help him by working with his high performance kids, just as Coach Brown had done for Marty Woods.
In 2009, Woods founded and became the chairman of the Pete Brown Jr Tennis Program. He has been paying it forward and keeping the memory and legacy of Coach Brown alive and well.PTR is the largest global organization of tennis teaching professionals with more than 16,000 members in 125 countries. It has the greatest percentage of multicultural and women members of any such organization. PTR is dedicated to educating, certifying and serving tennis teachers and coaches around the world in order to grow the game.
For more up-to-the-minute updates, news, stories and events in your community and abroad please subscribe today.
Contact: Peggy Edwards • PO Box 4739, Hilton Head Island, SC 29938 USA
843-785-7244 • fax 843-686-2033 • peggy@ptrtennis.org • www.ptrtennis.org
Kamau Murray's XS Tennis teams with Clinton Foundation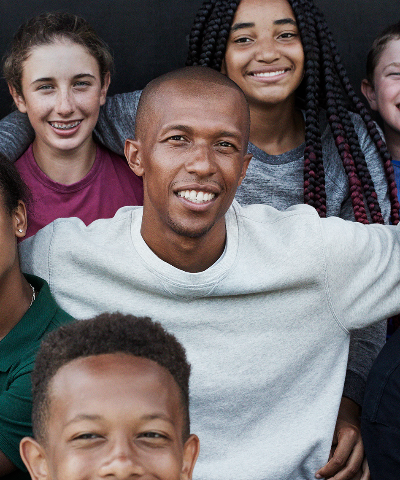 By Editorial Team
Kamau Murray keeps a tight calendar in the midst of coaching a top ranked WTA pro player (Sloane Stephens), managing a non-profit (XS Tennis & Education Foundation) and maybe now local politics. Chicago has been the basis for major overhaul recently as colleges and universities from around the nation pull resources together to held rebuild the neglected South Side streets of Chicago as part of the Clinton Global Initiative University.
XS Tennis Village provided meals to those in need as a alternative site for helping rebuild the community. When asked about the initiative, Chelsea Clinton stated, "We need to give something back and I hope they will take that message and meaning with them after they leave tonight, whether back to their college or university campuses or throughout their lives."
Chelsea Clinton was also accompanied by Mayor Rahm Emanuel for added support. "All of us have a responsibility to our fellow citizens, as Muhammad Ali said, the service to others is the rent we pay for our room here on earth," Emanuel said.
With such a big turnout, Kamau's presence was required in Chicago leaving coaching duties to Sylvester Black. Sylvester was able to fill the role coaching Sloane quite well as he did double duty with on-court coaching igniting a turnaround from Sloane after losing eight straight games to eventually win her semifinal match against KarolínaPlíšková 6-1 in the 3rd set.
With Sylvester backing him up, Kamau may have more opportunities to engage in the political scene of Chicago to make a real difference. The high crime and poverty stricken streets of Chicago could definitely use a sport like tennis to promote education and positive community development.
From saving the community, hosting the Oracle Challenger Series to grooming the next US Open champion, Kamau and XS Tennis are destined for continued success. For more info about Kamau and his efforts at XS Tennis Village click here.
US Open Arts Courts by Chase in Los Angeles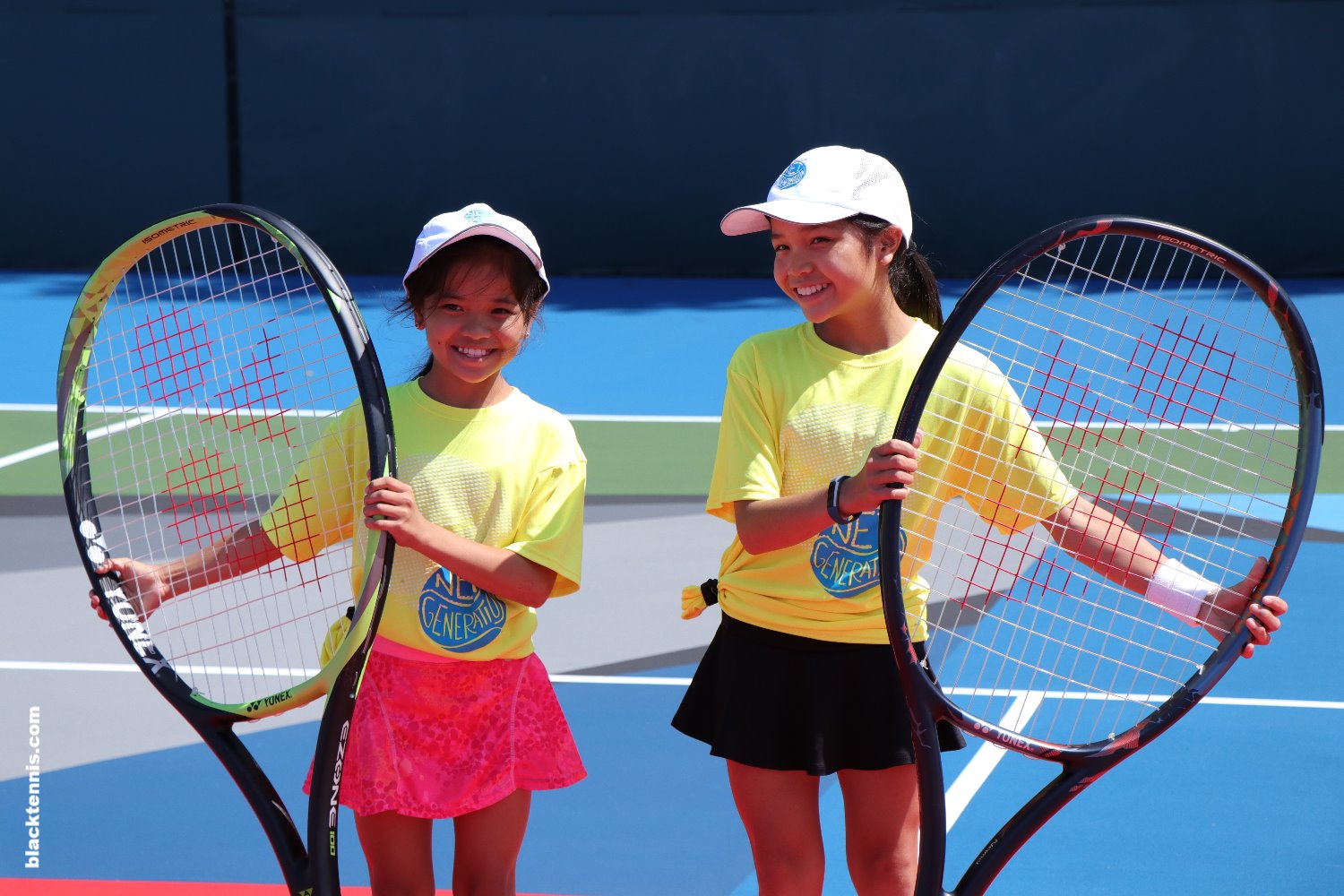 By Editorial Team
Today eight tennis courts at Harvard Park in Los Angeles got a major upgrade as the USTA teamed with Chase Bank to facelift five facilities across the country with new artwork by local artists and celebrities. Harvard Tennis Center had a share in the effort as a key NJTL cite for the event.
This court resurfacing project was much needed within the community as more people outside of the sport see the Williams sisters playing on TV, but have no real connection to tennis in real life. These newly painted courts can be the spark needed to ignite tennis within a community that has been oftentimes forgotten.
Marty Woods of Pete Brown Junior Tennis Program (NJTL) and Malcolm Johnson of Chase Bank partnered to make the effort happen. During the ribbon cutting ceremony speakers referenced a common theme – "continued effort" to boost tennis within the inner city.
The USTA is making a concerted effort to promote the sport of tennis at the grass root level and the touch of art across five cities is a great way to spring the initiative across the country. The most important element of outreach is the follow up in regards to regular visits to the community and long lasting investments in the facilities, coaches and children within these junior development programs.
Pete Brown Junior Tennis Program (PBJTP) teams with US Open Art Courts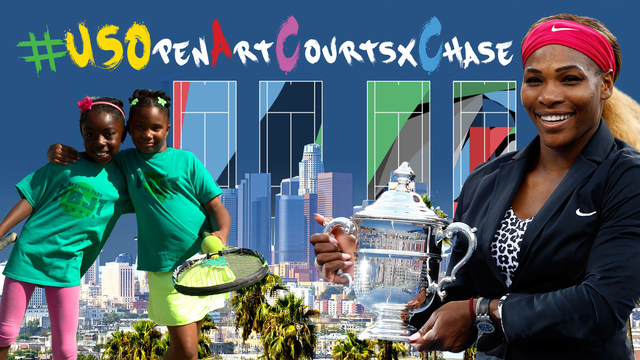 PRESS RELEASE
By Erin Maher / Thursday, May 17, 2018. US Open.org
From Arthur Ashe to the Williams sisters, public courts have nurtured and built US Open champions. The USTA, in partnership with Chase and our National Junior Tennis and Learning (NJTL) network, will build upon its shared mission to strengthen communities through tennis and art by restoring five public-court facilities in five markets.
Here is a look at the NJTL Pete Brown Junior Tennis Program, where artist Charlie Edmiston will make the public courts at Harvard Tennis Park in Los Angeles his canvas on May 19.
Pete Brown Junior Tennis Program (PBJTP), a National Junior Tennis and Learning (NJTL) chapter, was founded in 2009 and, since then, has been dedicated to training diverse youth through developing physical fitness, sportsmanship, team work and education both on the tennis court and in the classroom.
Based out of the public courts at Harvard Tennis Park in Los Angeles, the PBJTP was started in honor of the late Pete Brown, a local tennis coach who taught tennis and spread his love for the game in the South Central community for over 40 years. The PBJTP has served the Los Angeles community for almost 10 years, providing a safe and positive place for young people who have the desire to learn and excel at tennis.
The PBJTP offers a variety of programs for children, which include free weekly supervised on-court tennis coaching and training for kids aged five to 18, tournament training, player support, as well as a mentoring program, with all tennis coaches serving as mentors and role models to emphasize the importance of hard work, determination and perseverance.
Besides the on-court instruction, the NJTL focuses on children's academic development through their Academic Creative Engagement program, also known as "ACE." ACE was designed to encourage academic achievement, health and wellness and social emotional skills to help guide children in their daily lives.
On May 19, the PBJTP will be given the gift of art from the USTA in conjunction with Chase, when four of their public courts will be transformed into a one-of-a-kind piece by local artist Charlie Edmiston. 2017 US Open women's semifinalist Coco Vandeweghe will take part in the celebration and will join Edmiston for the live painting session that day at Harvard Park.
"This is exciting for the children," said PBJTP board member Marty Woods. "This is something different. There's a lot of energy at the park, so this will capture it."
WATCH Pete Brown Junior Tennis Program – Live!:
Join the 50th anniversary Art Courts celebration in Los Angeles, and tune in to US Open Facebook Live, Periscope and YouTube at 12 p.m. PT (3 p.m. ET) for the live painting show, hosted by Vandeweghe.
https://www.facebook.com/Pete-Brown-Junior-Tennis-and-Education-Program-191382530874056/
https://www.instagram.com/petebrownjrtennis
#USOpenxArtCourtsxchase
#ReturntheServe