By Editorial Team
The first round of qualifying singles competition started today and most players seemed to have acclimated to the new facilities in proper fashion. There were some early round disappointments, but for the most part major names were able to walk away from the first day with an opportunity to play for a spot in the main draw.
The more veteran Heather Watson took an early exit today as she fought hard against the resilient Madison Brengle. She went down after winning the first set in a tie breaker and was not able to maintain her momentum losing the third set 6-4. This was a tough match-up in the qualifying rounds for Heather, but fans have to expect that there is more to come to the talented Brit who has struggled over the last couple seasons not going far in the main draw of major events.
The 10th seed, Taylor Townsend, was able to take out Qinwen Kheng of China 6-4 in the third set to advance after a less than stellar start to the season. Taylor is hoping that a big run in Miami will give her momentum heading into the clay court season.
Sachia Vickery may have had the upset of her season by defeating the red hot Jennifer Brady 2-6, 6-3, 6-2. This win proved that Sachia is not only a counter puncher, but also a force against players with big weapons down the stretch. Health has been a major factor for Sachia as she is just now getting over knee injuries that have stunted her play late in matches. Sachia should be able to qualify for the main draw in her home town if she is able to hold up physically.
On the men's side of the qualifying draw, Jay Clarke held his ground against the 20th seed Jozef Kovali 6-2, 6-3. Jay faces the Indian sensation, Prajnesh Gunneswaran in the final round for a spot in the main draw.
Tsonga was able to breeze through his match today as the dominant player, however he will be tested against the veteran Pablo Cuevas tomorrow. Talk about a tough return for the Frenchman…
Mikael Ymer will have to beat another American hopeful (Noah Rubin) tomorrow in order to qualify for main draw play. If his first round thumping of Ryan Harrison 6-1, 6-3 is any indication, Mikael should be able to navigate his way toward a win over the more steady play of Rubin.
Felix Auger Aliassime had some issues in dropping the first set to Italian Luca Vanni 6-4, but was able to pull himself together and show his athleticism capping off the victory 6-1 in the final set.
This years crop of qualifiers should draw major crowds at the Hard Rock Stadium and offer fans the opportunity to watch several of today's brightest stars. Qualifying rounds begin tomorrow at 10am EST and can be seen live on ESPN 3 and Tennis Channel.
2021 Calabasas Championships
Battle of the ages: Venus vs. CoCo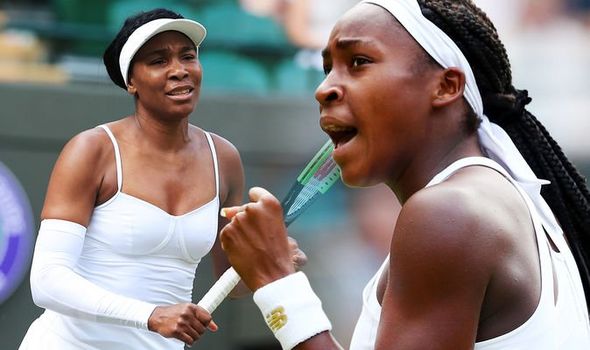 By Editorial Team
In addition to becoming the youngest player to enter the main draw of Wimbledon via qualifying, Cori "CoCo" Gauff has earned a prim-time match-up against one of the greatest grass court players of all time in the first round of play.
This match is not only a first, but also a sharp contrast of current generation talent versus veteran grand slam champion. Venus just turned 39 this month and must now face the 15 year old dynamo that goes by CoCo making this a true battle of the ages. Ironically, as in a Hollywood movie, these two are respectively the oldest and youngest players in the tournament.
Venus can sure respect Cori's hustle in advancing her career at the ripe age of 15. Venus shares a similar start, but was able to win 5 Wimbledon titles with the last win in 2008.
Coming off of a great 2017 season, Venus (unseeded this year) has struggled lately with injuries and fatigue late in matches. This year has not rolled out favorably for Venus after several on-off coaching relationships and hitting partners. Taking on a more independent role of seasoned veteran, Venus is going at it alone on tour. She has a strong management team in place, but they appear to be more assistants than highly experienced coaches giving her instruction.
In contrast, Cori has a tight-knit team around her not to mention her father as head coach. There have been several assistants offering advice, but Corey remains the largest influence on Cori's progress.
Progress is exactly what they have made – and in short record time. Just last year Cori was making her way toward the Roehamption Championship title as the world's number one ranked junior. It seems as if Cori has a trusting relationship with her Dad and is able to take constructive criticism in stride. Hard work has been Cori's mantra since the beginning of her junior career, and that hard work and preparation has landed her here at Wimbledon with a main draw match against Venus Williams.
The odds heavily favor Venus, but nothing is out of the question for Cori. Given the fact that she has played each qualifying round with a "nothing to lose" attitude, it can only be assumed that she will continue to do the same in her first round match.
The big stage is also a factor as Cori has not played on such a large WTA Tour center court yet in her career. This will definitely be a learning experience for Cori. It may be a little ambitious to expect Cori to figure out the atmosphere and surroundings all within a 2 out of 3 match. Cori is undefeated at Roehamption (ITF Juniors and WTA Qualifying), but it remains to be seen if she can muster a win against a declining, but a still very capable Venus Williams on her favorite surface.
Dustin Brown vs Felix Auger Aliassime Highlights STUTTGART 2019