NEWPORT BEACH, CA. December 1, 2018 – The Oracle Challenger Series announced today that it will be returning to Southern California for two events in early 2019, to be held at the Newport Beach Tennis Club on January 21-27, 2019 and at the Indian Wells Tennis Garden on February 25 – March 3, 2019.
The Oracle Challenger Series launched earlier this year with inaugural events in Newport Beach and Indian Wells. Taylor Fritz and Danielle Collins captured the titles in Newport Beach, while Sara Errani and Martin Klizan triumphed in Indian Wells. The Series, which has a mission of providing new opportunities for up-and-coming American tennis players to secure both ranking points and prize money, restarted earlier this year, expanding to include events in Chicago (September 2-9) and now Houston (Nov. 10-18).
The Newport Beach and Indian Wells tournaments will conclude the 2018-2019 Series, and be instrumental in determining which two American male and female players receive wild cards into their respective singles main draws at the 2019 BNP Paribas Open. The two American women and two American men who accumulate the most points over the course of the four events in the Series will be awarded the wild cards into the largest ATP World Tour and WTA combined two-week event in the world, held annually at the Indian Wells Tennis Garden. Last year, Bradley Klahn, Reilly Opelka, Danielle Collins and Amanda Anisimova earned the wild cards. Collins and Anisimova made the most of the opportunity as they each reached the Round of 16, the best performances of their professional careers to date.
"Oracle launched the Challenger Series to help more tennis players compete at a high level here in the United States,'' said Oracle CEO Mark Hurd. "We've received overwhelmingly positive feedback from players and fans, and Oracle is committed to the Series in 2019. Newport Beach and Indian Wells are terrific venues for winter tennis. We'd love to see a big turnout from fans.''
Each tournament in the Series is a joint ATP Challenger Tour/WTA 125K Series event and pays equal prize money ($150,000 per Tour) for a total of $300,000. All Oracle Challenger Series tournaments are free and open to the public.
MID-TAC 2019 Annual Championships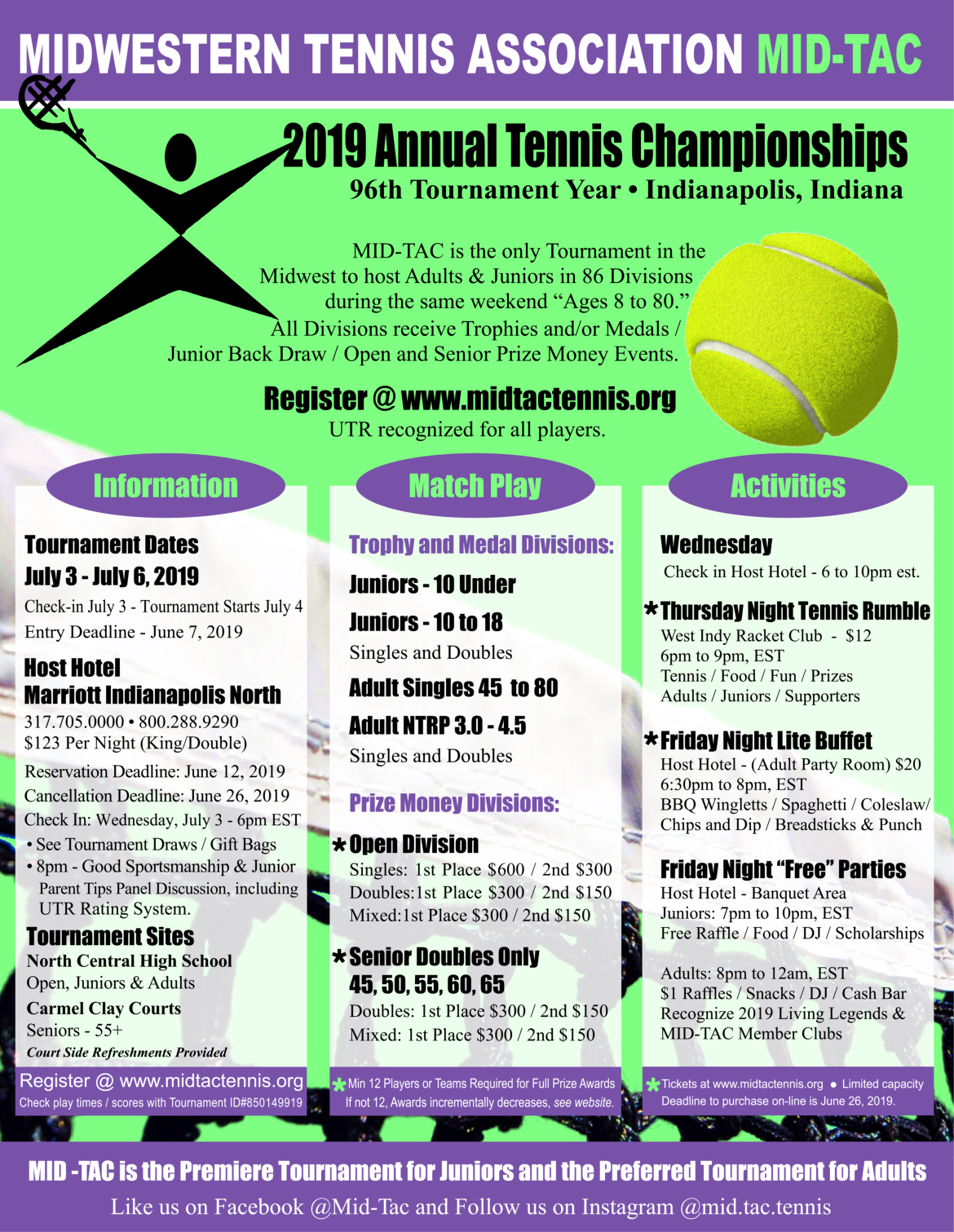 Mid-Tac is celebrating its 96th Tournament Year on July 3 to 6, 2019.
MID-TAC is a 501(c)3 organization and the Midwest Section of the American Tennis Association ("ATA" founded in 1916) and has ties to local community tennis in ten Midwestern States (Iowa, Illinois, Indiana, Kansas, Kentucky, Michigan, Minnesota, Missouri, Ohio, Wisconsin and beyond). We offer year-round opportunities to support MID-TAC by making online Donations or becoming a Sponsor.
All Donations and Sponsorships will be properly acknowledged. Please view details under the above "Donate" and "Sponsorship" tabs. We look forward to your support as we continue our mission to grow the game of tennis.
Tournament Participation Links below:
See "Scales for Calculating Prize Money Divisions" – Click Here
See "Details for 2019 Bollettieri Youth Summer Tennis Camp Scholarships" – Click Here
Marriott Indianapolis North Hotel – (317) 705-0000 or (800) 288-92903645 River Crossing Parkway, Indianapolis, In 46240Rates: $123.00 – Traditional King or Double RoomHotel Reservation Deadline: June 12, 2019Cancellation Deadline without penalty: June 26, 2019
Players set for Newport Beach Oracle Challenger Series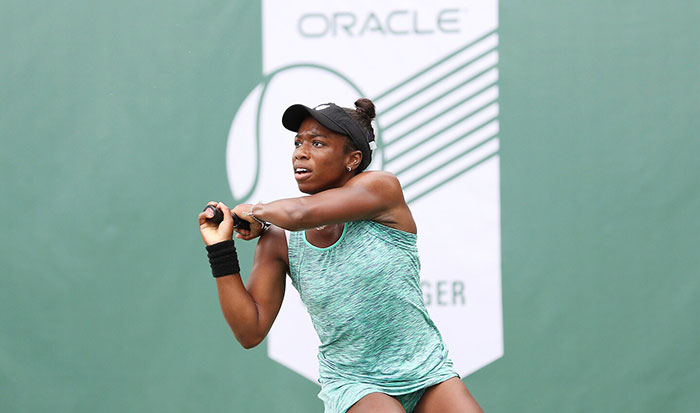 Player lists for the upcoming Newport Beach event were announced today, giving tennis fans plenty to cheer about. Among those slated to appear in Newport Beach are multiple Grand Slam doubles champions, past Oracle Challenger Series finalists and over 30 American players competing for the coveted Oracle Challenger Series wild cards into March's BNP Paribas Open.
Play begins January 21st and extends through January 28th at the Newport Beach Tennis Club.
Players:
ATP
WTA
Serena visits Beautycon POP In Los Angeles Photo Gallery