By Jason Barron
Frances Tiafoe has had a tough couple months on the ATP Tour having lost 8 of his last 10 matches, with some of those losses coming against top players like Kei Nishikori, Kevin Anderson, Marin Cilic, and Borna Coric. Tiafoe is now playing in Paris at a Masters 1,000 Event and picked up his first win of the tournament against the tall Frenchman and great doubles player, Nicolas Mahut in straight sets 7-6 (7-1), 6-2. Tiafoe played a tight 1st set as Mahut was able to hold serve against a more aggressive and powerful opponent.
When Tiafoe gets his 1st serves in, he is awfully tough to beat, so it is imperative as he continues in his career to eliminate these serving errors to win more easy points. Tiafoe still won this match despite only having a 56% 1st serve percentage compared to 63% for Mahut. When Tiafoe did get a 1st serve in he won 85% of those points compared to 64% for Mahut, which is where the match was partly won and lost.
Tiafoe increased his level of play in the 1st set tiebreak with strong serving and great service returns on Mahut to win crucial points, to easily win the tiebreak 7-1. Throughout the match, especially in the tiebreak and the 2nd set, Tiafoe used his backhand to great effectiveness to break Mahut twice in the 2nd set. Tiafoe was also coming to the net well and played with more force and power than Mahut as the match progressed. Once Tiafoe got the second break he was able to serve it out and win the 2nd set 6-2.
The draw only gets harder for Tiafoe in the next round where he will face Alexander Zverev, currently the 5th ranked player. Zverev holds a 2-1 record against Tiafoe, with all 3 matches contested in 2017. Tiafoe last beat him in 3 sets at the Cincinnati Masters in their most recent match. Previously, Zverev knocked Tiafoe out of both Wimbledon and the Australian Open. Tiafoe will need to get high percentage of 1st serves in and look to take advantage of any errors Zverev commits. Tiafoe will also need to play to his backhand as he is really utilizing it well to win points, both offensively and defensively.
Zverev will look to have a great performance in Paris after getting upset in the Basel Semi-Finals by Marius Copil in 3 sets. Zverev missed out on the chance to play for the Title against Roger Federer, who went on to beat Copil in the Final. This could give Zverev extra motivation coming into his match against Tiafoe. Tiafoe will need to play some clean and powerful tennis in order to have a chance against Zverev. They will play on Wednesday, October 31st. Perhaps, Tiafoe can spook Zverev and pull off the upset on Halloween.
Jo-Wilfried Tsonga will also be competing in Paris as he continues his comeback from injury, with his 1st match coming against Milos Raonic. Perhaps the home crowd can help the Frenchman Tsonga in a tough matchup against Raonic. The match is scheduled for Tuesday, October 30th. For live coverage of the Paris Masters tune in to Tennis Channel.
Indian Wells Honored for Fifth Consecutive Year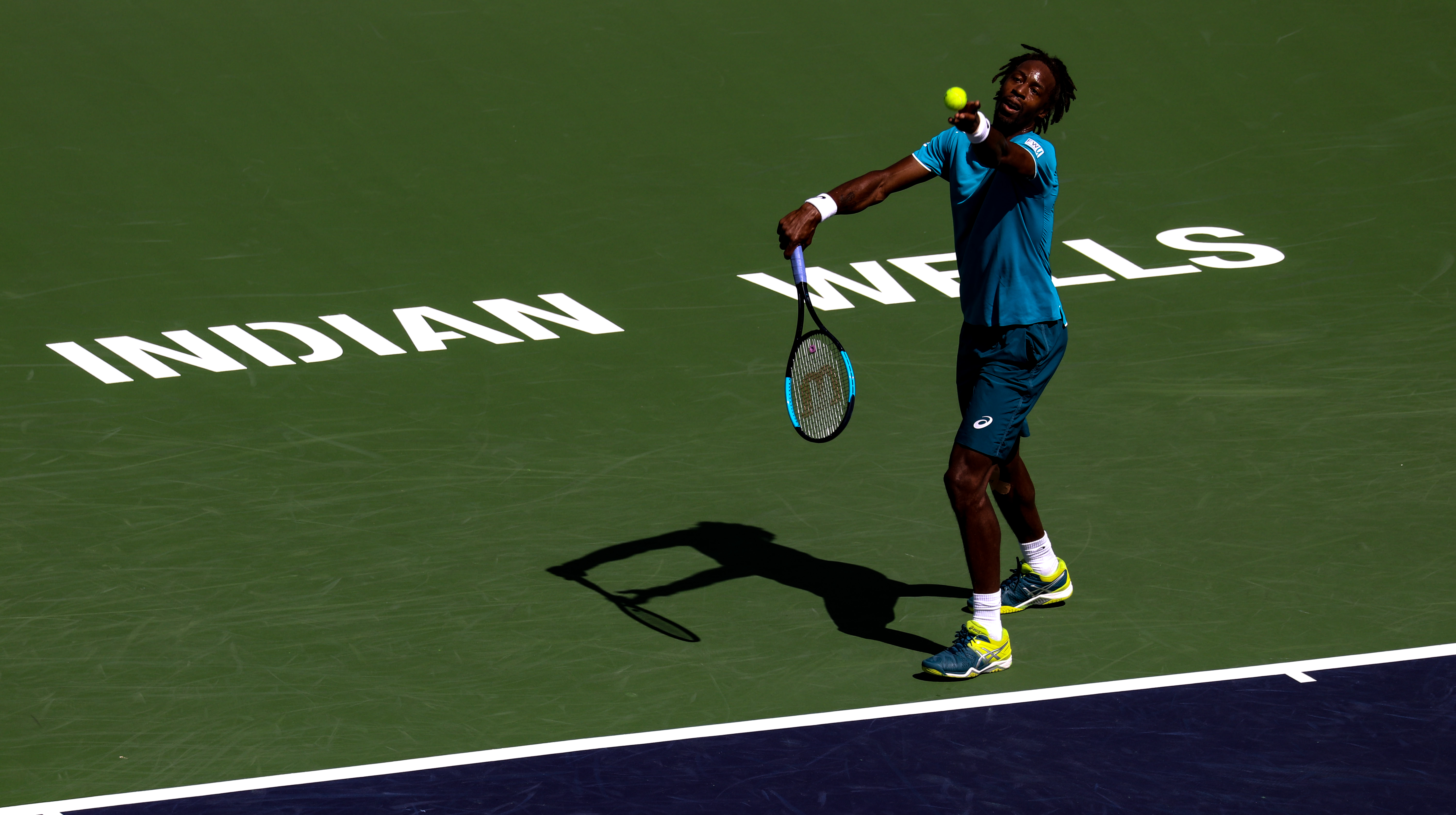 INDIAN WELLS, Calif., November 9, 2018 – For a record-tying fifth consecutive year, the BNP Paribas Open – held each March at the Indian Wells Tennis Garden – has been voted the ATP World Tour Masters 1000 Tournament of the Year, as determined by player vote.
The BNP Paribas Open, the largest WTA and ATP World Tour combined two-week event in the world, has swept the top tournament honors on both the men's and women's Tours each year since 2014. The Masters 1000 designation is the highest category on the ATP World Tour, outside of the Tour Finals, and includes the tournaments in Miami, Monte Carlo, Madrid, Rome, Cincinnati, Canada, Shanghai, and Paris, in addition to Indian Wells.
"We are honored and humbled that for the fifth straight year, our event has been recognized by the players as "Tournament of the Year," Tournament Director Tommy Haas said. "Our entire staff works incredibly hard to deliver a world-class experience, and our goal will be to make the 2019 event even better this March."
Each year, the BNP Paribas Open strives to ensure that continuous improvements to the Indian Wells Tennis Garden make the event a premier destination for fans, players, media and sponsors. A full-scale renovation to Stadium 1 in 2017 added more than 21 new restaurants and concessions to the second-largest tennis stadium in the world, while players enjoy top-notch facilities, amenities and practice courts. Continuously at the forefront of innovation in the tennis world and the sporting industry as a whole, the BNP Paribas Open remains the only tournament in the world to have Hawk-Eye on all match courts for both main draw and qualifying matches.
The BNP Paribas Open is known throughout the tennis community as "Tennis Paradise" – a reflection of the stunning natural beauty and backdrop of the desert landscape, highlighted by the world-class tennis players that participate in the renowned global event. For more information about the BNP Paribas Open and to purchase tickets to the 2019 event, visit bnpparibasopen.com.
About the BNP Paribas Open
The BNP Paribas Open is the largest ATP World Tour and WTA combined two-week event in the world, and is held annually at the Indian Wells Tennis Garden. The tournament offers more than $14 million in prize money, and is the only event to provide the Hawkeye line challenge system on all match courts, including qualifying rounds. For more information, visit www.bnpparibasopen.com.
About BNP Paribas
BNP Paribas is a leading bank in Europe with an international reach. It has a presence in 75 countries, with more than 189,000 employees, including more than 146,000 in Europe. The Group has key positions in its three main activities: Domestic Markets and International Financial Services (whose retail banking networks and financial services are covered by Retail Banking & Services) and Corporate & Institutional Banking, which serves two client franchises: corporate clients and institutional investors.
The Group helps all its clients (individuals, community associations, entrepreneurs, SMEs, corporate and institutional clients) to realize their projects through solutions spanning financing, investment, savings and protection insurance. In Europe, the Group has four domestic markets (Belgium, France, Italy and Luxembourg) and BNP Paribas Personal Finance is the leader in consumer lending. BNP Paribas is rolling out its integrated retail banking model in Mediterranean countries, in Turkey, in Eastern Europe and a large network in the western part of the United States. In its Corporate & Institutional Banking and International Financial Services activities, BNP Paribas also enjoys top positions in Europe, a strong presence in the Americas as well as a solid and fast-growing business in Asia-Pacific.
ITF launches ITF World Tennis Tour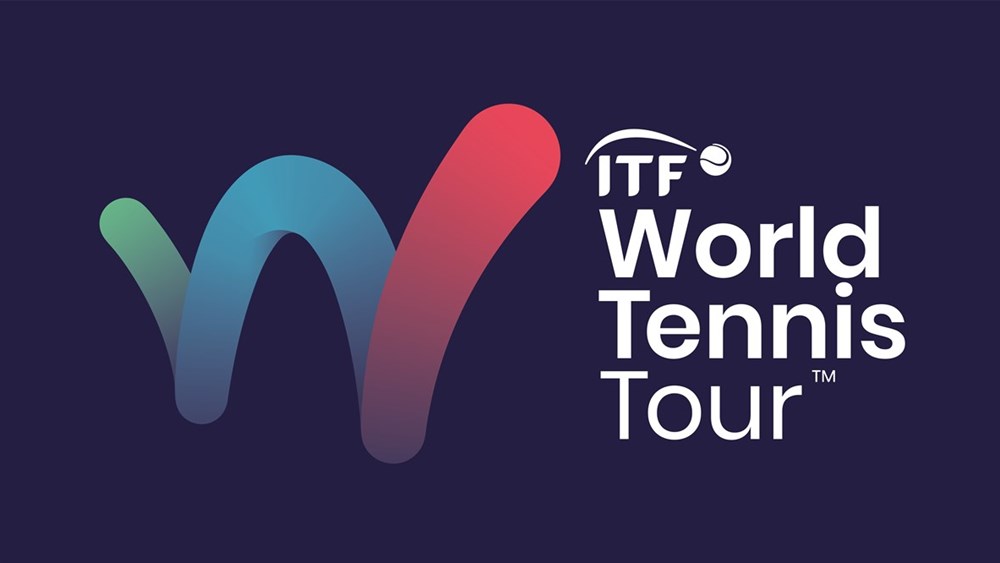 NOVEMBER 08, 2018. The ITF today announced the launch of the ITF World Tennis Tour in 2019 that will serve as a player pathway between the junior game and elite levels of professional tennis.
The launch of the tour is the culmination of a series of ITF reforms designed to support talented junior players in their progression to the senior game, and target the prize money effectively at professional tournaments to enable more players to make a living. The tour will also increase the number of nations hosting ITF tournaments in 2019, providing opportunities for more players.
The ITF World Tennis Tour forms part of a new worldwide tournament structure that has been agreed between the ITF, ATP and WTA in order to address the current challenges at entry level. Under the ITF World Tennis Tour umbrella, tournaments will be split into the following categories: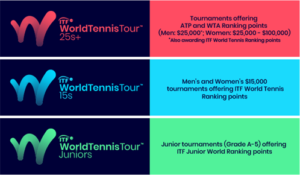 The ITF has unveiled the ITF World Tennis Tour™ logo and sub-brands that have been created to unify the look and feel of the ITF World Tennis Tour across over 1,600 tournaments that are expected to be staged in 2019.
The reforms followed a three-year ITF review of professional and junior tennis that included an analysis of player and event data from 2001-13, and a survey of more than 50,000 stakeholders. They address fundamental issues in the existing player pathway and changing trends in tennis that include too many players trying to compete on the professional circuit; too few players breaking even; longer playing careers at the top of the game; and the difficulty for many talented junior players in transitioning to professional tennis.
The first phase of the reforms saw an extensive programme of prize money increases on the ITF Pro Circuit in 2016 and 2017, with total prize money increasing by around $1.5 million.
The reforms announced today include the new tournament at entry-level – ITF World Tennis Tour 15s category – that will be staged within a more localised circuit structure with cheaper hosting requirements that reduces costs for players and tournament organisers. Offering ITF World Tennis Ranking points, these tournaments will also increase opportunities for players from more countries to join the pathway and be supported in their transition to professional tennis.
The introduction of the ITF World Tennis Ranking will ensure a consistent approach for entries into all events, with players using their ATP/WTA ranking followed by ITF ranking.
In order that successful players in juniors, 15s and men's 25s tournaments are able to progress more quickly to the next level, there will be reserved places in higher-level tournaments for highly-ranked players on the ITF Junior World Ranking and ITF World Tennis Ranking. This includes reserved places for ITF-ranked players in the main draw and qualifying of ATP Challenger tournaments.
The implementation of the new ATP, WTA and ITF ranking systems will take place at the end of 2018. Any ATP or WTA ranking points earned at $15,000 ITF Pro Circuit tournaments (as well ATP points earned in early rounds of $25,000 Pro Circuit events) in 2018 will be converted into ITF World Tennis Ranking points.
ITF President David Haggerty said: "The ITF World Tennis Tour provides a clear and integrated pathway designed to attract and retain the best new talent. As part of our ITF2024 strategy, it is our mission to deliver for the next generation of players, and the new Tour will help address the issues of progression between the junior and senior game, and potentially enable more professional players to make a living."
Thomas Konigsfeldt, Chair of the ITF Men's and Women's Circuit Committees, said: "It is vital that we provide opportunities for players of any nation or background to start their journey towards the top 100. The inclusion of the 15s tournaments as part of a new Tour will allow players to take the first steps towards becoming a future champion within a more targeted and affordable circuit structure."
Click here for further information on the ITF World Tennis Tour
Click here for further information on the ITF Player Pathway Review on professional tennis
Click here for further information on the ITF Player Pathway Review on junior tennis
Daria Kasatkina vs. Madison Keys | 2018 WTA Elite Trophy | WTA Highlights