By Jason Barron
Frances Tiafoe has had a tough couple months on the ATP Tour having lost 8 of his last 10 matches, with some of those losses coming against top players like Kei Nishikori, Kevin Anderson, Marin Cilic, and Borna Coric. Tiafoe is now playing in Paris at a Masters 1,000 Event and picked up his first win of the tournament against the tall Frenchman and great doubles player, Nicolas Mahut in straight sets 7-6 (7-1), 6-2. Tiafoe played a tight 1st set as Mahut was able to hold serve against a more aggressive and powerful opponent.
When Tiafoe gets his 1st serves in, he is awfully tough to beat, so it is imperative as he continues in his career to eliminate these serving errors to win more easy points. Tiafoe still won this match despite only having a 56% 1st serve percentage compared to 63% for Mahut. When Tiafoe did get a 1st serve in he won 85% of those points compared to 64% for Mahut, which is where the match was partly won and lost.
Tiafoe increased his level of play in the 1st set tiebreak with strong serving and great service returns on Mahut to win crucial points, to easily win the tiebreak 7-1. Throughout the match, especially in the tiebreak and the 2nd set, Tiafoe used his backhand to great effectiveness to break Mahut twice in the 2nd set. Tiafoe was also coming to the net well and played with more force and power than Mahut as the match progressed. Once Tiafoe got the second break he was able to serve it out and win the 2nd set 6-2.
The draw only gets harder for Tiafoe in the next round where he will face Alexander Zverev, currently the 5th ranked player. Zverev holds a 2-1 record against Tiafoe, with all 3 matches contested in 2017. Tiafoe last beat him in 3 sets at the Cincinnati Masters in their most recent match. Previously, Zverev knocked Tiafoe out of both Wimbledon and the Australian Open. Tiafoe will need to get high percentage of 1st serves in and look to take advantage of any errors Zverev commits. Tiafoe will also need to play to his backhand as he is really utilizing it well to win points, both offensively and defensively.
Zverev will look to have a great performance in Paris after getting upset in the Basel Semi-Finals by Marius Copil in 3 sets. Zverev missed out on the chance to play for the Title against Roger Federer, who went on to beat Copil in the Final. This could give Zverev extra motivation coming into his match against Tiafoe. Tiafoe will need to play some clean and powerful tennis in order to have a chance against Zverev. They will play on Wednesday, October 31st. Perhaps, Tiafoe can spook Zverev and pull off the upset on Halloween.
Jo-Wilfried Tsonga will also be competing in Paris as he continues his comeback from injury, with his 1st match coming against Milos Raonic. Perhaps the home crowd can help the Frenchman Tsonga in a tough matchup against Raonic. The match is scheduled for Tuesday, October 30th. For live coverage of the Paris Masters tune in to Tennis Channel.
2021 Calabasas Championships
Battle of the ages: Venus vs. CoCo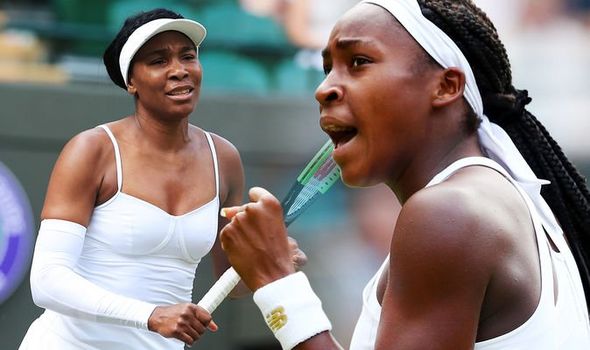 By Editorial Team
In addition to becoming the youngest player to enter the main draw of Wimbledon via qualifying, Cori "CoCo" Gauff has earned a prim-time match-up against one of the greatest grass court players of all time in the first round of play.
This match is not only a first, but also a sharp contrast of current generation talent versus veteran grand slam champion. Venus just turned 39 this month and must now face the 15 year old dynamo that goes by CoCo making this a true battle of the ages. Ironically, as in a Hollywood movie, these two are respectively the oldest and youngest players in the tournament.
Venus can sure respect Cori's hustle in advancing her career at the ripe age of 15. Venus shares a similar start, but was able to win 5 Wimbledon titles with the last win in 2008.
Coming off of a great 2017 season, Venus (unseeded this year) has struggled lately with injuries and fatigue late in matches. This year has not rolled out favorably for Venus after several on-off coaching relationships and hitting partners. Taking on a more independent role of seasoned veteran, Venus is going at it alone on tour. She has a strong management team in place, but they appear to be more assistants than highly experienced coaches giving her instruction.
In contrast, Cori has a tight-knit team around her not to mention her father as head coach. There have been several assistants offering advice, but Corey remains the largest influence on Cori's progress.
Progress is exactly what they have made – and in short record time. Just last year Cori was making her way toward the Roehamption Championship title as the world's number one ranked junior. It seems as if Cori has a trusting relationship with her Dad and is able to take constructive criticism in stride. Hard work has been Cori's mantra since the beginning of her junior career, and that hard work and preparation has landed her here at Wimbledon with a main draw match against Venus Williams.
The odds heavily favor Venus, but nothing is out of the question for Cori. Given the fact that she has played each qualifying round with a "nothing to lose" attitude, it can only be assumed that she will continue to do the same in her first round match.
The big stage is also a factor as Cori has not played on such a large WTA Tour center court yet in her career. This will definitely be a learning experience for Cori. It may be a little ambitious to expect Cori to figure out the atmosphere and surroundings all within a 2 out of 3 match. Cori is undefeated at Roehamption (ITF Juniors and WTA Qualifying), but it remains to be seen if she can muster a win against a declining, but a still very capable Venus Williams on her favorite surface.
Dustin Brown vs Felix Auger Aliassime Highlights STUTTGART 2019