By ATP Staff
Frances Tiafoe's game has energised tennis fans around the world who are excited about the Next Generation. Now Milan tennis fans will see first-hand what all the excitement is about.
The 20-year-old American has qualified for the 2018 Next Gen ATP Finals, joining German Alexander Zverev, Stefanos Tsitsipas of Greece, Canada's Denis Shapovalov and Aussie Alex de Minaur as players to have qualified for the prestigious 21-and-under event, to be held 6-10 November at the Fiera Milano. (Zverev will not play in Milan because of his Nitto ATP Finals qualification.)
Here are five things to know about the 20-year-old leading the United States' #NextGenATP group:
1. He Made History In Delray Beach
Tiafoe almost didn't even play in what became the best tournament of his life. He forgot to sign up by the Delray Beach Open entry deadline, but tournament organisers gave him a wild card entry, and organisers and Tiafoe were glad they did.
Tiafoe won his first ATP World Tour title there in February, beating Juan Martin del Potro, 2017 Next Gen ATP Finals titlist Hyeon Chung, Shapovalov and German Peter Gojowczyk. The American became the first wild-card recipient to win the title in the tournament's 26-year history, and he became the youngest American champion on tour since Andy Roddick, 19, at 2002 Houston.
2. He Conquered His Idol In Delray Beach
Hundreds of young ATP World Tour professionals grew up idolising Roger Federer, Rafael Nadal or Novak Djokovic. Not Tiafoe – he spent his childhood praising Del Potro. Last year, while talking with ATPWorldTour.com, Tiafoe remembered watchingDel Potro at the Citi Open in Washington, D.C., where Tiafoe grew up.
"He was my first pro to sign a ball for me. That meant a lot, and he's always going to be one of my biggest idols," Tiafoe told ATPWorldTour.com.
3. He Nearly Beat Agassi's Mark In Estoril
In May, Tiafoe reached his second ATP World Tour final – and first on clay – at the Millenium Estoril Open, falling to home champion Joao Sousa. The 20-year-old Tiafoe became the youngest American to reach an ATP World Tour final on European clay in nearly 30 years. Former World No. 1 Andre Agassi was only two months younger when he made the 1990 Roland Garros final.
4. His Parents Immigrated To The U.S.
Both of Tiafoe's parents, father Frances Sr., and mother Alphina, moved from Sierra Leone to the U.S. in 1996. When Frances was a kid, his father worked at the Junior Tennis Champions Center in College Park, Maryland, and Frances, along with his twin brother, Franklin, would sometimes spend entire days and nights at the club.
5. Hometown Pride
Tiafoe grew up in Hyattsville, Maryland, just outside of Washington, D.C., and he loves all things related to the DMV (District of Columbia, Maryland, Virginia), especially the area's pro sports teams: the Washington Redskins (NFL), Washington Wizards (NBA) and the Washington Capitals (NHL).
2021 Calabasas Championships
Battle of the ages: Venus vs. CoCo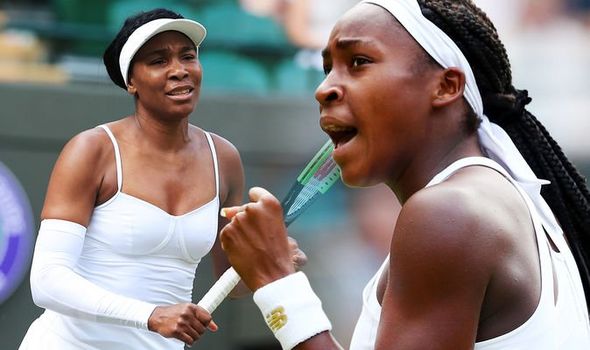 By Editorial Team
In addition to becoming the youngest player to enter the main draw of Wimbledon via qualifying, Cori "CoCo" Gauff has earned a prim-time match-up against one of the greatest grass court players of all time in the first round of play.
This match is not only a first, but also a sharp contrast of current generation talent versus veteran grand slam champion. Venus just turned 39 this month and must now face the 15 year old dynamo that goes by CoCo making this a true battle of the ages. Ironically, as in a Hollywood movie, these two are respectively the oldest and youngest players in the tournament.
Venus can sure respect Cori's hustle in advancing her career at the ripe age of 15. Venus shares a similar start, but was able to win 5 Wimbledon titles with the last win in 2008.
Coming off of a great 2017 season, Venus (unseeded this year) has struggled lately with injuries and fatigue late in matches. This year has not rolled out favorably for Venus after several on-off coaching relationships and hitting partners. Taking on a more independent role of seasoned veteran, Venus is going at it alone on tour. She has a strong management team in place, but they appear to be more assistants than highly experienced coaches giving her instruction.
In contrast, Cori has a tight-knit team around her not to mention her father as head coach. There have been several assistants offering advice, but Corey remains the largest influence on Cori's progress.
Progress is exactly what they have made – and in short record time. Just last year Cori was making her way toward the Roehamption Championship title as the world's number one ranked junior. It seems as if Cori has a trusting relationship with her Dad and is able to take constructive criticism in stride. Hard work has been Cori's mantra since the beginning of her junior career, and that hard work and preparation has landed her here at Wimbledon with a main draw match against Venus Williams.
The odds heavily favor Venus, but nothing is out of the question for Cori. Given the fact that she has played each qualifying round with a "nothing to lose" attitude, it can only be assumed that she will continue to do the same in her first round match.
The big stage is also a factor as Cori has not played on such a large WTA Tour center court yet in her career. This will definitely be a learning experience for Cori. It may be a little ambitious to expect Cori to figure out the atmosphere and surroundings all within a 2 out of 3 match. Cori is undefeated at Roehamption (ITF Juniors and WTA Qualifying), but it remains to be seen if she can muster a win against a declining, but a still very capable Venus Williams on her favorite surface.
Dustin Brown vs Felix Auger Aliassime Highlights STUTTGART 2019