Was Serena Williams Set Up By Her Coach?
What happened to Richard Williams? Greatest Tennis Father of All Time
Tennis keeps these seniors young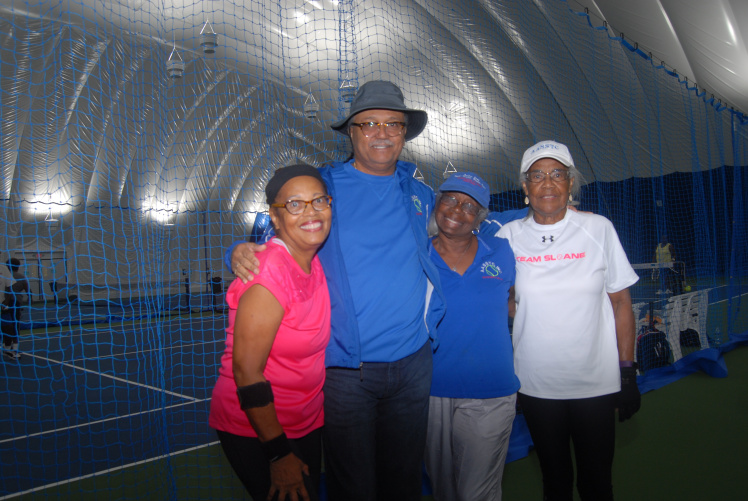 By Larry Bivins
After watching silver-haired Rubye Stevens chase down a lob and send it back to her opponents' baseline, then scamper to mid-court for an overhead put-away on the next ball, I could not help but wonder how old she was.
When I asked during a break in action, she feigned being offended before telling me she was 58. But my raised eyebrow told her I knew better. You see, the minimum age for joining the Active Aces Super Seniors Tennis Club (AASSTC) is 60.
After a little good-natured prodding, Stevens demurely divulged she was 85.
"She runs around here like she's 20 years old," offered Alice Lee, founder of the organization. "But the rest of us, we're over there," she added, pointing to a court at the far end of the bubble that typically is reserved for the octogenarians who show up.
Every Friday during the fall and winter, you can find 30-40 AASSTC members occupying the courts at the Watkins Regional Park tennis bubble in Largo, Md. A smaller group competes on Wednesdays.
"We get all the courts except for one, and we play tennis," said Cornell Chappelle, who recently took over from Alice Lee as president of the Washington, DC-based group.
These super seniors embody the adage: tennis is a sport for a lifetime. Most of the members are retired and have been playing for 30-40 years, spurred by their love for the game and the camaraderie they have developed.
Lee, 83, a retired Washington, D.C. teacher, founded the group in 2001 with 25 seniors who had taken lessons through the Washington Tennis Association. The AASSTC today has more than 100 members. In 2003, the group began reserving the Watkins tennis bubble to avoid having to compete with younger players for court time, Lee said.
But they don't just come together to play tennis. They also socialize quite a bit. At the end of their weekly court time, several of these active aces go out for a hot dog and soda.
"We call it the steakhouse," Lee said of their dining establishment.
The group hosts "An Evening of Elegance" gala annually to raise funds that help pay for numerous activities. Each year, the AASSTC takes a group of youngsters to the "Arthur Ashe Kids Day" event that kicks off the US Open tennis tournament in New York. The group also takes a contingent of juniors to compete in the annual tournament sponsored by the American Tennis Association, a black tennis organization founded in 1916.
The club is one of hundreds of Community Tennis Associations throughout the country registered with the United States Tennis Association (USTA) and has won several club-of-the-year awards.
And at the end of their weekly two-hour sessions, several of the players go out for a hot dog and soda.
On the day I showed up at the Watkins tennis bubble, Rubye Stevens was just one of several 80-somethings covering the court as if they had discovered the fountain of youth. Lee estimated the average age of those playing was 75.
Among them was lean-looking Harry Laury, 82, sporting a long-sleeved Baltimore Ravens tee-shirt and packing two racquets in a backpack. The State Department retiree told me he also has been playing weekly with another group for 35 years.
I asked how he stays in shape.
"I walk four miles every morning," he replied.
And there was John Holmes, 78, a self-taught player who learned how to teach the sport to others at the Van Der Meer Total Tennis University in South Carolina. I was so impressed by his well-rounded game that I asked if he had taken lessons. Just a few, he said.
But, "I read about 50 books on tennis," he added.
And there was Carolyn Felder, 75, who showed up in full AASSTC regalia – blue and white skirt and top, cap and jacket. Felder and others have represented the AASSTC in United States Tennis Association league play. She has the team distinction of having played the longest match, a three-hour contest that did not end in her favor.
Then, there was Francine Walden, in her "mid-sixties," she would only say, who is considered one of the babies of the organization. She picked up the sport as part of a physical education class in college.
"I've been playing ever since," said the retired Defense Department employee. "I just fell in love with it. I play every chance I get."
Let Walden tell it, she would need to play every day to keep up with the spry Rubye Stevens.
"She'd play eight days a week if she could," Walden said.
Stevens, a retired Department of Navy employee, said she has been playing tennis for the past 40 years after moving to Washington, DC from central North Carolina. But she was an adult when she took up the sport.
"I always wanted to learn to play, but growing up (in the segregated South), I didn't have the opportunity to learn as a young girl," Stevens told me.
She wore a white Under Armour Performance Shirt with "Team Sloane" emblazoned in pink across the front. Stevens said she became a fan of Sloane Stephens, the 2017 women's US Open champion, after meeting her several years ago at a Kids Day event.
I asked how she stays in such great shape.
"I get out and walk every day," she said, "and I go to the senior programs where they have activities."
Then, with a shrug, she added it was her bloodline.
"We have good family genes," she said. "My mother lived to be 101."
Check out Larry at tennisinthehood.com for more community updates and colorful commentary on yesterday's and today's game.
Throwback 90s fashion at 2019 Australian Open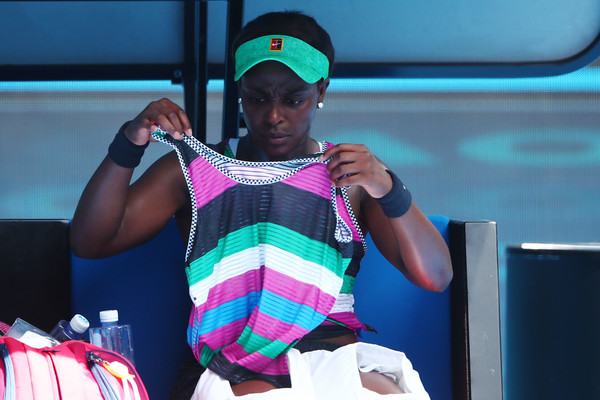 By Merlisa Lawrence Corbett
The 2019 Australian Open fashion scene featured some 90s throwback designs.

Yes, twenty years later and the 90s are still a thing, especially when among the latest looks in tennis apparel.

When it comes to tennis fashion, Serena Williams is a living legend, and she took center stage among the retro revivalists.

Even with her post-baby body, Serena managed to rock a lucid green jumper by Nike. Consider the look, modified or "mommyfied" catsuit.

Of course, Serena wasn't the only fashionista rocking 90s style in Melbourne. Sloane Stephens killed it in the Nike Melbourne Night tank top with bold colors and stripes. She paired the tank with an acid-wash looking skirt.

Although Frances Tiafoe probably drew more cheers for pulling his shirt off, when it was on he looked smashing in the NikeCourt Advantage polo with a striped sleeve.

Naomi Osaka was among the many female stars to wear the Adidas Spring Parley top. She also sported the pink visor most of the Adidas athletes wore.

Although the tournament ended in the first round for Heather Watson, she looked great in the seamless New Balance Tournament top for women in vibrant iris and seafoam green.

Gail Monfils played it safe in solids by Asics. It was a rather bland look for the usually flamboyant Monfils. 

The always elegant Venus Williams looked stunning in the Caracas Diva dress by her line Eleven by Venus was one of the prettiest kits in Melbourne. No stripes, just a palm leaf print bursting with color.