By Editorial Staff
Serena Williams brought out a star packed crowd while Naomi Osaka patiently dismantled the 23 time champion 6-2, 6-4 after a string of controversial calls by Carlos Ramos, the umpire, that set off a rant of boos from the New York based Serena fans. The first set was won decisively by Naomi 6-2 after many unforced errors and inconsistent serving by Serena.
The drama came at 4-3 in the second set after Serena was given a warning for receiving coaching from her box (Patrick was quoted stating that he did in fact signal her to attack the net and be more aggressive. At the post match interview Serena could not believe he said that. Serena also mentioned that she would rather lose than win by cheating) during play which followed by a point penalty for breaking her racket after losing a careless game at 3 all.
During the subsequent change over, Serena's temper flared up against the umpire as she eventually ended her rant by calling the umpire a thief before readying herself to receive Naomi's serve.
In shock, all Naomi had to do was toss the balls toward Serena's side of the court as she was awarded a free game due to the rare penalty sending the second set into 5-3 panic status. In even more disbelief, Serena complained to tournament officials screaming, "It's not fair."  At that time it was too late to apologize or take it back and Serena eventually went down to lose the match 6-4 in the second set.
The drama that unfolded on court should not take away from Naomi's strong play when it counted and her amazing run to dominate the field for the last to weeks against the world's best. Naomi has had such a great year winning the BNP Open in the Spring and following it up with big wins along the way to eventually becoming the first Japanese US Open title holder.
Serena was playing great tennis leading up to the final and is healthy enough to train and play a full schedule to prepare for a dominant 2019 season. Serena can take away a lot of positives from this season, and she was so gracious and classy in her post match interview today by giving long transparent answers in the press conference. Serena has definitely grown in character since her last encounter with tournament officials in 2004.
2021 Calabasas Championships
Battle of the ages: Venus vs. CoCo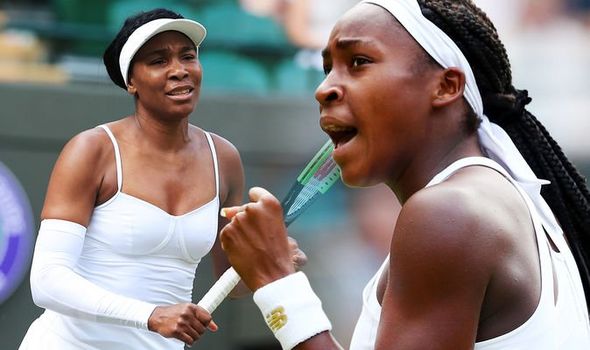 By Editorial Team
In addition to becoming the youngest player to enter the main draw of Wimbledon via qualifying, Cori "CoCo" Gauff has earned a prim-time match-up against one of the greatest grass court players of all time in the first round of play.
This match is not only a first, but also a sharp contrast of current generation talent versus veteran grand slam champion. Venus just turned 39 this month and must now face the 15 year old dynamo that goes by CoCo making this a true battle of the ages. Ironically, as in a Hollywood movie, these two are respectively the oldest and youngest players in the tournament.
Venus can sure respect Cori's hustle in advancing her career at the ripe age of 15. Venus shares a similar start, but was able to win 5 Wimbledon titles with the last win in 2008.
Coming off of a great 2017 season, Venus (unseeded this year) has struggled lately with injuries and fatigue late in matches. This year has not rolled out favorably for Venus after several on-off coaching relationships and hitting partners. Taking on a more independent role of seasoned veteran, Venus is going at it alone on tour. She has a strong management team in place, but they appear to be more assistants than highly experienced coaches giving her instruction.
In contrast, Cori has a tight-knit team around her not to mention her father as head coach. There have been several assistants offering advice, but Corey remains the largest influence on Cori's progress.
Progress is exactly what they have made – and in short record time. Just last year Cori was making her way toward the Roehamption Championship title as the world's number one ranked junior. It seems as if Cori has a trusting relationship with her Dad and is able to take constructive criticism in stride. Hard work has been Cori's mantra since the beginning of her junior career, and that hard work and preparation has landed her here at Wimbledon with a main draw match against Venus Williams.
The odds heavily favor Venus, but nothing is out of the question for Cori. Given the fact that she has played each qualifying round with a "nothing to lose" attitude, it can only be assumed that she will continue to do the same in her first round match.
The big stage is also a factor as Cori has not played on such a large WTA Tour center court yet in her career. This will definitely be a learning experience for Cori. It may be a little ambitious to expect Cori to figure out the atmosphere and surroundings all within a 2 out of 3 match. Cori is undefeated at Roehamption (ITF Juniors and WTA Qualifying), but it remains to be seen if she can muster a win against a declining, but a still very capable Venus Williams on her favorite surface.
Dustin Brown vs Felix Auger Aliassime Highlights STUTTGART 2019