By Larry Bivins
With a second victory over her idol to win her first Grand Slam title, Naomi Osaka proved to the world she no longer is a "rising" star. The newly-crowned U.S. Open champion has landed on the planet of elite players in women's professional tennis.
The title was just Osaka's second on the Women's Tennis Association (WTA) tour since she turned pro in 2012. Her first came in March at Indian Wells, Calif., a 1,000-point event that has been dubbed the Fifth Slam.
There's something prophetic about the fact that Osaka's only two WTA titles have come at two of the sport's biggest tournaments and her only two faceoffs against the world's greatest player have resulted in victories.
But the biggest challenge for this demure 20-year-old of Japanese and Haitian heritage may be ahead of her. How Osaka handles being under the spotlight as a Grand Slam champion and the first player from her country to hoist a major tournament trophy may have a lot to do with how long she remains in that upper tier of women's tennis.
Many foresee Osaka's stardom as a platform for her to be an ambassador for multiculturalism and diversity in Japan, a country deeply rooted in homogeneity. That's heavy stuff for someone so shy and seemingly uncomfortable with a microphone in her face.
It's not uncommon for a player to crash-land after soaring to a Grand Slam championship. Most recently, Sloane Stephens went on a nine-game slide, including an opening round loss in this year's Australian Open, after clinching her first Grand Slam title at the 2017 U.S. Open. Stephens conceded at one point that the demands and expectations placed upon her were overwhelming and affected her performance.
Osaka already is getting a gulp of the life of a new Grand Slam champion, with television appearances and worldwide adulation on Twitter. Citizen Watch Co., with whom she had inked a deal just before the start of the U.S. Open, announced it will pay her a bonus for winning the season's final major.
While Osaka's marketing appeal got a boost after she won the tournament in Indian Wells, her endorsement earnings are expected to skyrocket with a Grand Slam title now on her resume.
Forbes Magazine predicts Osaka's off-court earnings in a couple of years will reach to $15 million a year from $1.5 million a year. That may be a conservative estimate, considering that Japanese player Kei Nishikori, who was a 2015 U.S. Open men's singles finalist, takes in more than $30 million a year from endorsements. Only the great Roger Federer earns more.
The Forbes Magazine article pointed out that after Osaka's semi-final victory over Madison Keys, the price per share of Yonex, the company that makes her rackets, jumped 10 percent on the Tokyo Stock Exchange.
As for prize money, Osaka took home a $3.8 million check for winning the U.S. Open, bringing her total earnings for the year to nearly $5.8 million. That more than doubles her career money since turning pro in 2012. The win propelled her to a career high No. 7 in the rankings. She began the tournament at No. 19.
All that success can be overwhelming, and Osaka showed some vulnerability after winning at Indian Wells. Although she beat Serena in the first round of the next tournament, the Miami Open, she was knocked out in the second match. She then lost in the first or second round in six of her next 10 tournaments, including the two hard court tournaments in Cincinnati and Montreal that preceded the U.S. Open.
About 10 days before the U.S. Open began, Osaka acknowledged in a tweet the difficulty she had adjusting to the pressure after her win at Indian Wells.
"The last couple of weeks have been really rough for me," she posted on Aug. 16. "I had a lot of pressure entering the hardcourt swing because I felt a lot of expectation on me from Indian Wells and I didn't feel like the underdog anymore."
By the time the season's final slam began, Osaka was deemed to have an outside chance of winning it. The only match I saw was her semi-final performance against last year's finalist Madison Keys. I saw the return of the Osaka who dominated her opponents at Indian Wells. She completely overwhelmed Keys in straight sets, 6-2, 6-4. She racked up the same score against Serena in the final.
Osaka outplayed Serena on every level and earned the victory. But she deserves even more credit for the fortitude she showed during the emotional drama that unfolded after the chair umpire slapped Serena with three code violations, the last one resulting in a game penalty.
When Osaka won at Indian Wells, I posted a blog heralding her arrival as a superstar. I was amazed by the laser-like focus and poise she displayed throughout the tournament, as she took out the likes of seven-time Grand Slam winner Maria Sharapova, World No. 1 Simona Halep and World No. 5 Karolina Pliskova.
There is no question about Osaka's talent and ability to perform well under the bright lights. But if she wants to achieve her goal of topping her idol Serena as the best player ever, she will have to learn to bring her A game every time she steps on the court. After all, Serena has 59 other singles trophies surrounding her 23 Grand Slam crowns.
Osaka seems to be on the right path under coach Sascha Bajin, who knows a thing or two about greatness.
"I hit with Serena almost every day for eight years, and Naomi's weapons are just as big," Bajin told writer Brook Larmer for an article that appeared in the Aug. 13 New York Times Magazine. "She's not afraid of center stage, either, and that's why I believe she has greatness within her."
Contributing Source: www.tennisinthehood.com
2021 Calabasas Championships
Battle of the ages: Venus vs. CoCo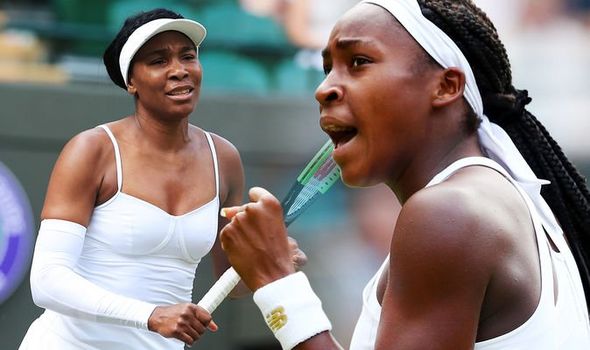 By Editorial Team
In addition to becoming the youngest player to enter the main draw of Wimbledon via qualifying, Cori "CoCo" Gauff has earned a prim-time match-up against one of the greatest grass court players of all time in the first round of play.
This match is not only a first, but also a sharp contrast of current generation talent versus veteran grand slam champion. Venus just turned 39 this month and must now face the 15 year old dynamo that goes by CoCo making this a true battle of the ages. Ironically, as in a Hollywood movie, these two are respectively the oldest and youngest players in the tournament.
Venus can sure respect Cori's hustle in advancing her career at the ripe age of 15. Venus shares a similar start, but was able to win 5 Wimbledon titles with the last win in 2008.
Coming off of a great 2017 season, Venus (unseeded this year) has struggled lately with injuries and fatigue late in matches. This year has not rolled out favorably for Venus after several on-off coaching relationships and hitting partners. Taking on a more independent role of seasoned veteran, Venus is going at it alone on tour. She has a strong management team in place, but they appear to be more assistants than highly experienced coaches giving her instruction.
In contrast, Cori has a tight-knit team around her not to mention her father as head coach. There have been several assistants offering advice, but Corey remains the largest influence on Cori's progress.
Progress is exactly what they have made – and in short record time. Just last year Cori was making her way toward the Roehamption Championship title as the world's number one ranked junior. It seems as if Cori has a trusting relationship with her Dad and is able to take constructive criticism in stride. Hard work has been Cori's mantra since the beginning of her junior career, and that hard work and preparation has landed her here at Wimbledon with a main draw match against Venus Williams.
The odds heavily favor Venus, but nothing is out of the question for Cori. Given the fact that she has played each qualifying round with a "nothing to lose" attitude, it can only be assumed that she will continue to do the same in her first round match.
The big stage is also a factor as Cori has not played on such a large WTA Tour center court yet in her career. This will definitely be a learning experience for Cori. It may be a little ambitious to expect Cori to figure out the atmosphere and surroundings all within a 2 out of 3 match. Cori is undefeated at Roehamption (ITF Juniors and WTA Qualifying), but it remains to be seen if she can muster a win against a declining, but a still very capable Venus Williams on her favorite surface.
Dustin Brown vs Felix Auger Aliassime Highlights STUTTGART 2019