By Jason Barron
Gael Monfils will face Philipp Kohlschreiber in the Round of 16 at the Indian Wells Tennis Garden on Wednesday, March 13th. Monfils is having a strong start to 2019 and has seen his ranking rise up to 19th.
Perhaps, this is partially due to his new girlfriend and fellow tennis player, Elina Svitolina.
They have been going to each other's matches and been on the practice courts together all tournament long. Both players are still in the draw and Svitolina is scheduled to play her match against Marketa Vondrousova at 6:00 PM PT just before Monfils is scheduled to take the court at 8:00 PM PT.
Monfils has had a great 2019 getting to semi-finals in Sofia, winning Rotterdam and getting to the semi-finals in Dubai. Monfils has continued his strong play at Indian Wells winning his previous two matches with relative ease.
Monfils' side of the draw is wide open with the 7th seed, Dominic Thiem being the highest remaining in his half. If Monfils can get past Kohlschreiber he would likely face Thiem in the next round.
Kohlschreiber will be coming into the match with a lot of confidence after upsetting the world number 1, Novak Djokovic in straight sets 6-4, 6-4. Monfils has a 13-2 record against Kohlschreiber, although they haven't played each other since 2017.
Monfils will need to use his speed and court coverage to overwhelm Kohlschreiber and not allow him to get comfortable. Monfils looks to be in a good rhythm so expect him to advance into the Quarterfinals.
Kohlschreiber was standing far beyond the baseline to give himself more time on the returns against Djokovic and as a result was able to play more on the offensive and control the points. Djokovic was struggling to defend and couldn't find a consistent way to win points.
Monfils will need to combat this tactic by coming forward more and forcing Kohlschreiber to come closer to the net in order to give him different looks. If he can get his opponent outside his comfort zone, expect Monfils to come out the victor against a tricky opponent. Tune in on Tennis Channel and the ESPN App for continuing coverage from Indian Wells.
MID-TAC 2019 Annual Championships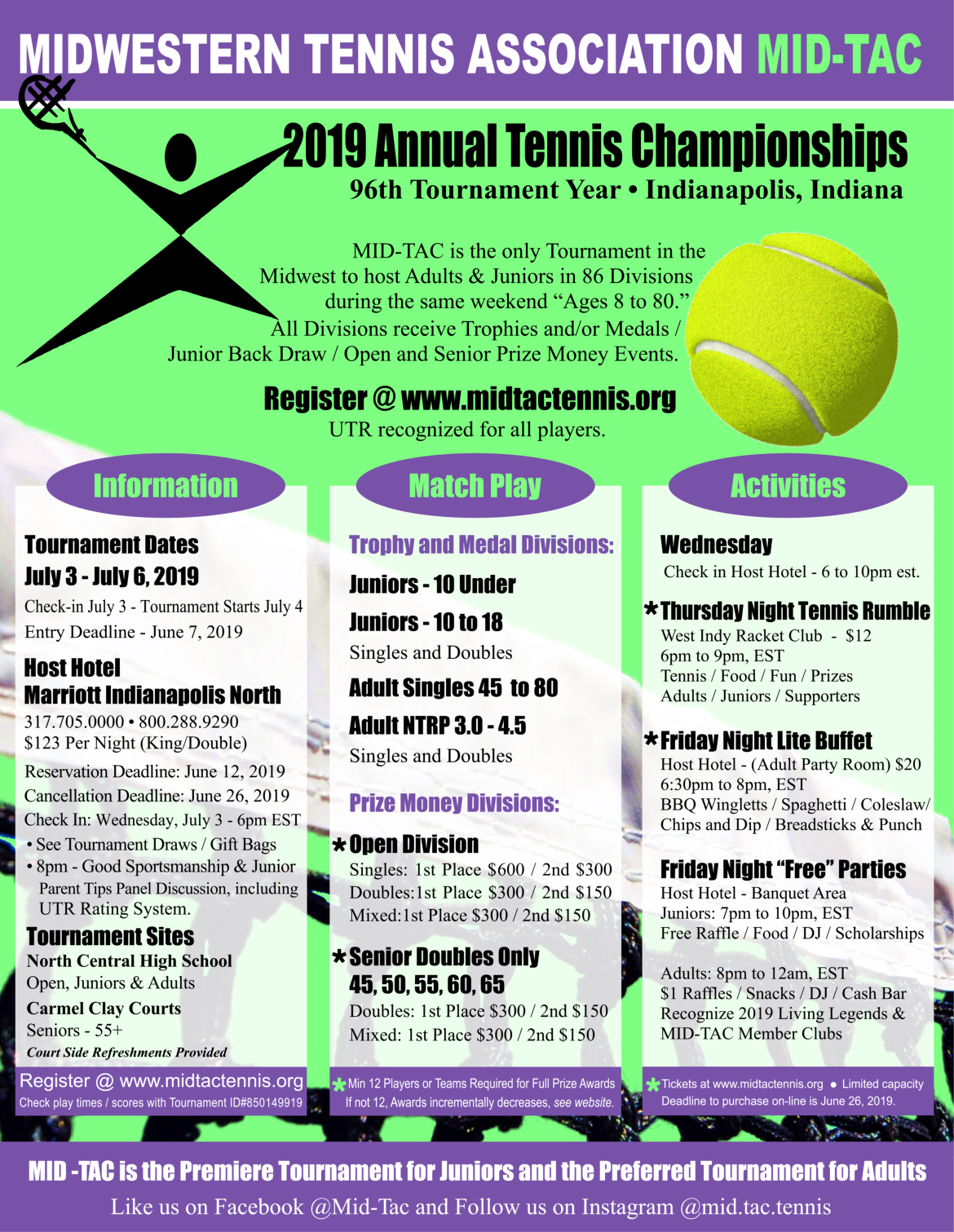 Mid-Tac is celebrating its 96th Tournament Year on July 3 to 6, 2019.
MID-TAC is a 501(c)3 organization and the Midwest Section of the American Tennis Association ("ATA" founded in 1916) and has ties to local community tennis in ten Midwestern States (Iowa, Illinois, Indiana, Kansas, Kentucky, Michigan, Minnesota, Missouri, Ohio, Wisconsin and beyond). We offer year-round opportunities to support MID-TAC by making online Donations or becoming a Sponsor.
All Donations and Sponsorships will be properly acknowledged. Please view details under the above "Donate" and "Sponsorship" tabs. We look forward to your support as we continue our mission to grow the game of tennis.
Tournament Participation Links below:
See "Scales for Calculating Prize Money Divisions" – Click Here
See "Details for 2019 Bollettieri Youth Summer Tennis Camp Scholarships" – Click Here
Marriott Indianapolis North Hotel – (317) 705-0000 or (800) 288-92903645 River Crossing Parkway, Indianapolis, In 46240Rates: $123.00 – Traditional King or Double RoomHotel Reservation Deadline: June 12, 2019Cancellation Deadline without penalty: June 26, 2019
Townsend, Osuigwe rematch in Charleston Final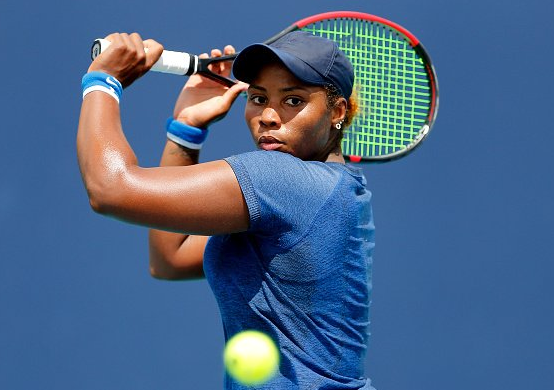 By Editorial Team
Taylor Townsend had an easier time against the red-hot Emma Navarro today in her semifinal match. While Osuigwe had to fend off the top ranked 7th seed Kaja Juvan late in the 3rd set, 6-4.
Taylor has the upper hand going into this match as she can make adjustments since her last loss to Whitney just last week in the 80k quarterfinals.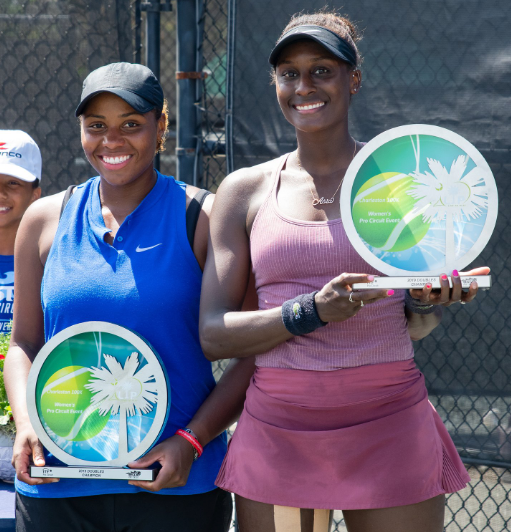 After wrapping up the doubles title today with partner, Asia Muhammad, Taylor should be fresh and in good spirits to battle the tough baseliner.
The complete match can be watched tomorrow on the Tennis Channel at 11am EST.
Stephens and Keys raise the bar in Fed Cup playoff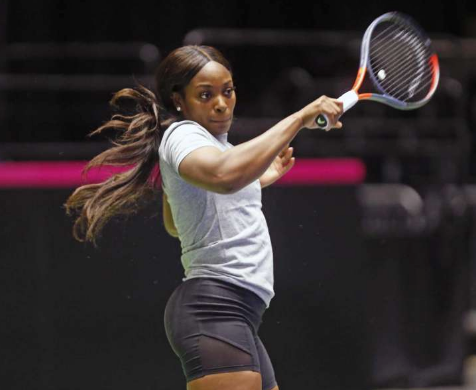 By Editorial Team
The Fed Cup has come home for the US women's team to the Alamo state with both Sloane Stephens and Madison Keys in the drivers' seat.
After the early round defeat to Australia, Madison is anxious to redeem Team USA and position itself in the running for 2020. When asked about the status of the team and anticipation for the weekend, Keys stated,

"We're playing to stay in World Group I. It's obviously very important, We were all really bummed about the loss, and we're looking to walk away with a win after this weekend."
Chemistry is definitely in favor of the US team as the players and coaches are all very close off the court as friends, but against Switzerland its definitely a business trip.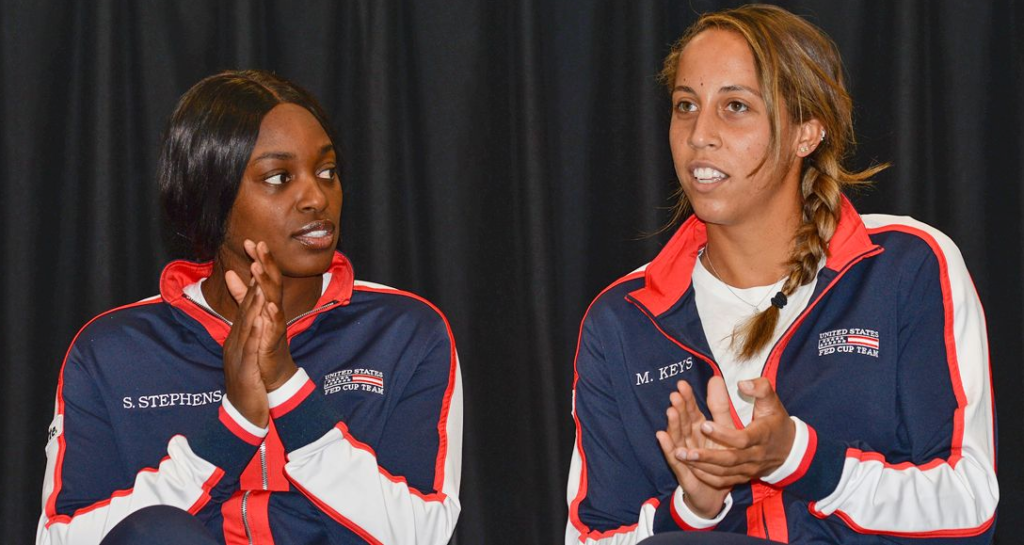 Coming off a title win in Charleston, Madison is set to keep the momentum going full steam as she prepares to make a decent run toward the French Open later next month.
While title hopes are around the corner for Madison, Sloane is planning on regaining her rhythm and finding her strokes while she competes. Fans shouldn't be surprised if Sloane goes deep in this year's French Open as she is able to turn it around on a dime – noting last year's final run in Paris.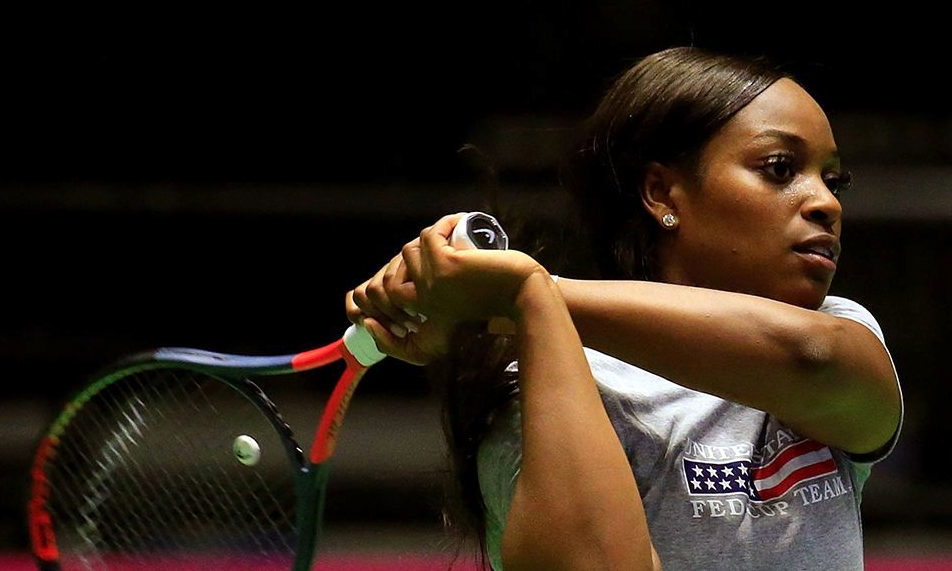 Stable coaching appears to be Sloane's biggest challenge now as she must find a suitable replacement after Fed Cup Captain, Kathy Rinaldi, has been filling in recently for Sly Black.
This Fed Cup match should a simple win for the deep high caliber of talent on the US team. Play is scheduled for April 20-21 in San Antonio, Texas with matches aired live on Tennis Channel.